Vandaag – The Brand
Before we will have a closer look on the Vandaag Schallmauer please allow me to introduce you to the brand.
"Vandaag" is a word written in a north german dialect and means "heute"/ "today" and immediately builds a bridge to the term "contemporary" but more on this elsewhere.
Vandaag is a relatively new German (micro-)brand. I had the pleasure to introduce you to VANDAAG watches in October 2020 when they launched their first automatic watch, the "Tiefsee".
Even if the brand was new, today one speaks of a start-up, the three founders of VANDAAG, André Lampe, Tim Benkus and Malte Thomeczek, were old stagers in the watch industry.
Malte Thomeczek was actually born with a passion for watches. His father Günther was once the sales director of Tutima, where he was involved in the development of the NATO pilots watch.
In 2000 Malte joint his father's business, Günther Thomeczek Incentive (GTI). At home, watches were part of the permanent inventory, so to speak, and Malte often allowed to accompany his father on business trips around the world (Basel, HGK, MUC).
No surprise Malte became interested in watches. Malte is now the owner of GTI.
Tim Benkus did his apprenticeship as a wholesale and foreign trade merchant in the family company, stayed and became a watch specialist. Tim also joint the GTI in 2000.
Malte and Tim have developed and designed watches for watch brands all over the world and also advised companies – including Joop and the Swiss Military.
Tim and Malte asked André Lampe to join the team who thanks to his own agency Ecomai, has a lot of experience in helping companies develop their brand.
Now André is part of such a company himself. He takes care of the online shop and sales. "I also didn't want to just be a service provider anymore, I wanted to do something of my own," he explained to the "Weser Kurier", a local newspaper.
Team member #4 is master watchmaker Hubertus Brons who has the necessary expertise on technical and constructional needs in watchmaking. He learned on the job in Switzerland.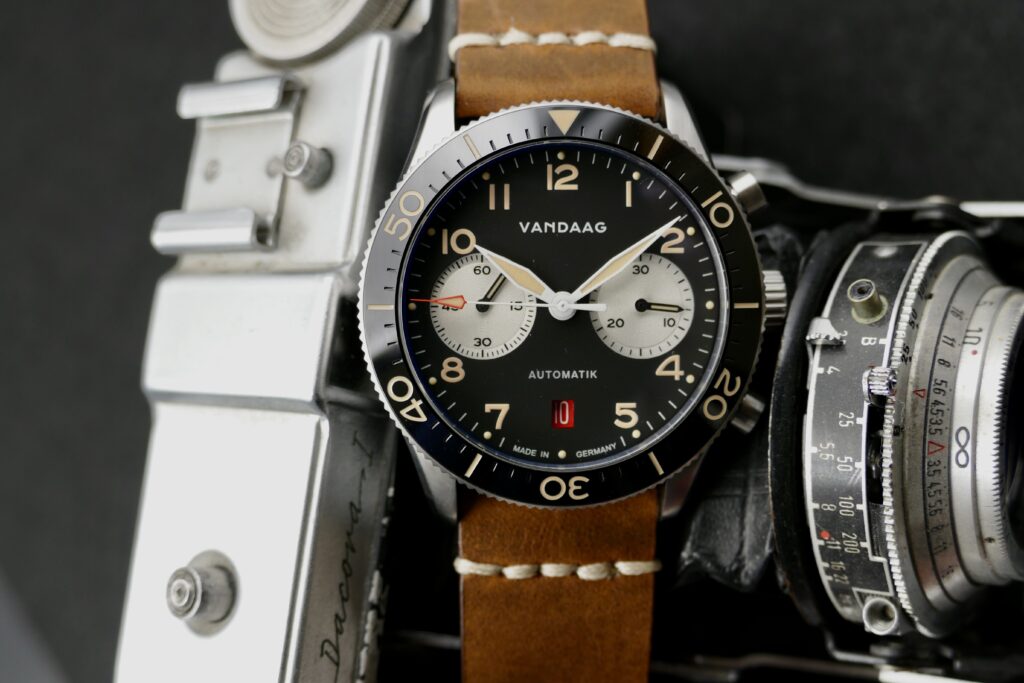 As far as the Schallmauer 2.0 (the company's internal designation) is concerned the team decided to outsource the assembly, regulation, and QC to a partner in the region.
It is Andreas Kunke from Wiefelstede, a watchmaker with a long family tradition in watchmaking which started in1853. Andreas Kunke and his team of 10 watchmakers are specialized in the service and repair. Kunke also runs the official service center for Porsche Design, Favre Leuba, Edox, Auguste Reymond and Fortis.
When the "FOUR TOPS" started VANDAAG their approach for the new enterprise was based on their expertise and experience with countless suppliers, which they have been able to collect since 2000. The idea was to create a price-performance ratio for brand, product and service that is difficult to find.
They deliberately chose the price segment of around €250 to €500 to show what is possible in terms of design and quality with know-how and the right supply chain.
For that reason, an automatic chronograph based on a Sellita SW510BHa played no role in the 2020 collection. Step by step they wanted to introduce the customers to VANDAAG and show them what they are capable of. A healthy and credible brand building.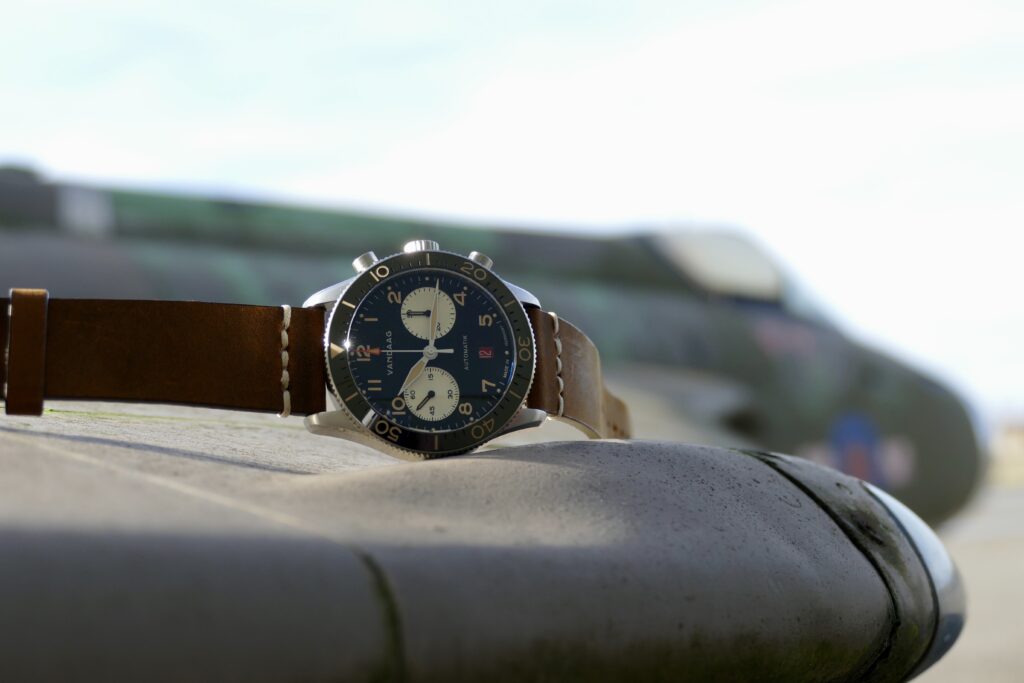 Vandaag – The Schallmauer
Already after a short time and after having launched the first automatic watch – "TIEFSEE" – customers increasingly expressed the wish that VANDAAG should work on an automatic chronograph with a "Swiss heart". Tim, Malte and André were hooked and since they love chronographs and so they sat down and started to think about the necessary changes of the already existing "Schallmauer" quartz chronograph.
Overall, they ended up in implementing 12 changes.
(1) The Sellita caliber requires more space in the case and the case height has now grown to 15.00mm (16.30mm including crystals).
(2) The case and the lugs were given an elegant curve to absorb this. The curvature allows the case to fit comfortably on the wrist.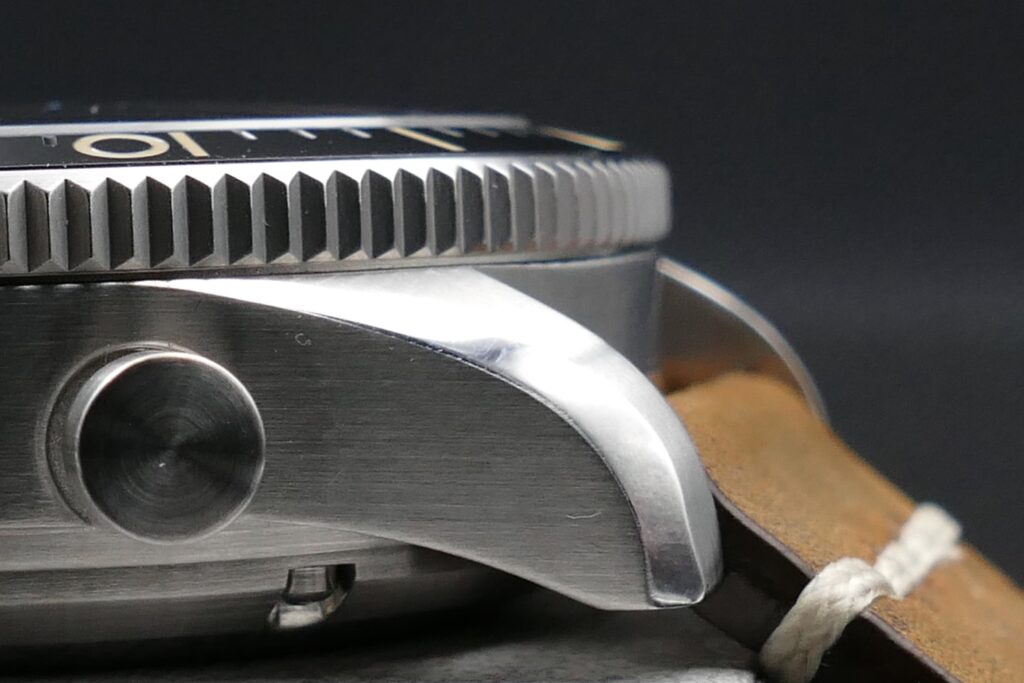 The new Schallmauer became a screwed display back, sapphire crystal as well.
(3) The bezel is now bi-directional. A feature that a lot of customers asked for.
The inlay of the bezel is now made of shiny ceramic, an elegant eye-catcher. The triangle at 60 has been refined and is luminous (Super-LumiNova® BGW9 or Old Radium – Grade A).
In addition, the bezel now has a minute scale. Since VANDAAG didn't want to interrupt the clear design of the Schallmauer bezel's minute lines, these are only etched but not colored and are therefore more tone-in-tone with the ceramic. However, precise reading is possible and the clear design is retained.
(4) The crown is now screwed down.
(5) The dial is domed and features Swiss Super-LumiNova® BGW9 or Old Radium – Grade A.
The set of hands takes up the momentum of the case again and creates a very good readability. Readability is warranted by Swiss Super-LumiNova® BGW9 or Old Radium – Grade A, a plus for the night owls among us.
The round date of the predecessor gave way to a square variant that led to a third more visibility. As with the predecessor, the white numbers on a red date background underline the sporty touch.
(6) The Sellita SW510BHa Elaboré got an in-house modification, a unique rotor specially made for Vandaag. It comes in a galvanized black and bears the Vandaag logo in silver.
(7) The new Schallmauer is now fitted with a high-quality, hand-sewn leather strap from Italy. The strap comes with a solid pin buckle, polished to match the case.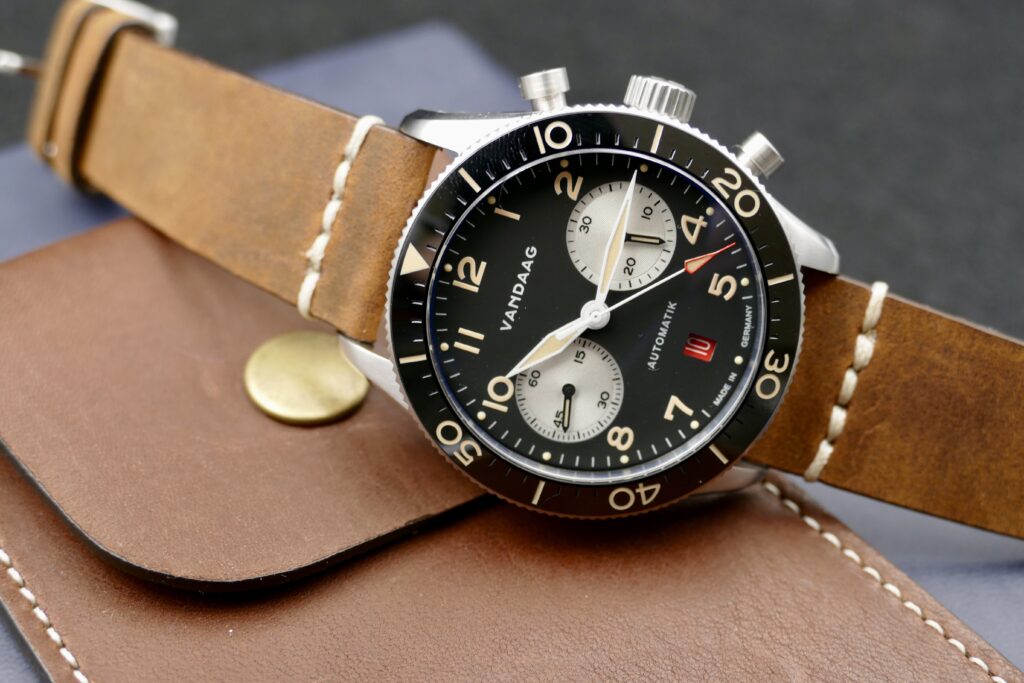 The Schallmauer Automatik will be available in 4 color variants. The overall run will be a small one. Each color variant will be produced in a limited run o 100 pieces. The case back will be engraved accordingly (1/100, 2/100, …)
I think that the specs of the Schallmauer Automatic speak for themselves, this chronograph is a must-have for pilot watch aficionados.
Watches with specs like this (please scroll down to the technical details) are typically priced in the €2,000 to €4,000 range. Ultimately the Schallmauer Automatik will retail for €1699.
But in the start-up phase Vandaag comes up with a surprise with the charm of a Kickstarter campaign.
In order to fulfill customer's wish an to make the project a great success, VANDAAG decided to offer the Schallmauer Automatik as a crowdfunding campaign, a joint project.
While this means that customers will have to wait (approx. 6 months) for the watches to arrive at home after the campaign has been launched, VANDAAG will make the waiting time easier with pre-order prices that are so good that it will be difficult not to choose a watch:
The first 20 watches can be ordered at a price of €999,
20 watches will be available to order at a price of €1099,
20 watches will be available to order at a price of €1199,
20 watches will be available to order at a price of €1299,
then the pre-order price will be €1399, which still is an excellent price-value-ratio.
Depending on the success of the campaign, there may also be rewards, but for the time being this is Vandaag's secret. 🙂
On January 22, 2022, the Schallmauer Automatik was first shown to a selected number of customers and authorized dealers during the "Watch Dinner" in Bad Driburg, hosted by VANDAAG and the "Tickender Koch". From what I heard, the Schallmauer Automatik was received with great interest, both by dealers and potential buyers.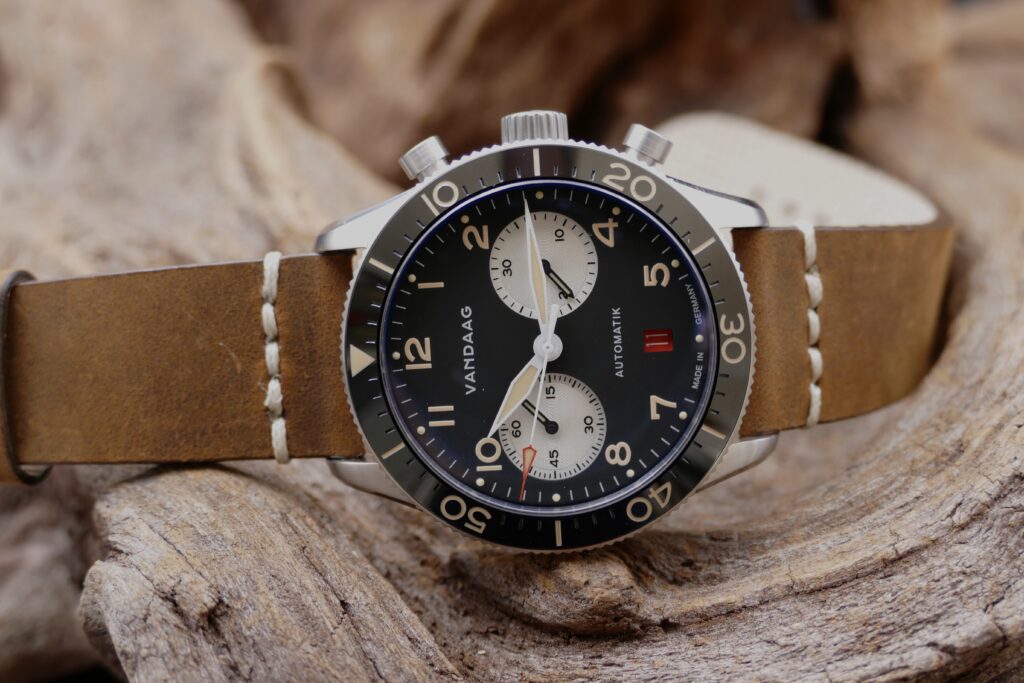 Vandaag Schallmauer – The naked specs:
Case
+ 316L stainless steel case, partially polished/brushed
42.50mm diameter / 50.00mm Lug to Lug, height: 14.96mm height (16.30mm including crystals)
Lug width 22mm
Water resistant to 100 meters / 10 bar
Screw crown
Pushers at 2 and 4 o'clock positions
Screwed case display back (fixed by 4 screws), sapphire crystal
Bezel
+ 316L stainless steel with polished ceramic inlay
120 clicks, bidirectional
60-minute mark
+ Triangle at "60" position with SuperLumiNova dot
Movement
Modified Sellita SW510BH a, Elaboré grade
Features:
Hour, minute and second hands (subdial at 9)
Stop second out of the center
30 minute counter (subial at 3)
Setting:
Position 0: manual winding
Position 1: date correction
Position 2: hand position with second stop
Power reserve: +/- 62 hours
Beat rate deviation +/- 5 seconds
Modified red date disc with white numerals
Modified rotor mass
Crystal
+ Double-domed sapphire glass, anti-reflective coating on the inside
Dial and hands
+ Domed dial, matt
+ Subdials at 3 and 9 with sunray finish
Date window at 6
Swiss SuperLuminova BGW9 and Old Radium Grade A
Strap
+ Premium leather strap, Made in Italy ("handgefertigt in Italien")
+ 22.00mm/20.00mm
+ Applications sewn by hand
quick change
Solid pin buckle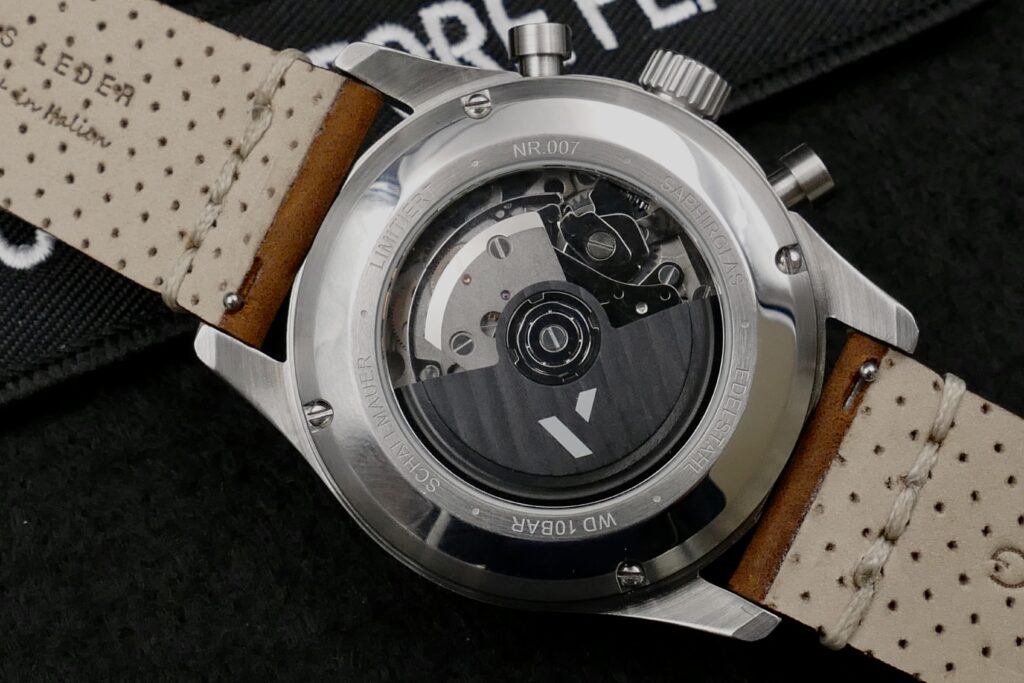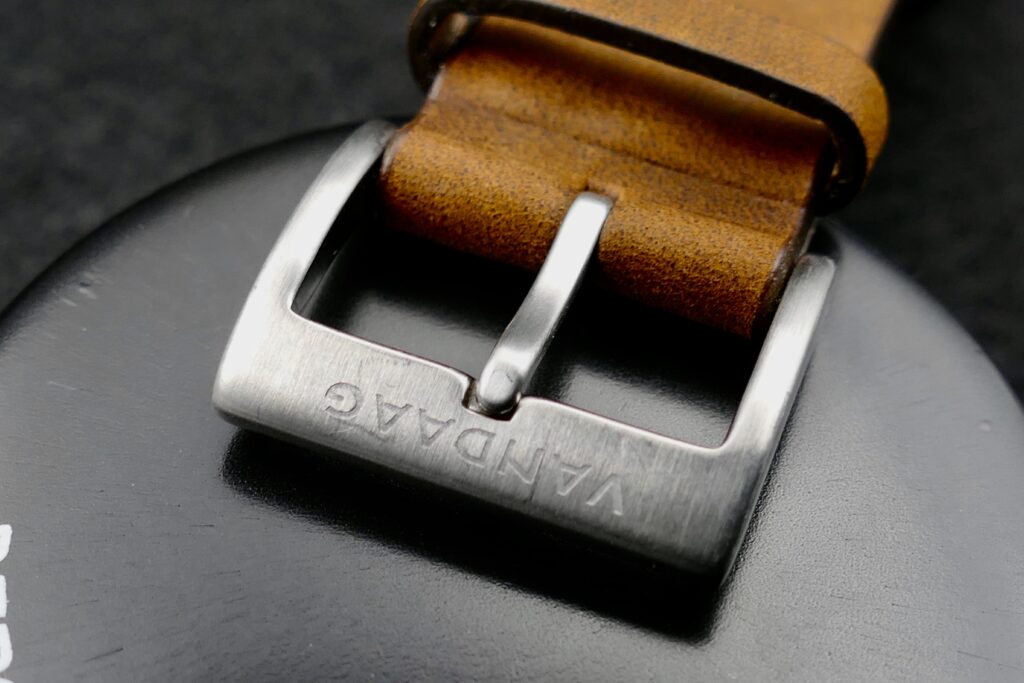 Vandaag – Impressions on the Schallmauer
When VANDAAG offered to send me a prototype I naturally jumped at the opportunity to dest drive the Schallmauer.
When unpacking the Schallmauer Automatik my very first impression was "affentittengeil", a term that cannot be easily translated. "Smashing" or "supercool" hits it only partially. It took only a few seconds and I was already intrigued.
The two recessed silver colored sub-dials were the first thing that caught my eye. I immediately felt reminded of vintage chronographs like those from Zodiac, Heuer or the Zenith Reverse Panda. However, all three did not feature numerals like the Schallmauer 2.0 does but index markers.
After a couple of hours and piecing together some more impressions I have to admit that I am in love with VANDAAG's new Schallmauer, its sophisticated simplicity, the classically design with strong roots to the vintage pilot chronographs of the 1960's, its Germaness.
Despite being a young brand the experienced team did a lot things right and there's nothing which came up negatively in my book.
I'm a real sucker for classic pilot's chronographs and the VANDAAG Schallmauer quite easily fits that description.
This chronograph would be a real asset to my collection though, there's absolutely no doubt about that, perfect addition to my LE Hanhart FliegerFriday bi-compax-chronograph because of its completely different look.
Fit and finish of the Schallmauer is excellent, pushers and screw down crown are easy to operate. The pushers remind me of those my Junghans Pilot Chronoscope does feature, a typical attribute of the 1960's as well.
The Schallmauer is relatively thick on the wrist, slightly beefier than my Hanhart FliegerFriday LE, but less beefier than my Damasko DC 57.
From top to bottom: Junghans Pilot Chronoscope, Damasko DC 57, Vandaag Schallmauer, Hanhart Flieger Friday LE.
In terms of weight alone, all watches are almost the same weight, the Schallmauer weights 114gr, the other watches in the pic vary from 113gr to 120gr, no big deal though. I think it is worthwhile to mention that the lugs of the Schallmauer are a tad smaller and a tad shorter, more 1960s like. So I am almost sure, the Schallmauer will fit smaller wrists too.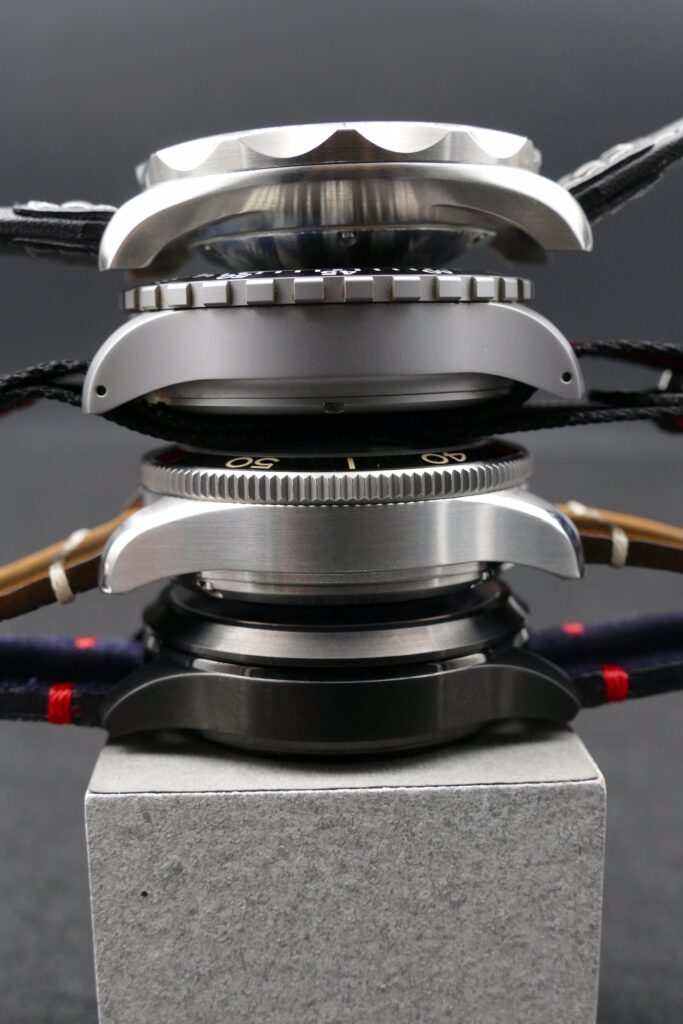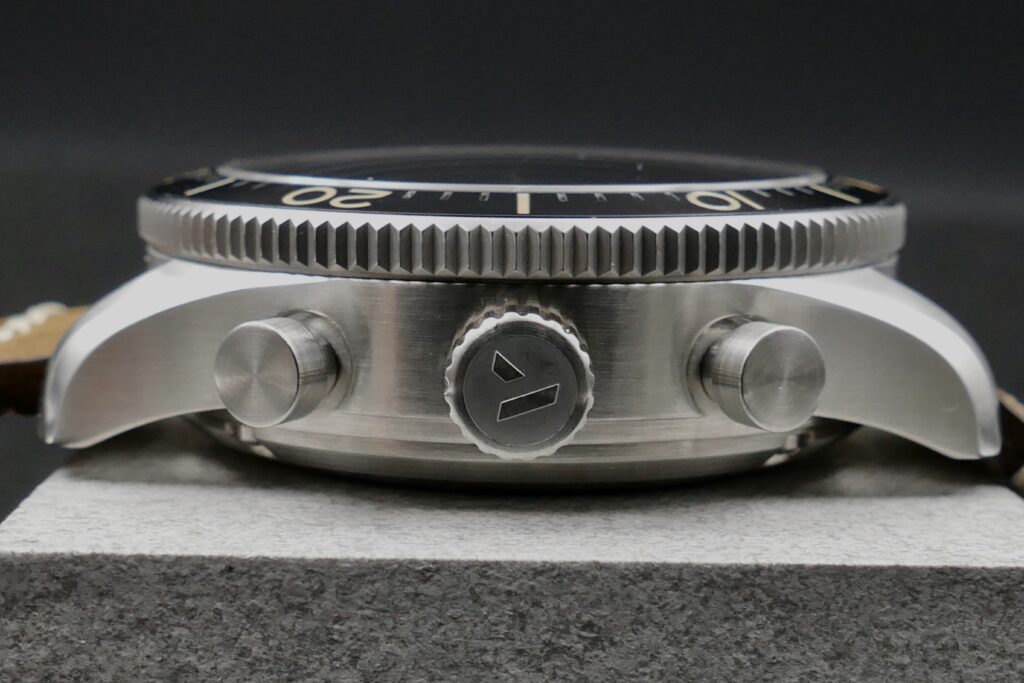 The dial of the VANDAAG Schallmauer would really be the draw for me when it would come to putting my money down. It's not overfrought with detail, scales, or surfaces and comes off as a nicely baked 1960's-inspired chronograph. However, one gimmick – we already know from the Tiefsee series – has been added, the red date wheel with white numerals.
Since I got a pre-production model I wasn't sure the prototype was regulated the same way Vandaag stated in the specs. However, the movement performed very well, +3 sec in 24 hrs (DU), +4 sec in 24 hrs on the wrist and DU at night, nothing I'd complain about.
You might have noticed the blue hue on some of my pictures. That's caused by the ar-coating of the domed crystal. Depending on the angle of light incidence the dial looks black, dark blue, bluish. The blue hue is something I am missing on the current Damasko models, loved to notice it on my Damasko DC 66, one of the earlier models.
The dial of the Schallmauer prototype I got for review was provided with Old Radium Grade A Superluminova. Hands, including the permanent running small second on 9 and the 30 min counter hand, numerals and 5 minutes increments (dots) glow green in the dark. The stop seconds hand is filled with luminous compound only on the orange colored tip. Night owls will have nothing to complain about.
Please note: The pre-production watch did not feature the luminous pip, serial models will all have the pip.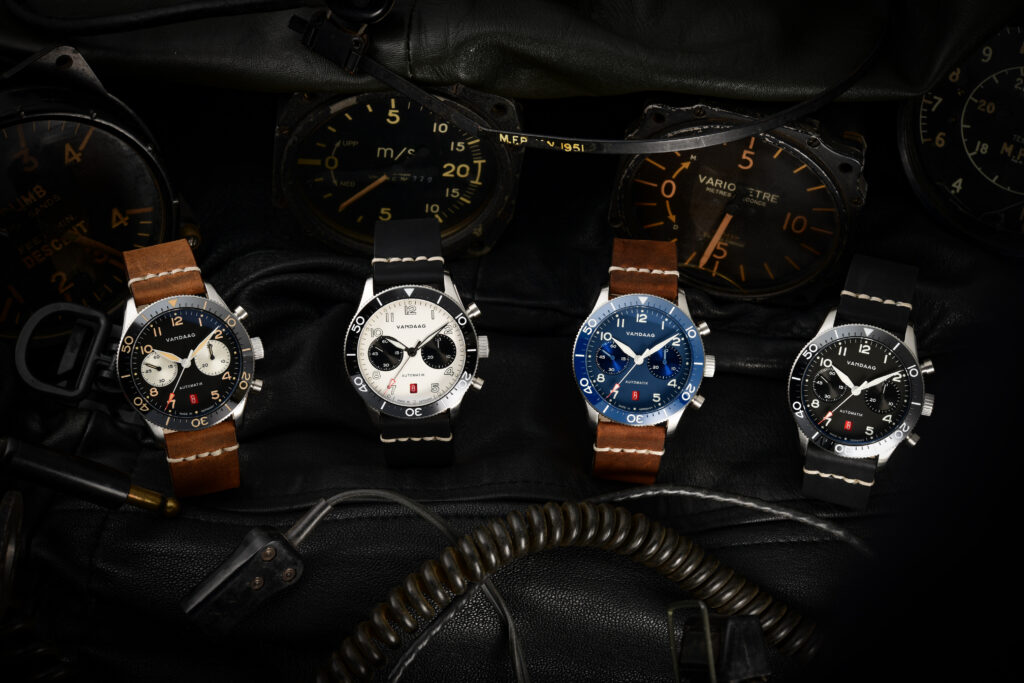 When I took some pictures of the Schallmauer on the "Bienenfarm Airfield", the place for historic aircraft on the western outskirts of Berlin, some pilots looked at what I do and that's how we got talking and I could see that the vintage look really appealed to the boys.
If I had to express my impressions about the Schallmauer 2.0 in one sentence, then perhaps it would be like this: The Schallmauer is a terrific value proposition. If you are looking for a chronograph with excellent features for under €2000 – stop searching, you found it.