Stowa is one of five original companies manufactured the original B-Uhren watches for the Luftwaffe (Lange & Söhne, Laco, IWC and Wempe being the other four). In August, Stowa celebrated its 90th anniversary and released several flieger watches to mark the occasion. However, a decade ago, Stowa celebrated its 80th anniversary with perhaps its most successful and coveted flieger watch, known as Flieger Original LE (FOLE) that was limited to 80 Editions.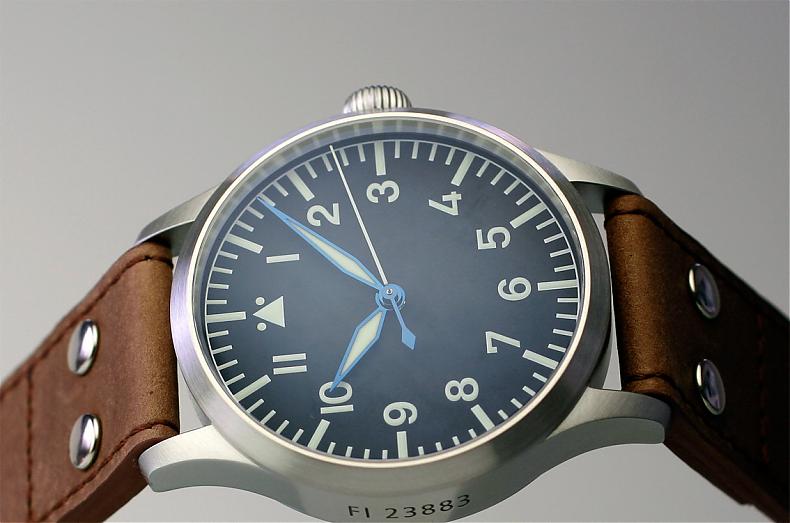 What makes FOLE an instant classic and one of the most desired modern flieger?
Stowa, in past, and in present, has specialized in making flieger watches. This gave an instant credibility of being a very well-made watch from a brand with a history of manufacturing fliegers.
Jörg Schauer worked on all the 80 editions himself. Anyone who knows Jörg, also knows that he is a perfectionist. He is meticulous about the quality and finish of each part.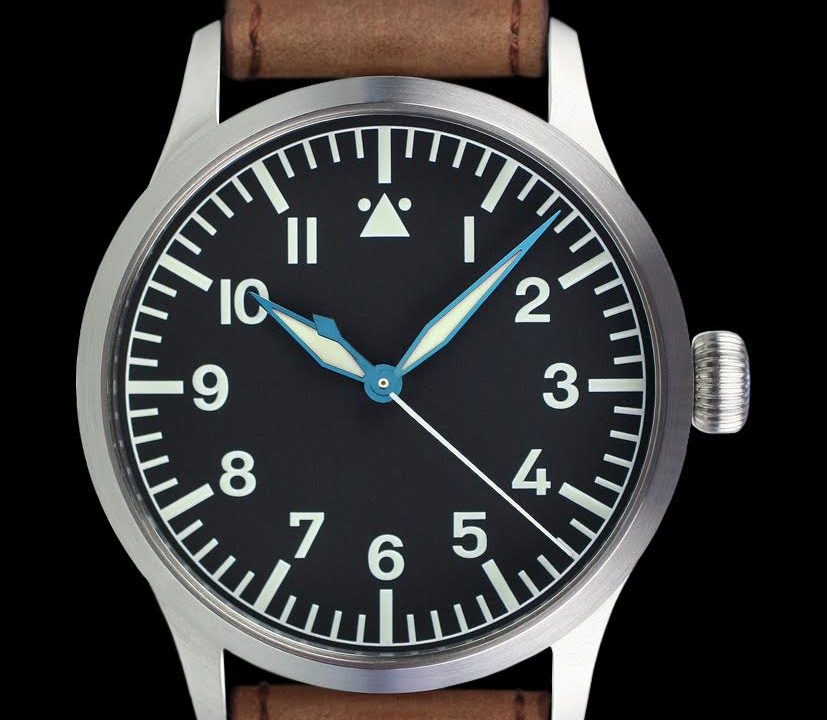 The FOLE dial is sterile without any logo or text. The dial evokes the spirit of the original Stowa flieger with triangle with two dots, strong luminescence for perfect legibility during day and night.
An open secret is that the dial was manufactured in Th. Müller dial factory in Pforzheim, Germany, which is now part of Swatch Group and producing dials for Glashütte Original. Even today, Stowa dials are made in this factory.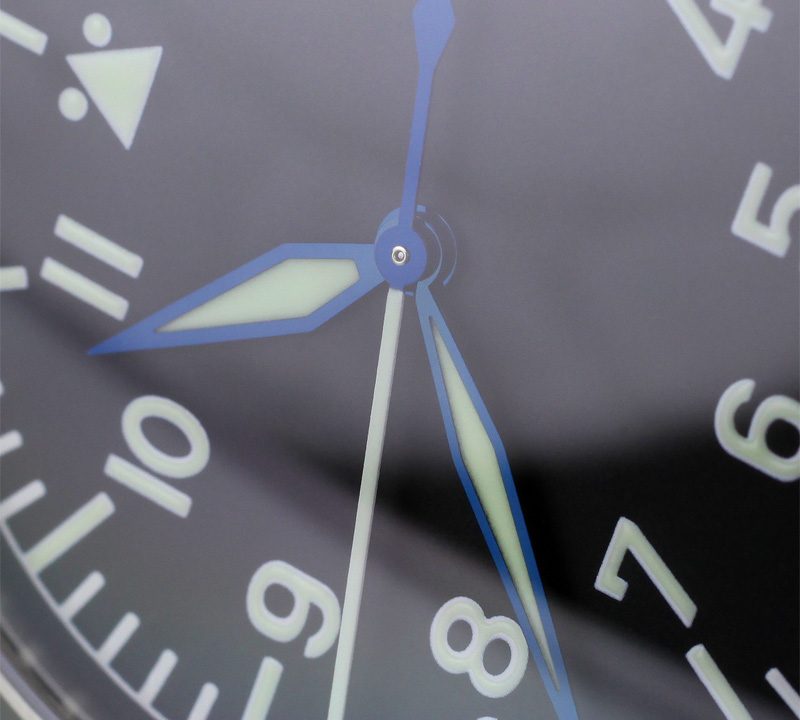 The heated blue steel hands are made by Universo in Switzerland, which is also now part of the Swatch Group. Universo has been supplying high quality, and very expensive hands to the haute horology brands for over a century. Heated blued hands are much better than chemically blued or painted hands that are found on many of the modern fliegers. By heating the steel to a high temperature, the metal becomes resistant to corrosion and gets a beautiful shade of blue. After this process, the hands are filled with Superluminova.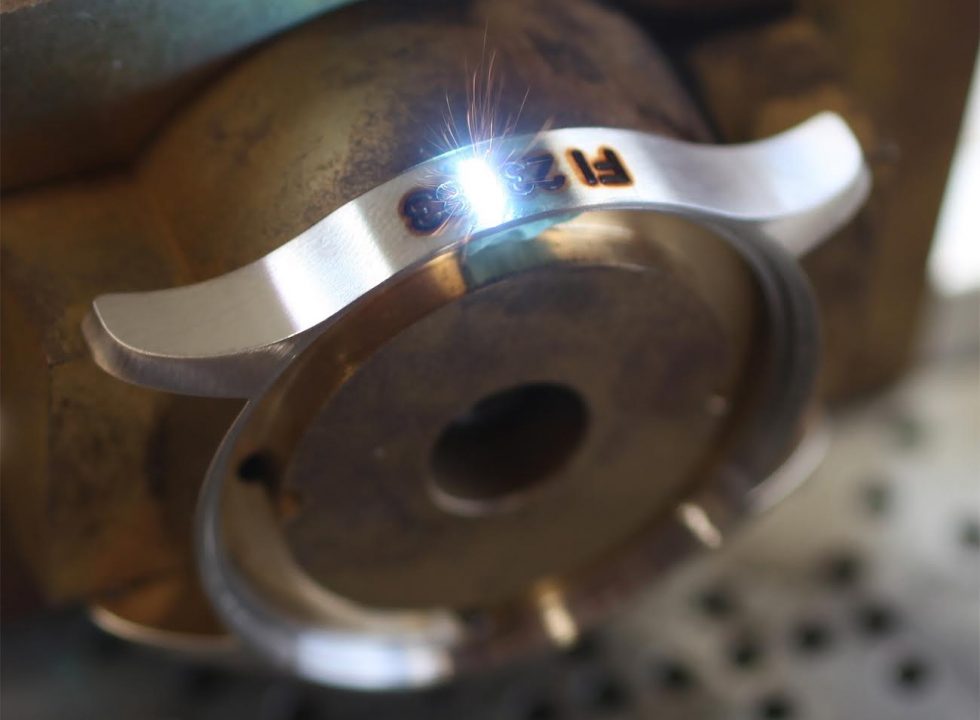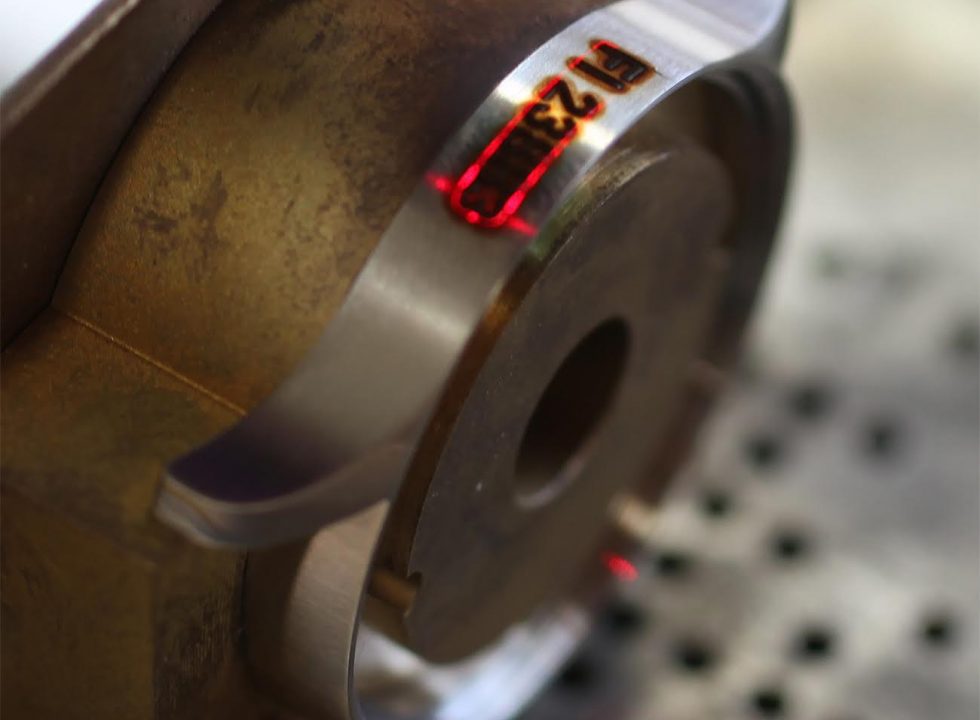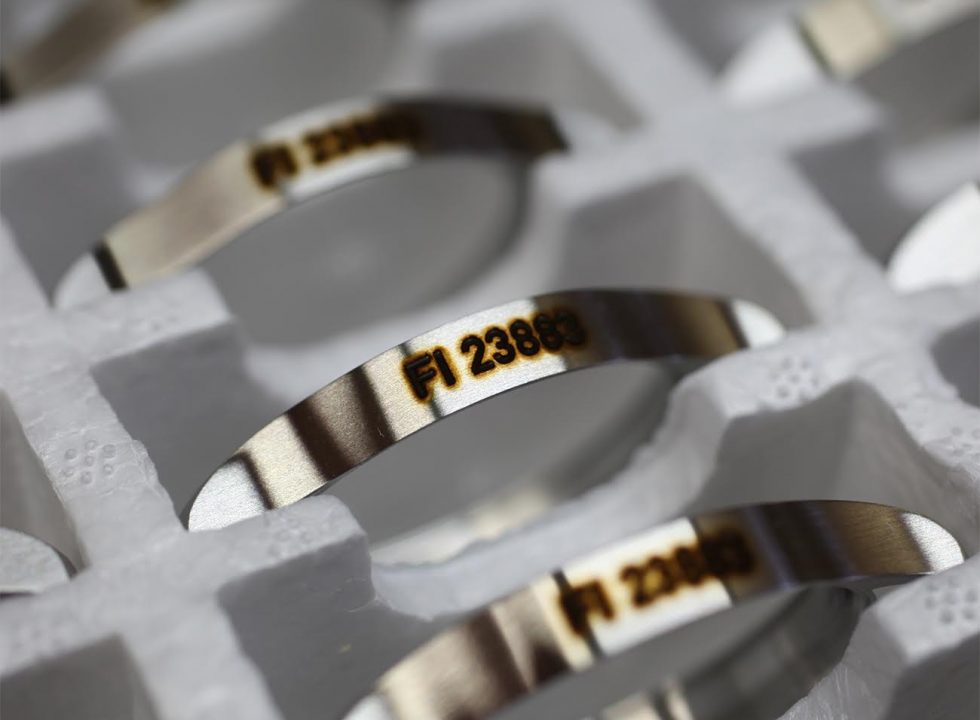 The FOLE stainless-steel case is manufactured by Fricker, also based in Pforzheim, Germany. Walter Fricker, CEO and owner of Fricker GmbH, has been responsible for designing and manufacturing cases for many famous brands. Jörg Schauer made a special laser engraving of FL23883 and applied brushed finishing on the cases. The case size is 41mm and with thickness of 13.6mm.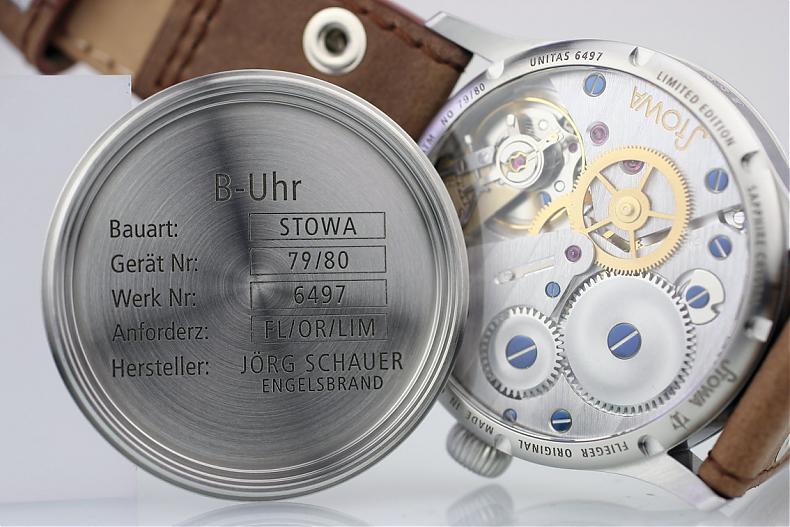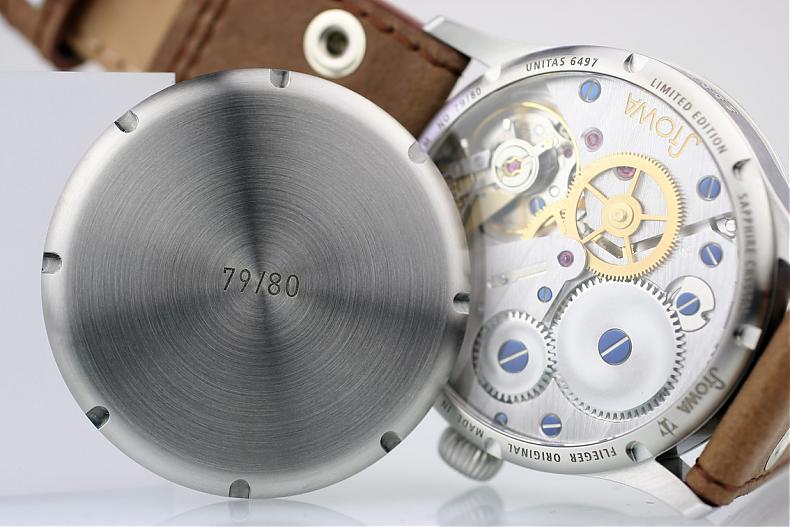 The screw-down case back has both, sapphire display case, and solid case with special engraving on the inside and edition number on outside. A neat rubber ball tool was provided for opening the case back.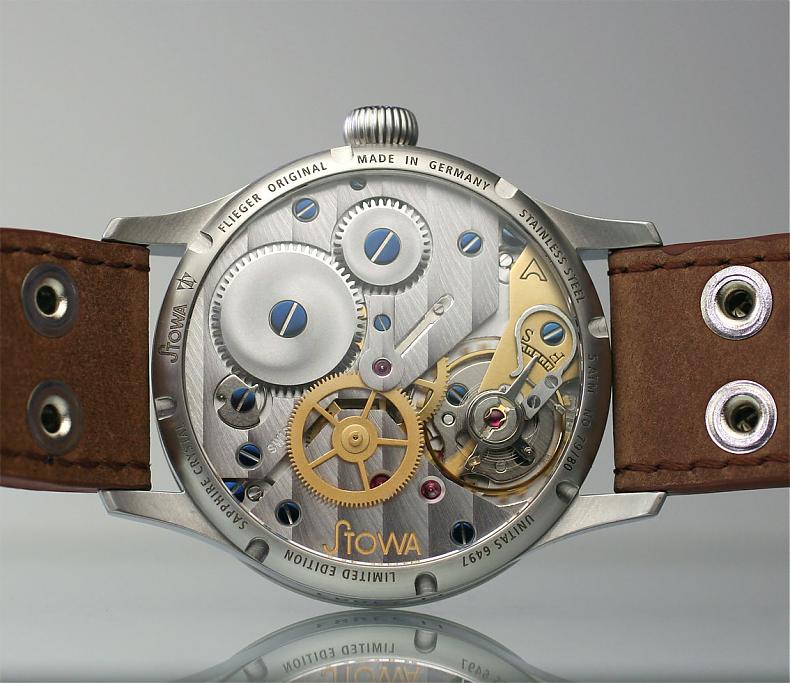 The FOLE movement makes this flieger very special. Jörg wanted to make the functionality same as the original flieger – a hand wound with hacking central seconds. He accomplished this by modifying an Unitas 6497 movement (ébauche is made in Switzerland by ETA, owned by Swatch Group). It is not a true hack in which, when the crown is pulled out, the seconds hand stops immediately. This is a special hack with "reset to zero" function, where the seconds hand does not stop immediately, it continues to run until it reaches 12, and then it stops.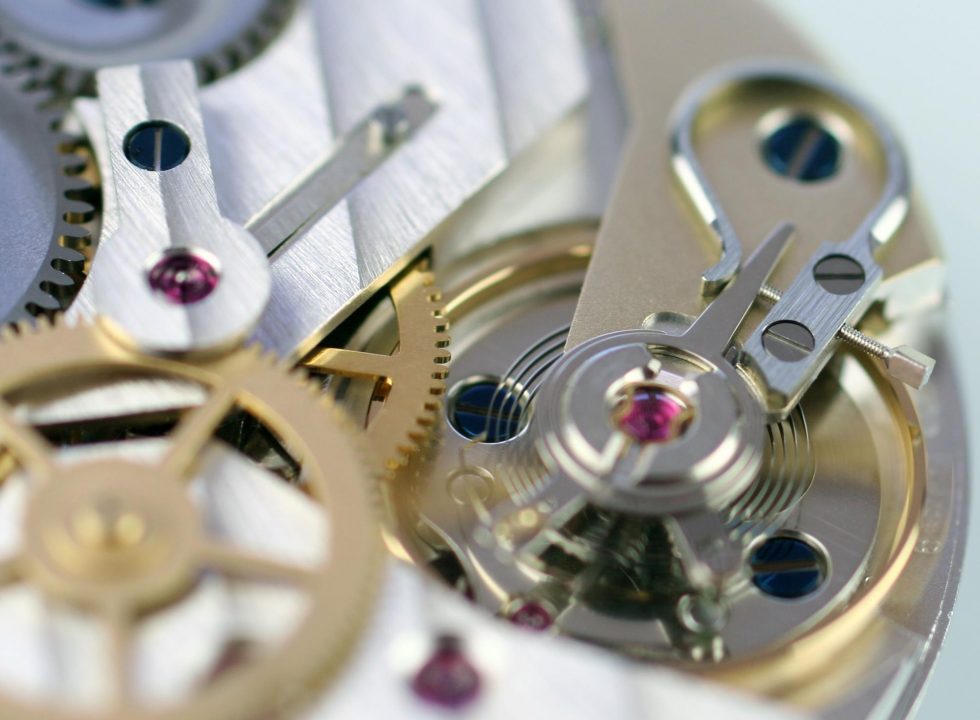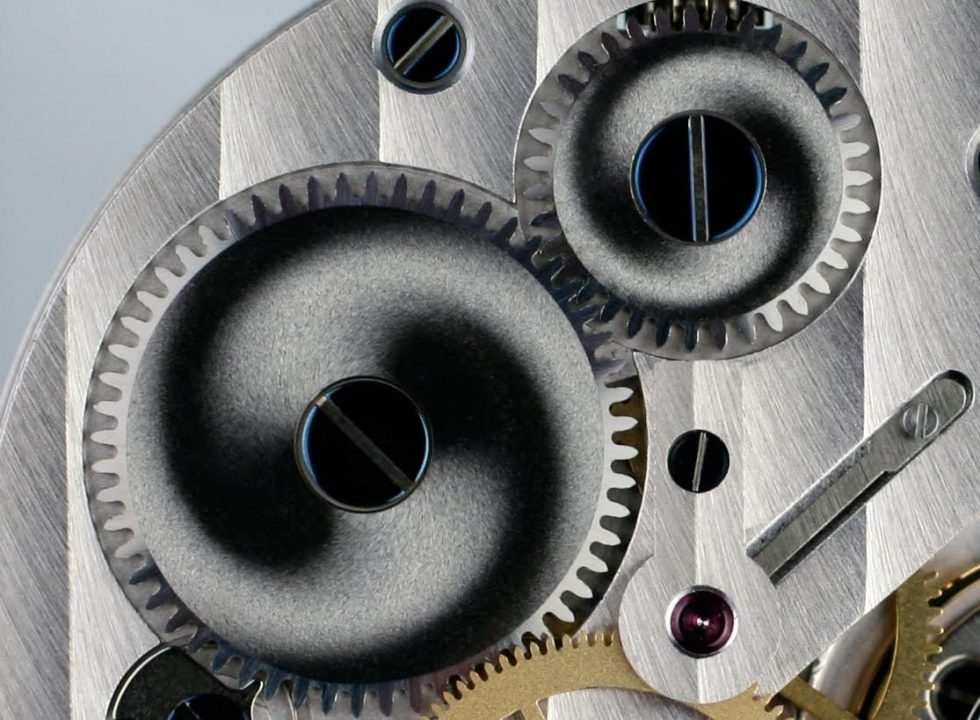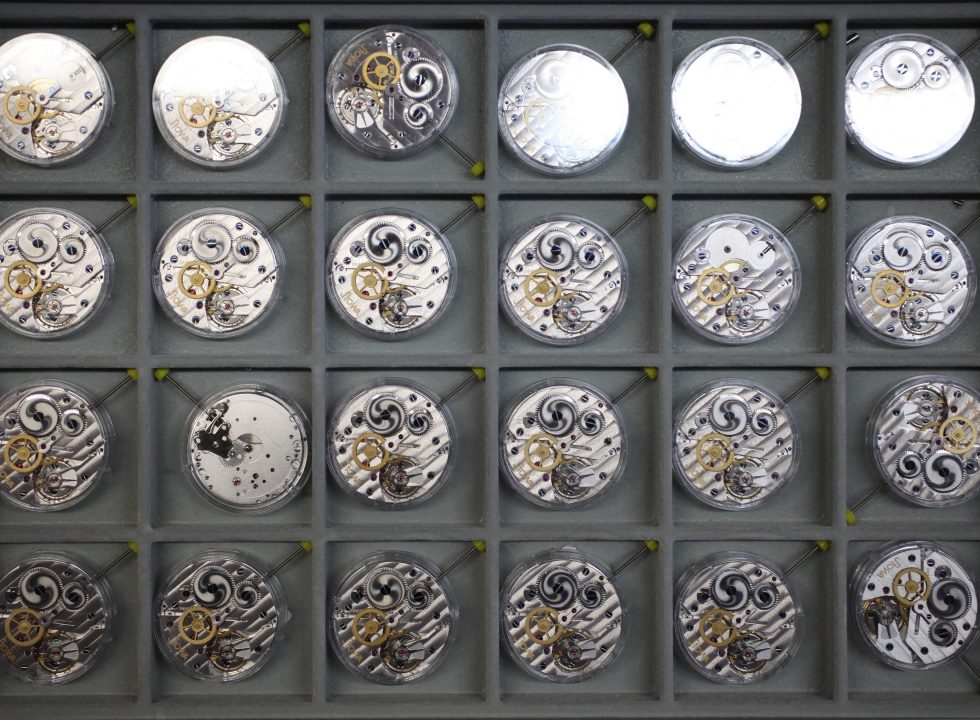 Along with the functional modifications, Jörg added a swan neck regulator, fine finishing with Geneva stripes, heated blue screws, gears with galaxy whirl patterns, and a matt sandblasted and gold plated engraved balance bridge.
Finally, each of the 80 FOLE Editions arrived with a hardbound book detailing the process of making this flieger, and two vintage leather straps in brown and black colors.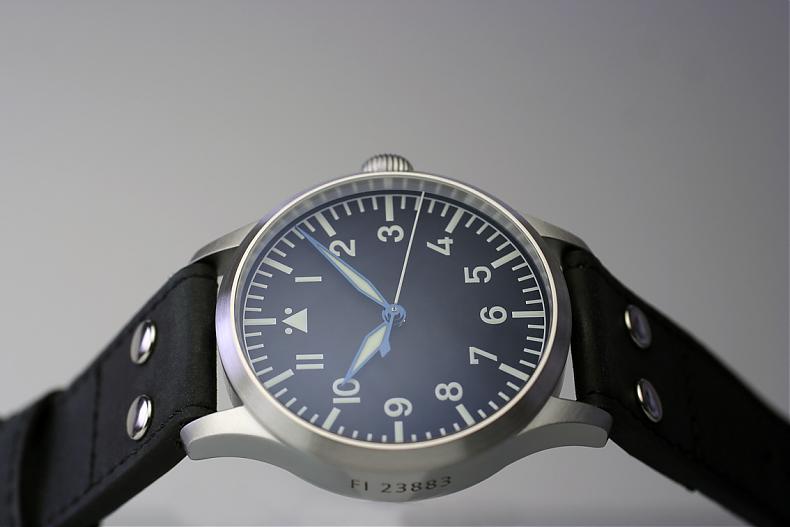 Stowa FOLE occasionally pops up for sale on Watchuseek, but it is very hard to find this classic flieger. The last known selling price was north of $3,000.
Photo Credit: Jörg Schauer, and The Stowa Enthusiasts website