We have discussed some of the most interesting flieger watches from around the world in past few weeks. This week we present our Top 5 best flieger chronographs from Germany.
The tradition of German watchmaking goes back several centuries, with a flourishing watch community in Glashutte. However, after World War I, Germany was prohibited from military aviation, so there were no official aviation watches being produced. Nevertheless, in the 1920's and 1930's there were pilot's watches in circulation, produced by Swiss makers such as Omega, Longines, and a few manufactured by IWC. By World War II, many of the chronograph wristwatches for the German Airforce were produced in Germany by Ührenfabrik AG Tutima of Glashütte, Saxony, and by Hanhart of Schwenningen on the Neckar.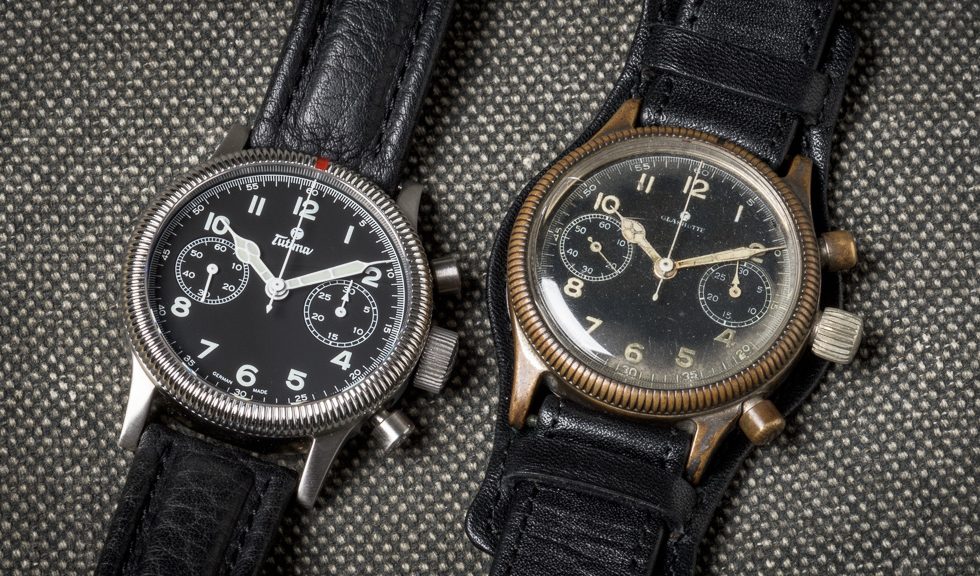 The modern German fliegers have embraced practical design for the ease of daily wrist wear. According to Watchuseek's resident flieger expert, Mike Stuffler, contemporary Flieger watches still breath the "kerosene tainted air of former times." A flieger still has a special aura apart from its characteristics such as readability, robustness, tool-ish look. This aura makes flieger watches somehow immortal and desirable.
Sinn
As you may have heard that Mr. Helmut Sinn passed away last month at the age of 101. In 1994, at the age of 80, Helmut Sinn decided to retire and he sold Sinn watch company to Mr. Lothar Schmidt. Mr. Schmidt, an engineer by nature, evolved Sinn into a technological leader within the industry.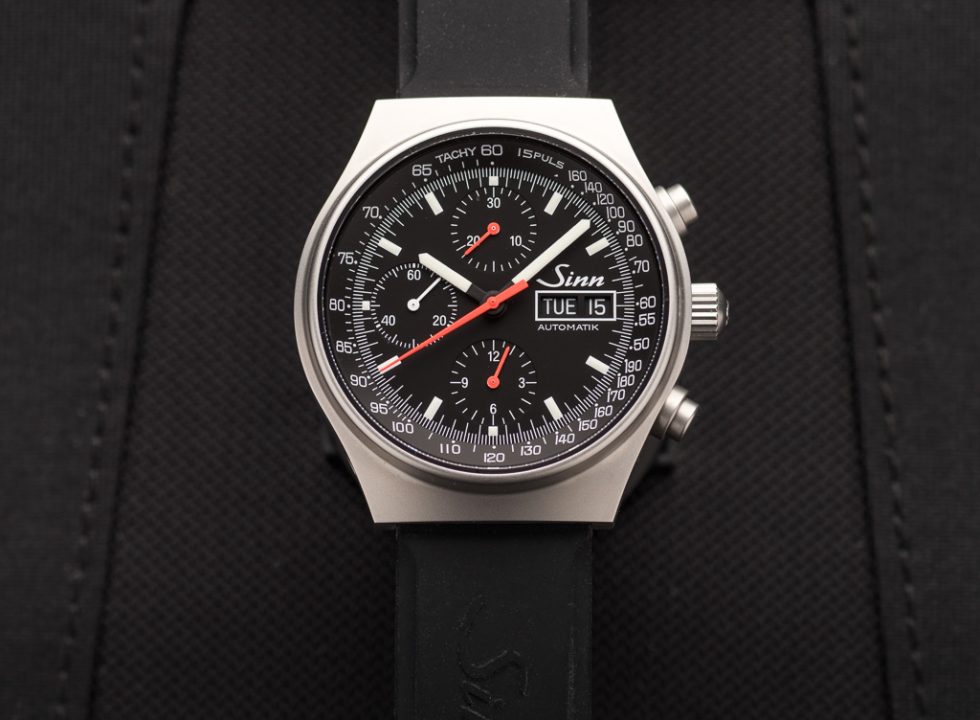 The Sinn 144 St Sa is one of the company's earliest designs and stands the test of time by still being offered today.
The 41mm case is made of a bead-blasted stainless steel and houses a Valjoux 7750 automatic movement for years of reliable use. The high contrast matte black dial is all business with easy to read markings for the chronograph and tachymeter/pulsometer scale.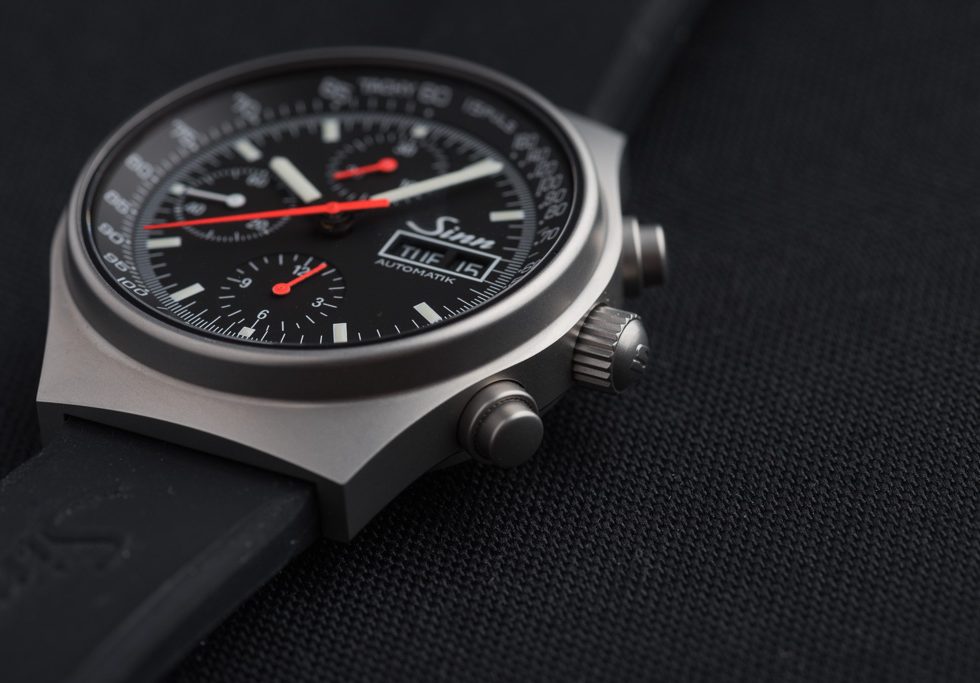 Sinn 144 St Sa is $2,110 USD on leather strap and $2,280 USD on bracelet.
Guinand
The year after retiring from Sinn, Mr. Helmut Sinn bought the shares of the Guinand S.A. from the Guinand family based in Switzerland. The Swiss production eventually ended in 2000, with the production moving to Frankfurt under Mr. Sinn. Mr. Matthias Klüh now leads the company under Guinand GmbH and produces flieger chronographs in small quantities with quality craftsmanship at a reasonable price (1,000 – 2,000 Euros).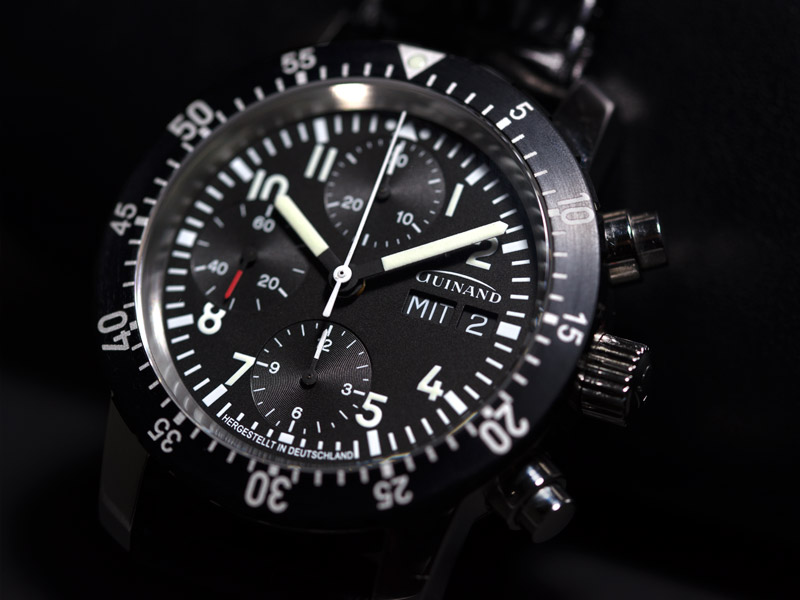 Guinand 40.50.01 Klassik is the classic among modern flieger chronographs. The design is based on Guinand predecessor models (Guinand ref. 361, from the 1970s / Sinn 102) and the classic design of the early Heuer pilot chronographs.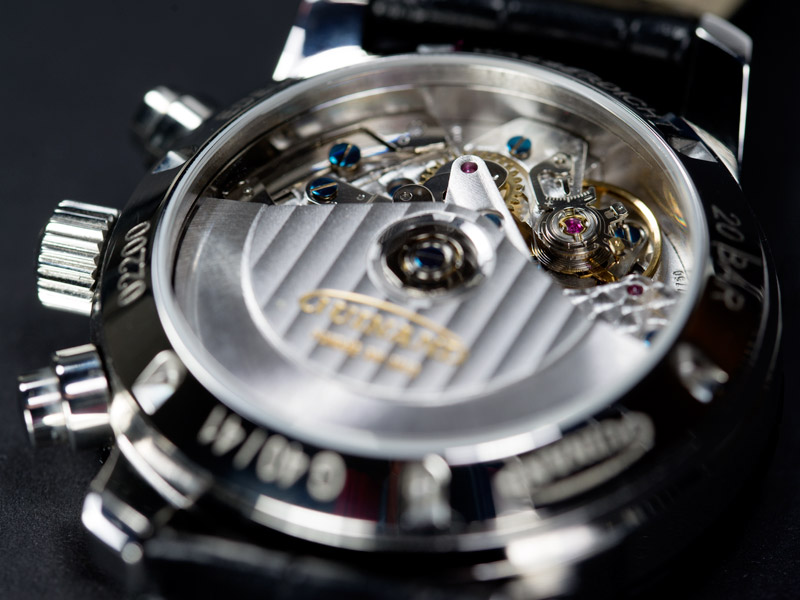 Today, as in the past, it is known for its optimum legibility, robust design and good ergonomics. It has a new housing with side protection of the crown and the classic "needle" hands for chronograph legibility. The Valjoux movement with Glucydur balance is now a standard on this chronograph.
Hanhart
Hanhart is located in middle of the Black forest, in Gutenbach, a town famous for producing clocks and toys. This German brand is best known for its vintage pilot watches. Currently, the brand offers mid-priced pilots, rally car, and diver watches with vintage appeal.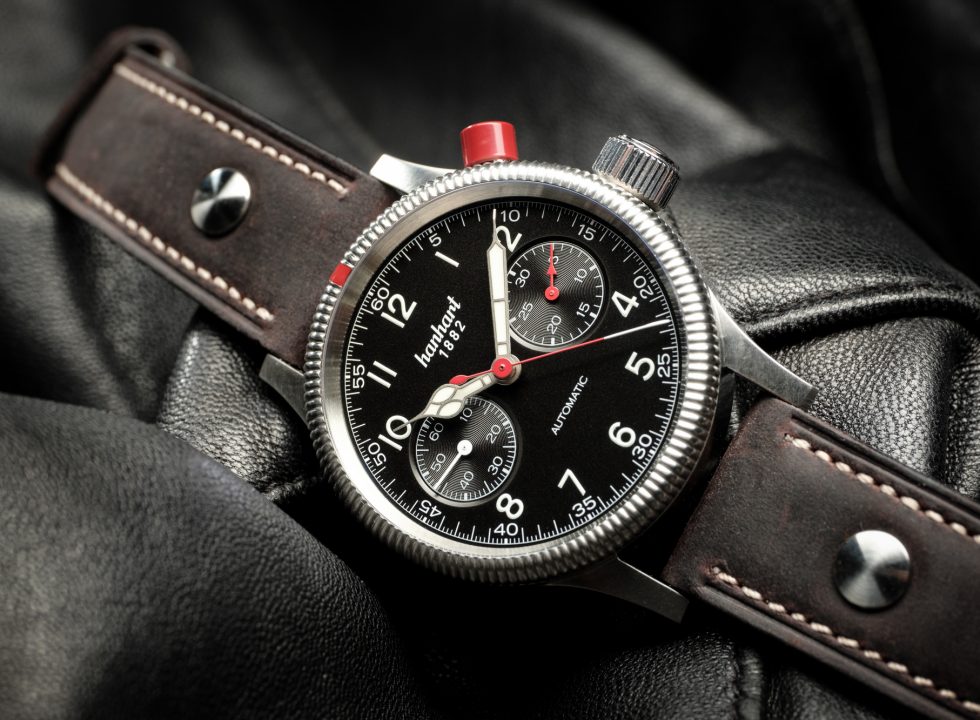 The Hanhart PIONEER Mk 1 is the replica of the "Calibre 40", the first precision chronograph produced by Hanhart of Germany in 1938.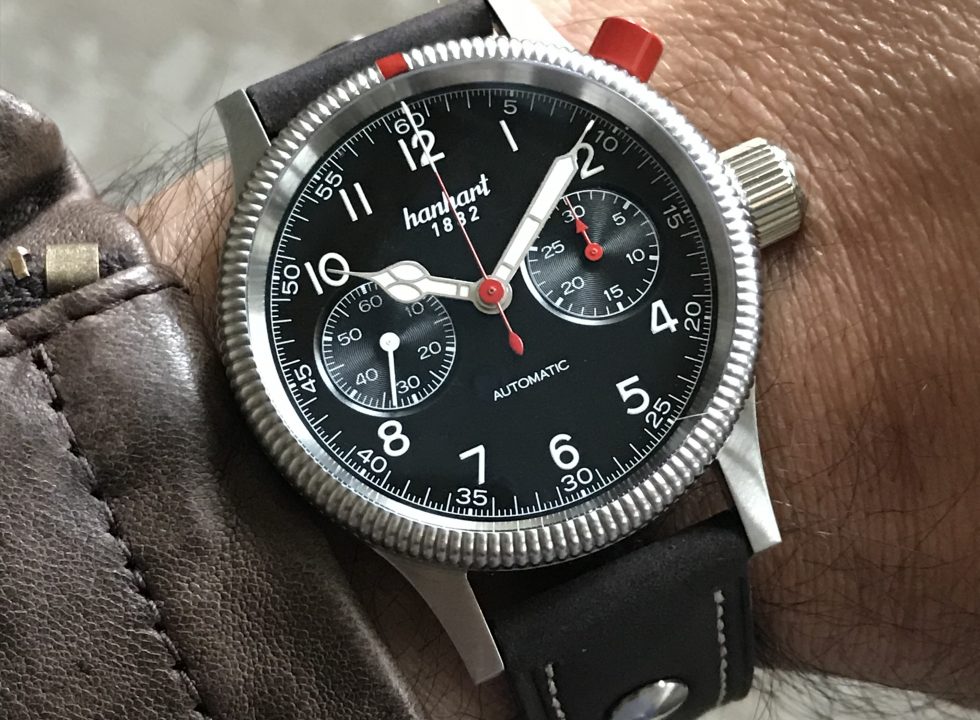 This pilot's chronograph is unique in that there is only one pusher to control all the functions of the timing mechanism, whereas most modern chronographs use a two-pusher system. Hanhart uses Valjoux movement, but modifies it with a La Joux-Perret module for the asymmetrical chronograph pusher with red ceramic cap between 1 and 2.
The Hanhart PIONEER MkI has a retail price of $2,270 USD
Tutima
In 1939/1940, under the management of Dr. Kurtz, the first German two-pusher flyback chronograph was manufactured (calibre 59). This chronograph was sold under the name "Tutima." Tutima is derived from the Latin word "Tutus" which means "safe" or "protected."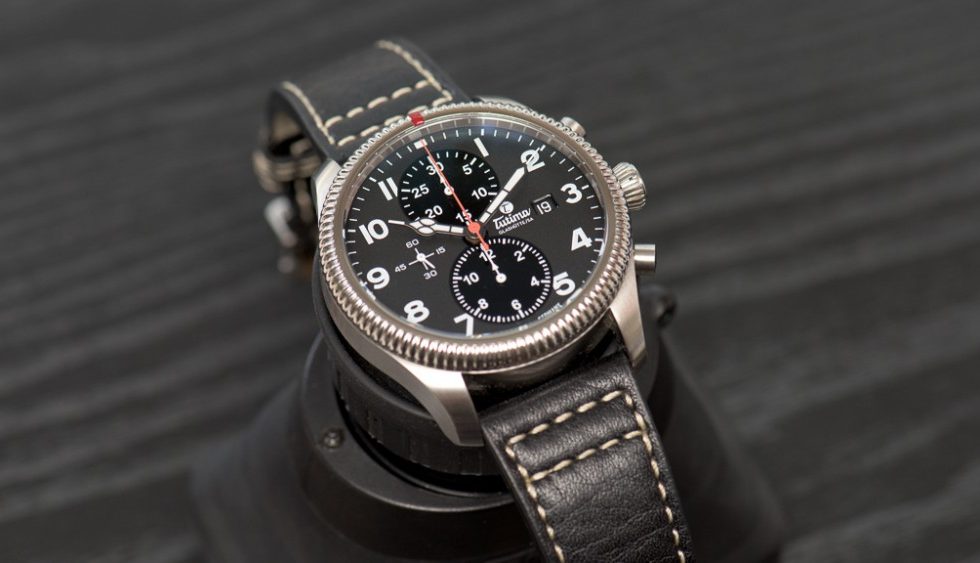 Grand Flieger Classic Chronograph (Ref 6402-01) has cathedral hands, the coin-edge stainless steel case, and the rotating bezel with red reference mark still remain familiar as a tribute to the 1941 Flieger. However, the Grand Flieger now has a much larger 43 mm case, outfitted with a modified Valjoux 7750 automatic movement (replaces Valjoux 7760 of Classic Flieger), screw-down crown, and has a domed sapphire crystal that is anti-reflective on both sides.
Tutima has taken a functional approach towards this chronograph by adding a date display. Rest of the functions include small second, chronograph 60-second counter, 30-minute counter, 12-hour counter, and a sweep second counter.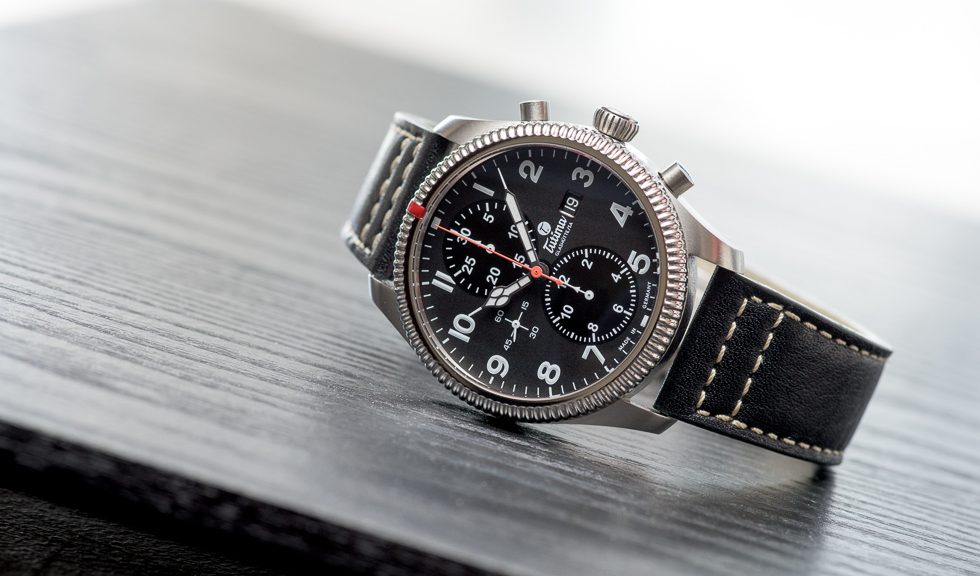 Grand Flieger Chronograph is presented with a Certified Chronometer certificate. The retail price for the Grand Flieger is $5,100.
Damasko
Damasko is a family owned watch brand based in Barbing, a small village close to Regensburg, the Donau and the Walhalla in Germany.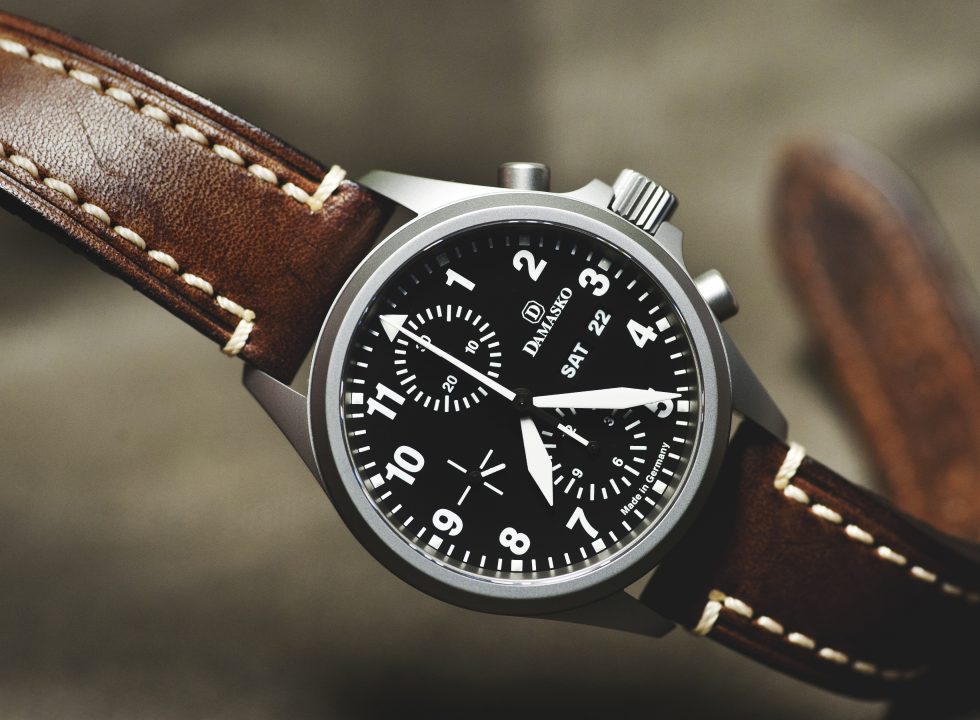 DC56 is Damasko's most recognizable flieger chronograph. The watch case is made by Damasko and features the industry's toughest material yet. The material is called "ice-hardened, nickel-free stainless steel". The unique inner case consists of the dial, the movement retaining ring, and a second back. These parts are made of a special material with anti-magnetic characteristics which can withstand magnetic fields with a strength up to 80,000 A/m.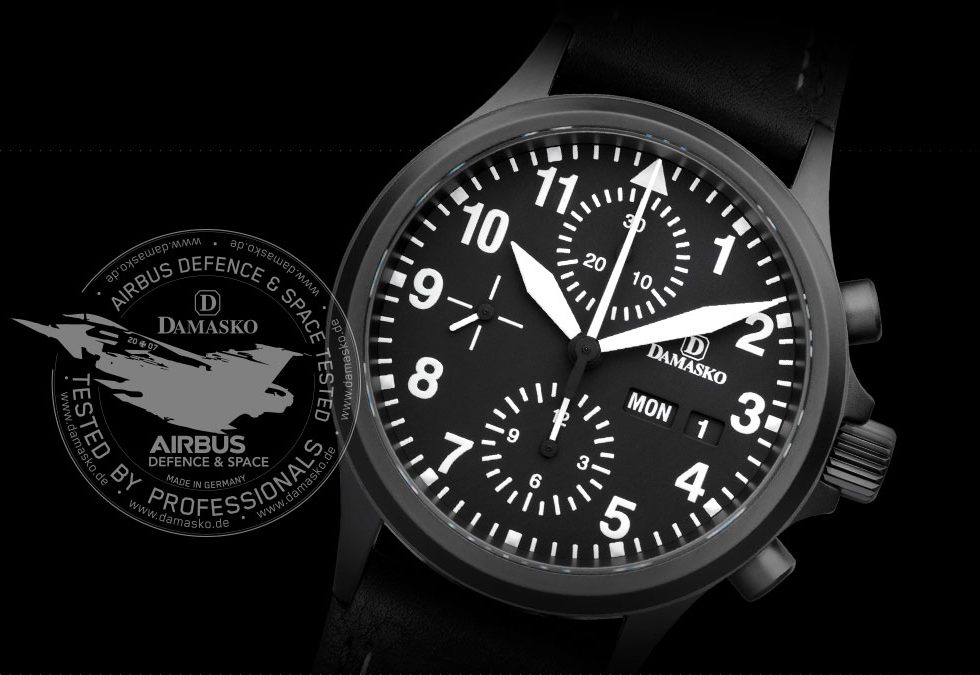 The watch is powered by Valjoux 7750 movement. Usually you'll find the day-date indication coming with a Valjoux 7750 at 3 o'clock position; the DC 56 has the day-date window between 3 and 4.
DC56 can be purchased directly from Damasko website for 1,490 Euros (without VAT).
Photo Credit: Scott Sitkiewitz, Damakso, Guinand, and Watchuseek forum members.