The majority of modern flieger watches are inspired by the WW II B-Uhren watch. The Imperial Air Ministry (RLM), defined strict specifications for the B-Uhren watches (applicable to both Type A and Type B fliegers). One of that strict specification was a sterile dial with no logo or written words on the dial.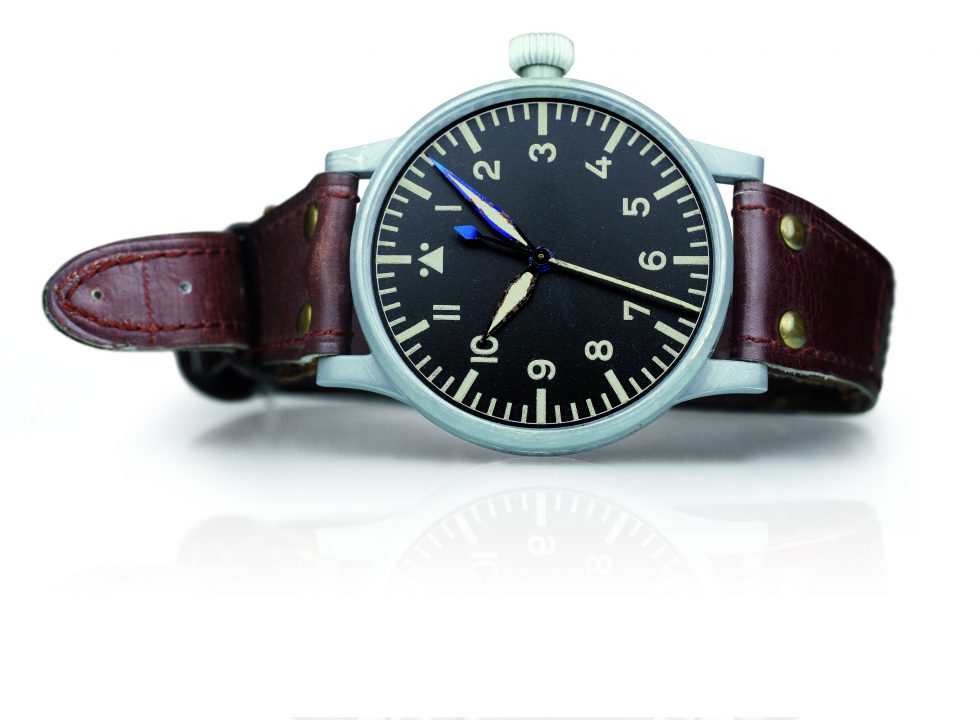 The Type A (Baumuster A, 1940 to 1941) was classic dial with numerals 1 to 11, and instead of a 12, a triangle with two dots.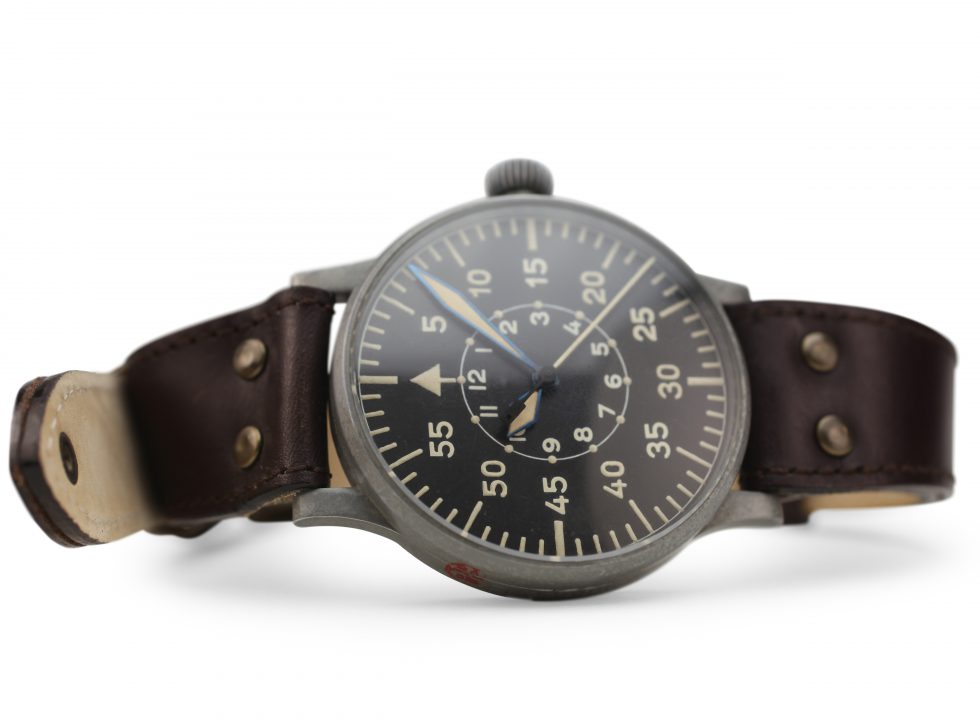 The Type B (Baumuster B, starting in 1941) dial had big minute numerals from 5 to 55 on the chapter ring, and a small sub-chapter ring with hour numerals.
There are several discussions about pilot watches with sterile dials on Watchuseek forum. Hence, we have compiled a list of modern pilot watches at various price points (the list is in alphabetical order). Due to the popularity of these watches, some of them may be sold out by the time you read this, hence please email the brand for further inquiry.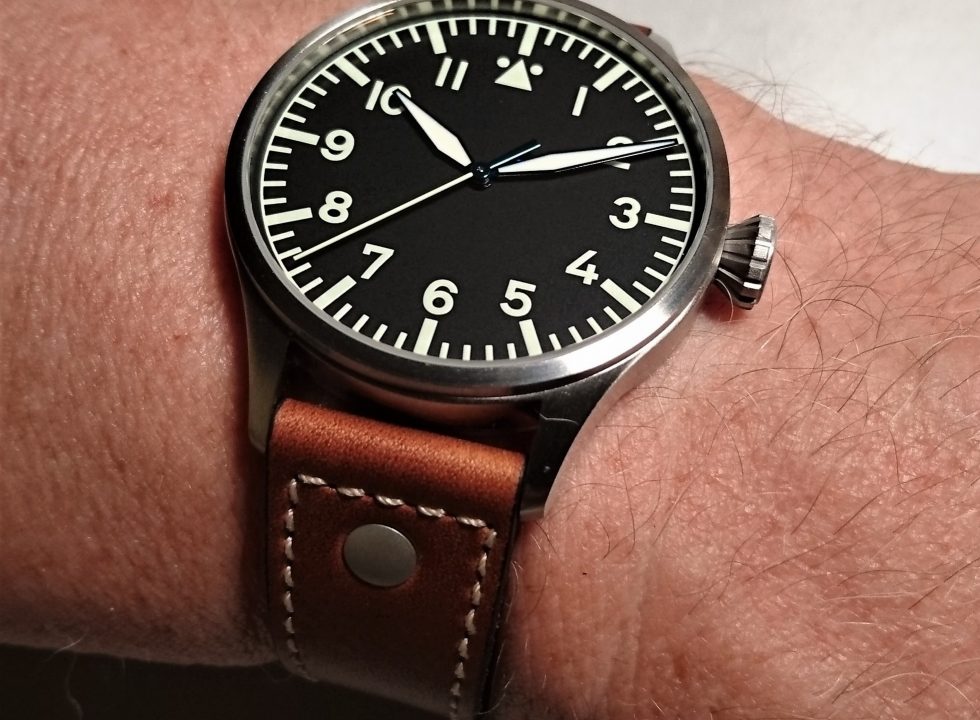 Archimede Pilot 42 HS LDB
Black sterile dial with luminous numerals and indexes
Heated blue steel hands
42 mm case with thickness of 9.9 mm and lug-to-lug length 51 mm
Automatic ETA 2824-2 movement
Price €621.85 (without German VAT)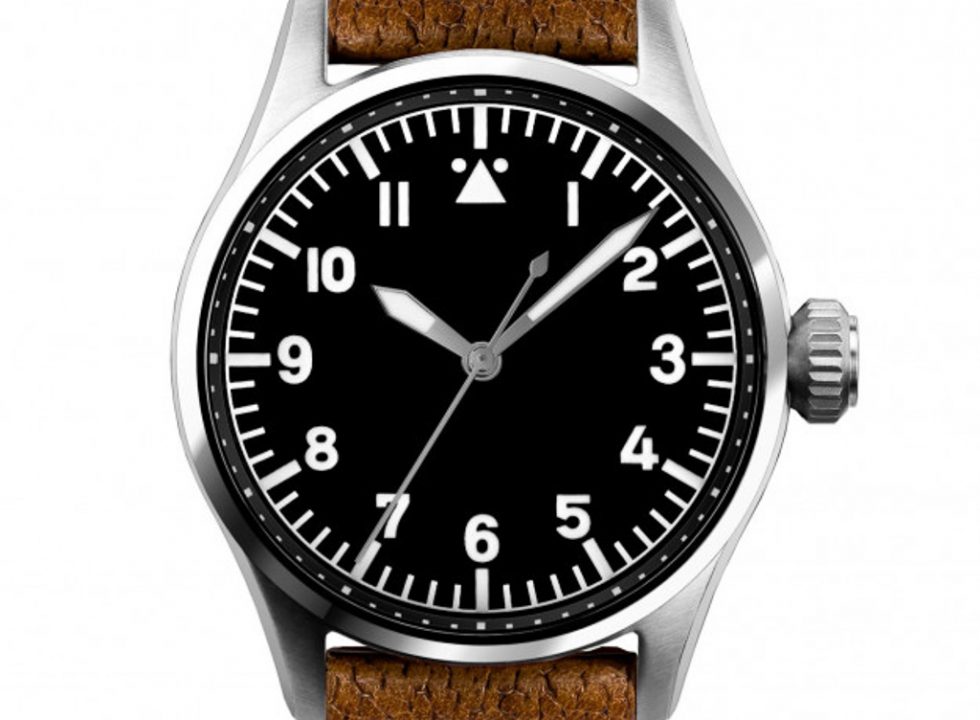 Geckota K-01 VERSION 31
Matt black sterile dial with luminous numerals and indexes
Steel hands with white lume
44 mm case with thickness of 14 mm and lug size of 22 mm
Automatic Seiko NH35 movement
Price $265.90 USD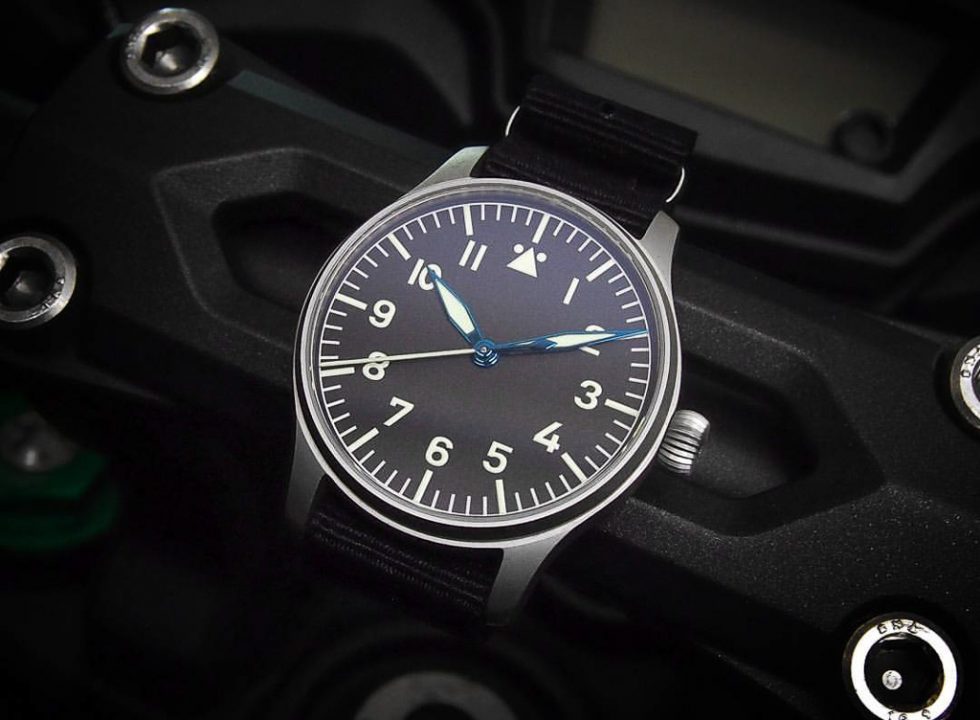 Ionnyx Pilot Watch
Black sterile dial with luminous numerals and indexes
Heated blue steel hands
40 mm sandblasted steel case with thickness of 13 mm
Automatic Miyota 8215 movement
Price $199 USD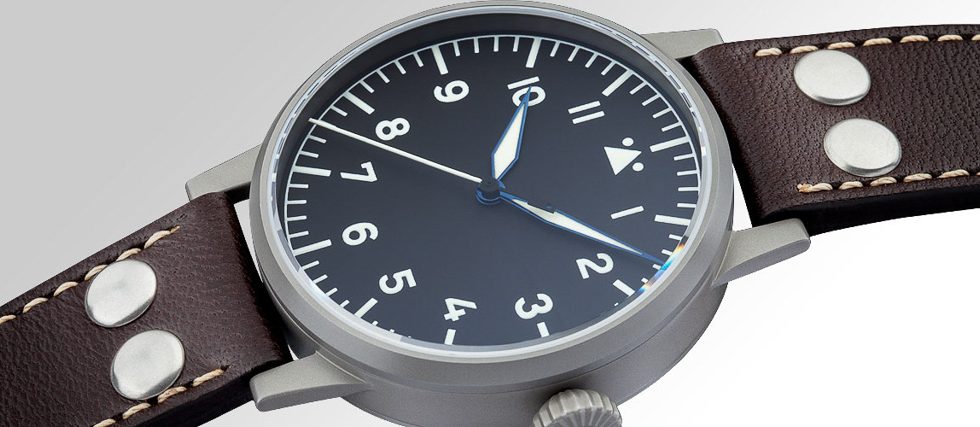 Laco Münster Pilot
Black sterile dial with luminous numerals and indexes
Heated blue steel hands
42 mm sandblasted steel case with thickness of 13 mm and lug size of 20 mm
Automatic ETA 2824-2 Elaboré movement
Price $1,190 USD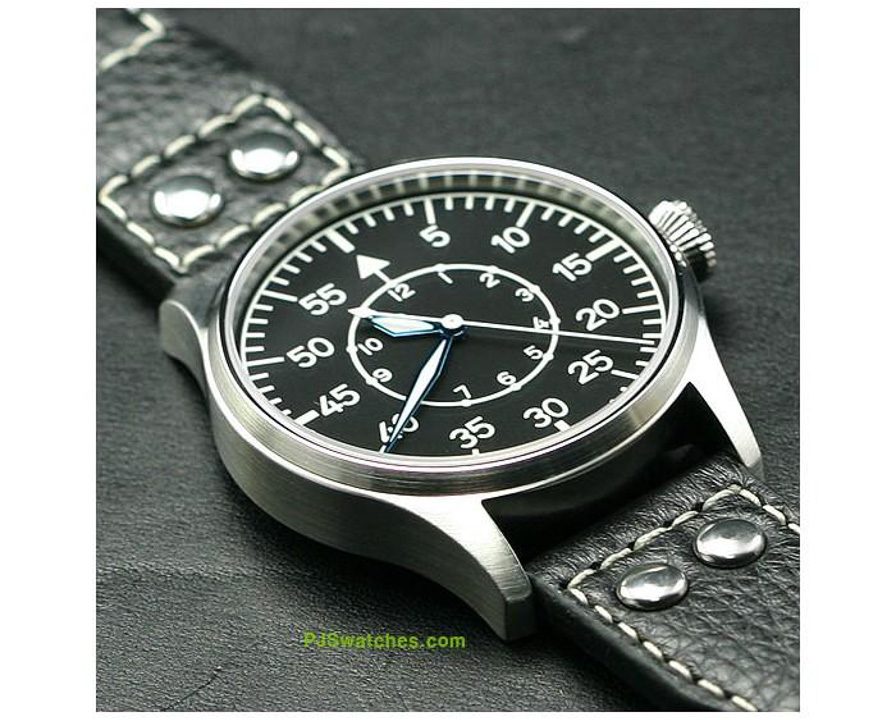 PJS Pilot Automatic Type-B
Matt black sterile dial with luminous numerals and indexes
Painted blue hands
42 mm case with thickness of 13 mm and lug size of 22 mm
Automatic Miyota 8215 movement
Price $199.99 USD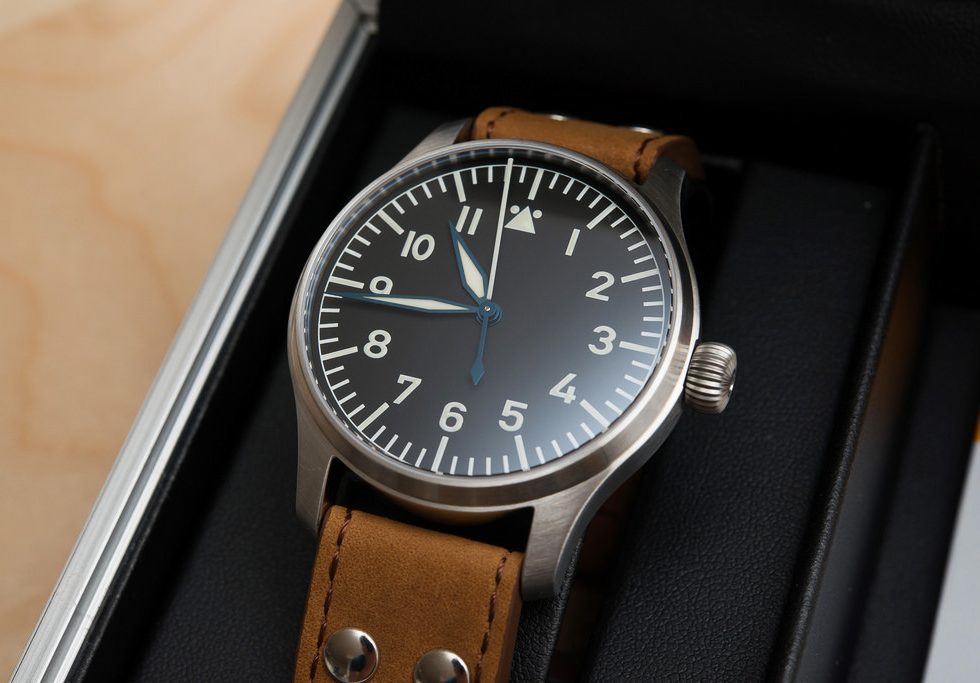 Stowa Flieger Classic 40 without logo
Matt black sterile dial with luminous numerals and indexes
Heated blue steel hands
40 mm matt finish steel case with thickness of 10.2 mm and lug with of 20 mm
Automatic ETA 2824-2 Top movement
Price €831.93 (without German VAT)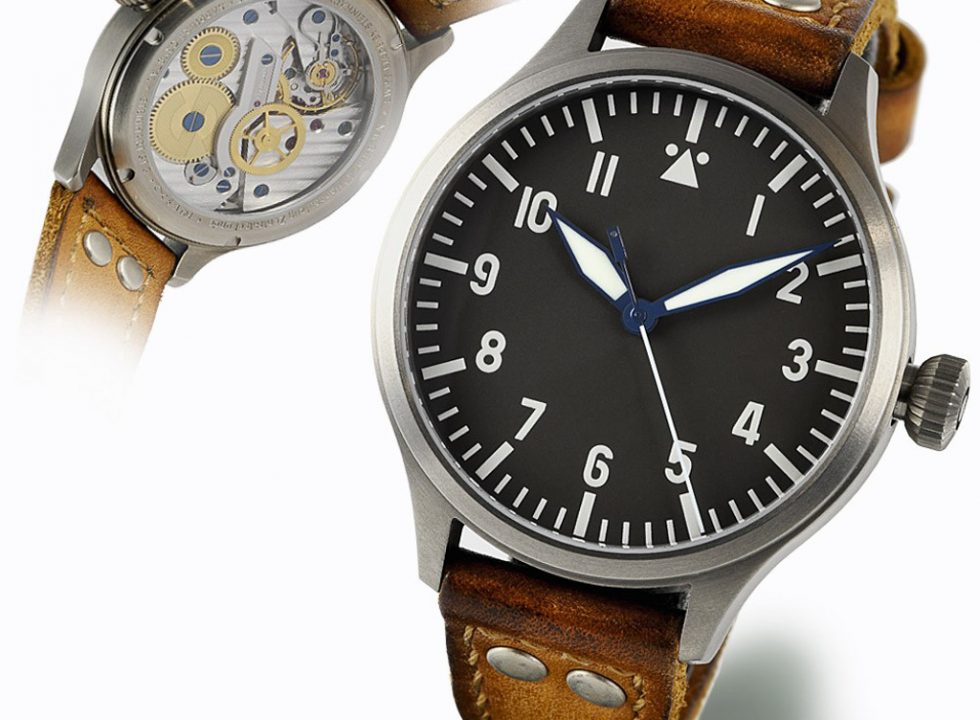 Steinhart Nav B-Uhr 47 Titan
Vintage black sterile dial with vintage luminous numerals and indexes
Heated blue steel hands
47 mm titanium case with thickness of 14 mm and lug size of 22 mm
Hand winding ETA Unitas 6497-1 movement with beveled swan-neck fine adjustment
Price € 1,252.10 (without German VAT)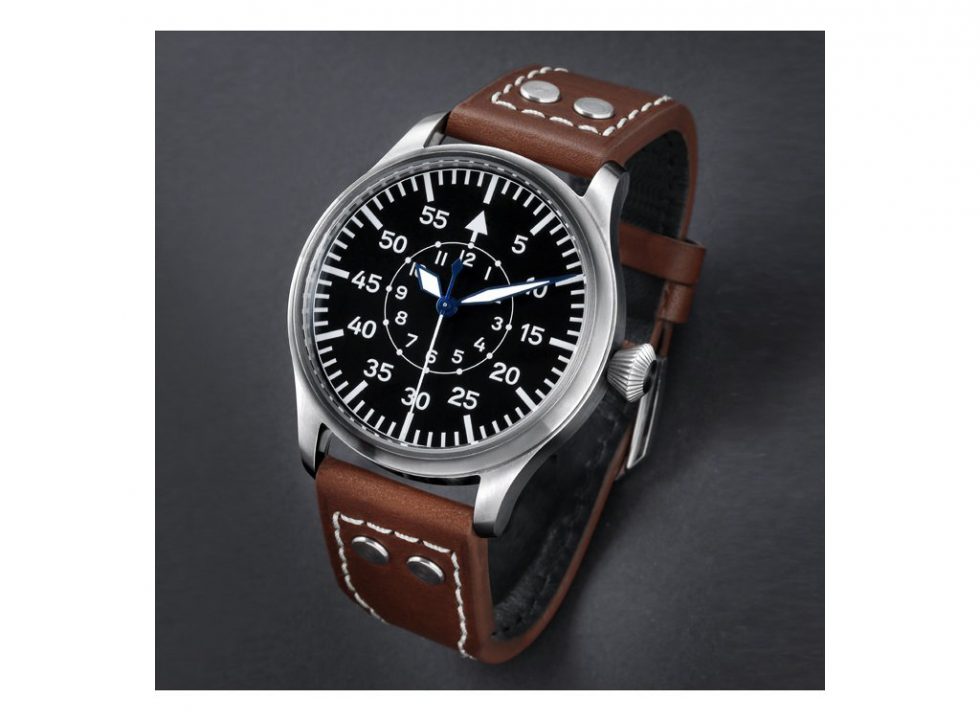 Tisell Pilot Watch
Black sterile dial with luminous numerals and indexes
Heated blue steel hands
43 mm brushed steel case with thickness of 12.5 mm and lugs size of 22 mm
Automatic Sea-gull ST25 movement
Price $149 USD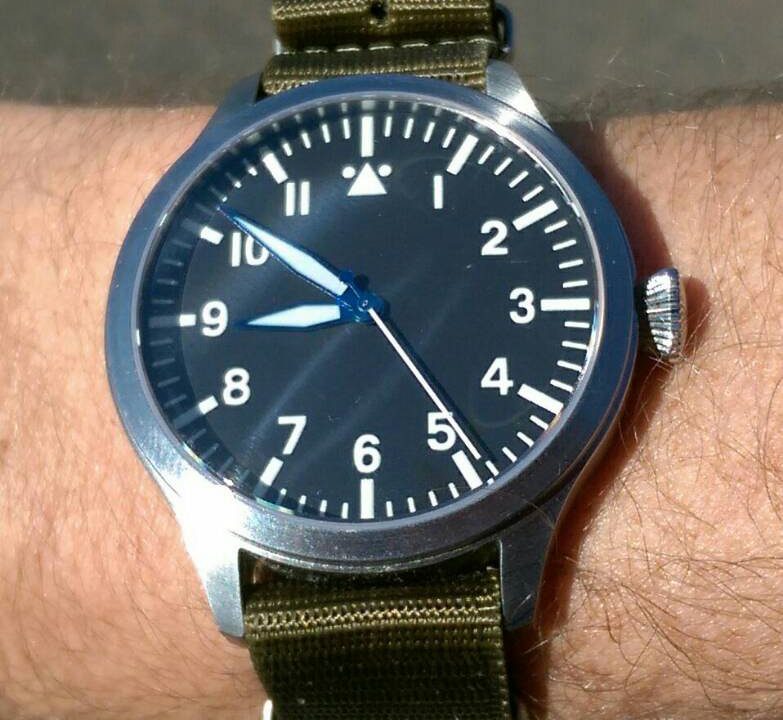 Ticino Type-A B-URH Pilot
Black sterile dial with luminous numerals and indexes
Painted blue hands
44 mm brushed satin steel case with thickness of 13.8 mm and lugs size of 20 mm
Automatic Miyota 9015 movement
Price $149 USD
Tourby Pilot Automatic
Galvano black sterile dial with luminous numerals and indexes
Heated blue steel hands
40.5 mm sandblasted steel case with thickness of 10.6 mm and lug size of 22 mm
Automatic ETA 2824-2 movement
Price €1,250 with free worldwide shipping
Photo Credit: Respective brands and Watchuseek forum members