We have extensively discussed the German flieger history in the past. Therefore, we would like to present an overview of legendary French pilot chronographs known as Type 20 (and Type 21). The French chronographs were directly inspired by the German flieger chronographs from World War II manufactured by Tutima and Hanhart.
Breguet and Vixa were the first ones to supply the Type 20 chronographs to the French military in 1950. In 1954, Auricoste became the official supplier, followed by Dodane 1960. The brands which still manufacture modern Type 20 chronographs are Breguet and Dodane.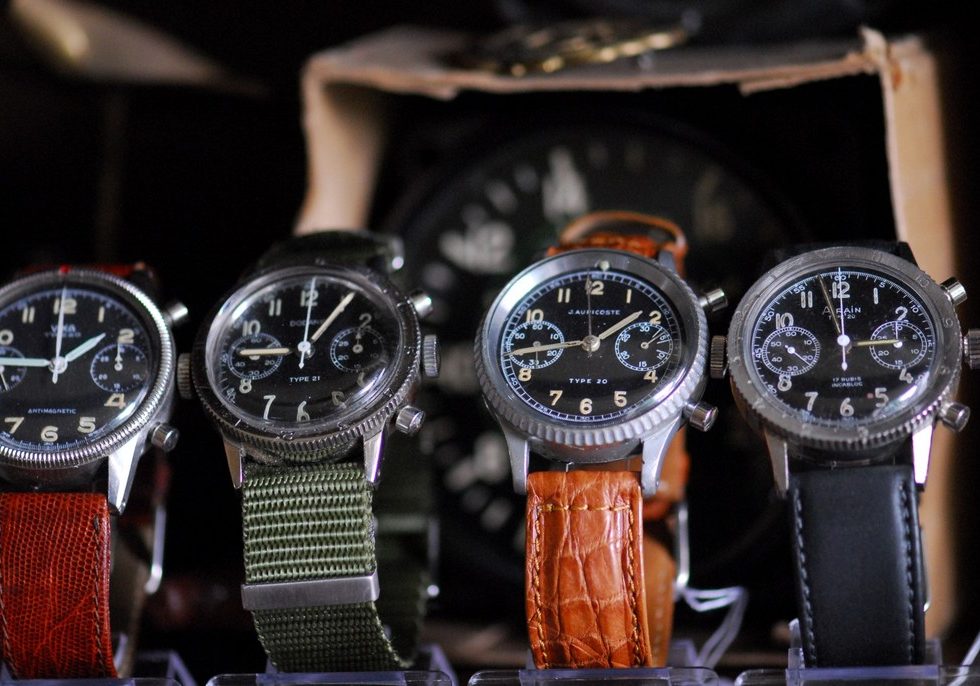 Definition of Type 20
So, what is Type 20? It is a specification by French Ministry of Defense for pilot's wristwatch as part of his standard equipment. Unlike the German flieger specifications, the French Type 20 specifications as not clearly documented, hence they are based on common characteristics shared by various manufacturers. They seem to be closely aligned with Hanhart fliegerchronograph specifications.
Black dial, with two registers at 3 and 9 o'clock that can count to 30 minutes
Luminous hands and Arabic numbers
A case diameter of approximately 38 mm
Flyback function (retour en vol)
Bi-directional 12-hour rotating bezel
A watch accurate to at least 8 seconds per day
A power reserve of at least 35 hours
Ability to operate satisfactorily at least 300 times.
One interesting marking on the case back of the issued watches was "FG" or "Fin de Garantie" which means end of warranty. FG marking was followed with the next date of service. The Type 20 watches had fragile movements, hence they required service often. The FG marking can be used to distinguish between a military issued watch and a civilian watch.
Breguet Type XX
Montres Breguet, headquartered in Paris until 1976, was already a household name in France. Breguet became official supplier of the Type 20 to the Air Force, the Naval Aviation Branch, and the CEV. The Breguet Type 20 used stainless steel case, screwed case back, and Valjoux 22 movement with a flyback module. Most Breguet Type 20 chronographs came with a 30-minute counter, but the brand also made chronograph with 15-minute counter for Naval Aviation and CEV. Earlier issued Type 20 did not come with any brand logo on the dial, but the civilian versions did have the Breguet logo.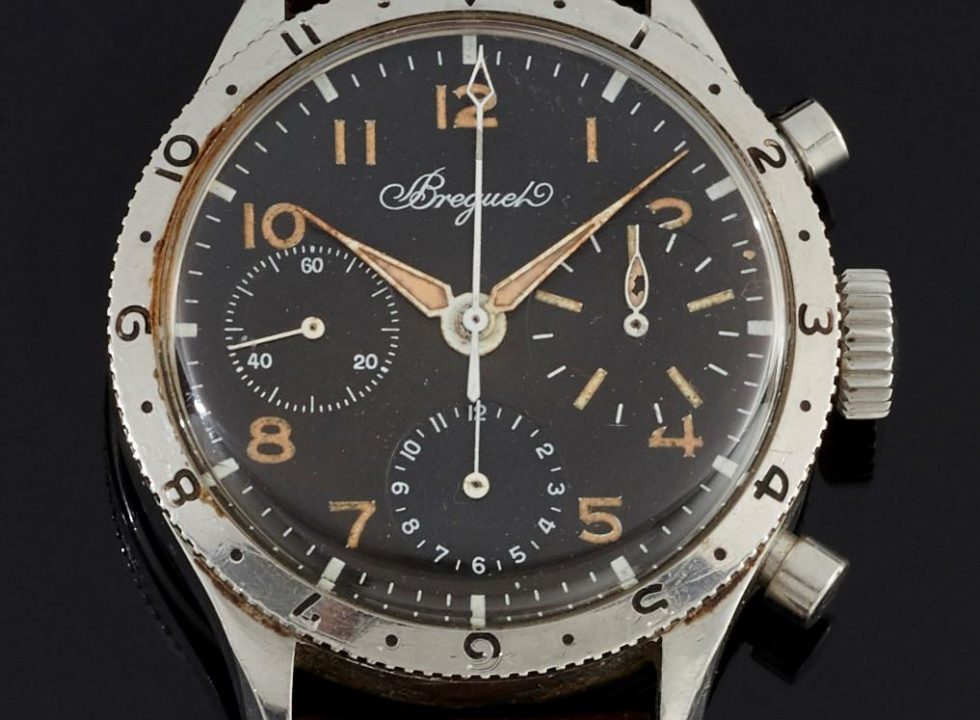 An interesting fact about earlier Breguet Type 20 (also known as First Generation) is that they were subcontracted to Matthey Tissot who manufactured the chronographs per specification. In fact, Mathey Tissot also made and sold Type 20 chronographs under its own brand, which were identical to the Breguet.
Auricoste Type XX
Auricoste delivered 2000 Type 20 watches to French Army between 1954 and 1955. Auricoste chronograph had a logo on the dial, Lemania 15TL movement, and used mix of stainless steel, chromed copper, and aluminum cases.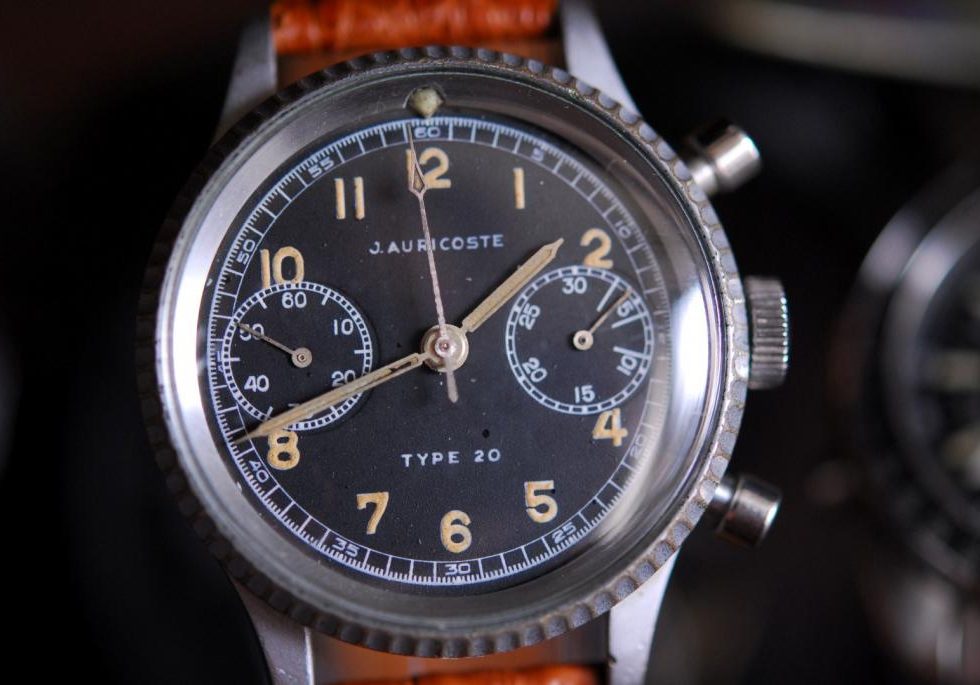 The Auricoste Type 20 chronographs were also sold to the Argentine Air Force and the Royal Moroccan Air Force, whose pilots were training in France. The Argentinean pilots wore the Type 20 watches during the Falklands War against the United Kingdom in 1982.
Vixa Type XX
The Vixa Type 20 was manufactured by Hanhart in 1954. The company "Vixa" was named after a late president of Timex Watches France. (Timex had a factory in Besançon until 1960.) Some 4000-5000 Vixa Type 20 chronographs were supplied to French Air Force.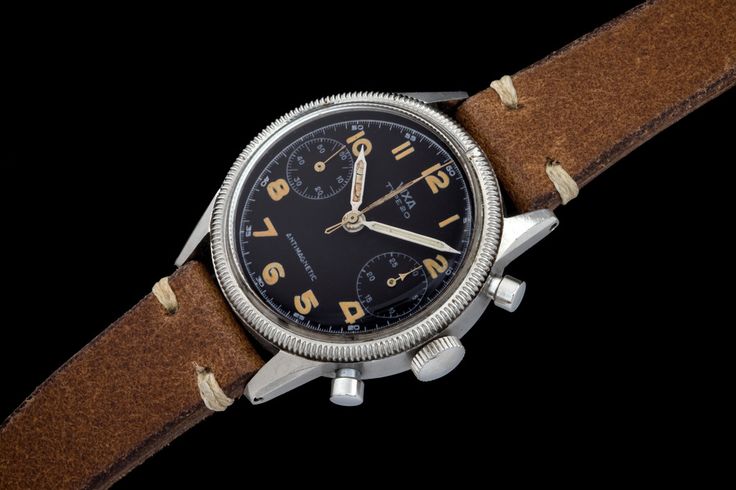 After WWII, the Black Forest was part of the French Occupation Zone (FRanzösische Besatzungszone"). As part of the German repartition payments to France, Hanhart produced chronographs under the "Vixa" brand name for the French forces, like Stowa produced watches for the French Army.
Dodane Type XX
Dodane was founded by Alphonse Dodane and his father-in-law François-Xavier Joubert in 1857 in La Rasse, primarily to produce ébauches for other watch companies. Alphonse Gabriel Dodane (2nd generation) began to specialize in flyback chronographs and equipping the fighter jets with on-board chronograph.
In 1929, Raymond Dodane (3rd generation) yet again relocated the factory to Besançon to pursue more traditional watchmaking. Dodane became one of the approved suppliers to NATO. They manufactured approximately 5,000 Type 20 and Type 21 chronographs in 1950s to 1980s. Besides manufacturing watches for the French armed forces, Dodane performed repairs on all the Type 20 and Type 21 watches used by various French Forces.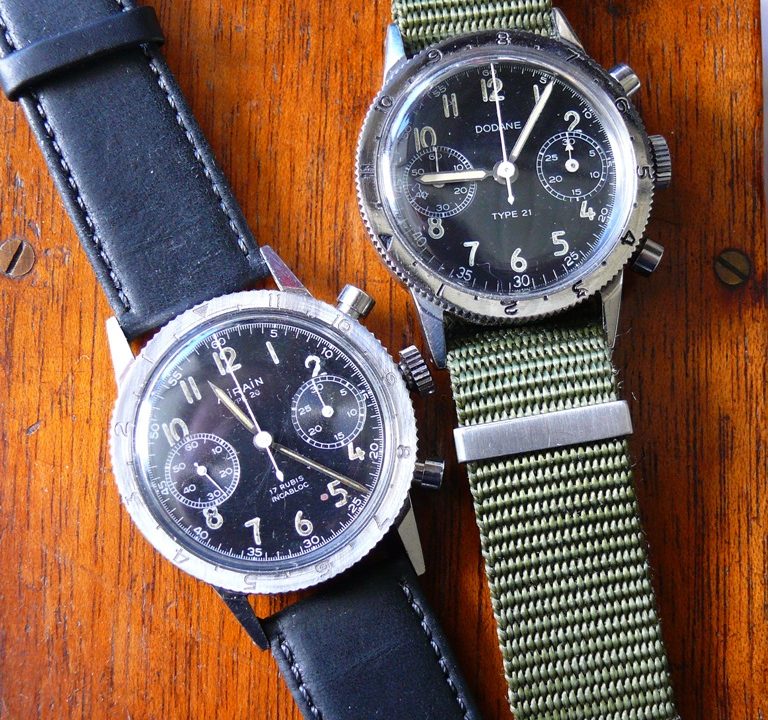 Dodane primarily used the Valjoux ébauche in its watches (Valjoux 22 in Type 20, and Valjoux Type 720 in Type 21). All the cases were made from stainless steel with a screw-in case back and countdown numbers on the bi-directional rotating bezel.
Dodane also sold the Type 20 watches under other brands like Airain and Chronofixe.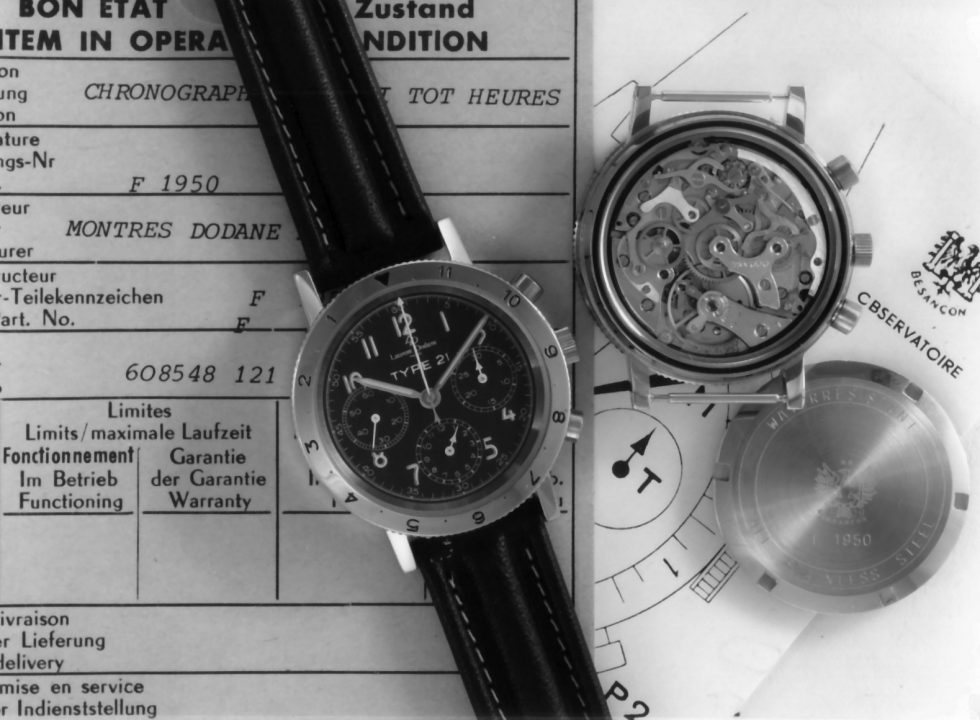 Type XXI
The French Ministry of Defense slightly modified the Type 20 specification to improve the quality and usability of the chronograph. While most of the features remained the same between Type 20 and Type 21, Type 21 required more robust movement to decrease the maintenance costs; a countdown bezel, and better water resistance rating. Dodane became the sole supplier of Type 21 as Breguet watches were too expensive for the French forces.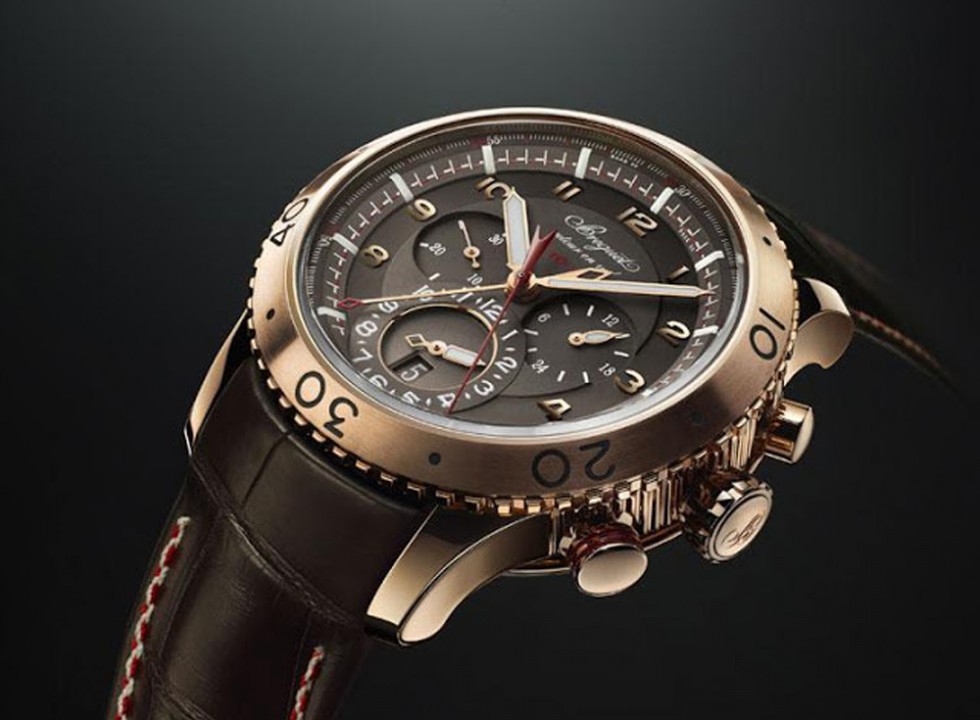 Modern Times
Breguet has become the most prominent modern Type XX watch manufacturer and is popular with aviation and watch enthusiasts. Cédric Dodane (5th generation) re-established business under the brand name Dodane 1857. In 2005, Cédric produced Type 21, in the spirit of original Dodane, utilizing ETA 2892 with Dubois Dépraz chronograph module. Auricoste is producing modern Type 20 watches with ETA base and Dubois Dépraz chronograph module. Vixa was resurrected few times under different ownership, but currently is not offering any Type XX watches.
Sources: Don Indiano, Auricoste, Breguet, Dodane, and Hanhart
Photo Credit: Dodane, Breguet, "Papazulu" Watchuseek forum member, and Hanhart