Laco showcased their new Flieger Erbstück Full Lume watches in MunichTime last month. We had written a review this on the Leipzig Erbstück pilot watch earlier this year. Now the Full Lume joins this ready-made vintage heirloom flieger series.
The name – Erbstück" (translates into heirloom) – was created when Watchuseek team met with Laco's CEO Uwe Rücker and Dorothea, Ursula and Sarah at Laco's booth in Basel. In March 2016 Laco presented the prototype of this timepiece at Baselworld, the most important international watch and jewelry fair worldwide. According to Dorothea, the response from visitors was "overwhelmingly positive."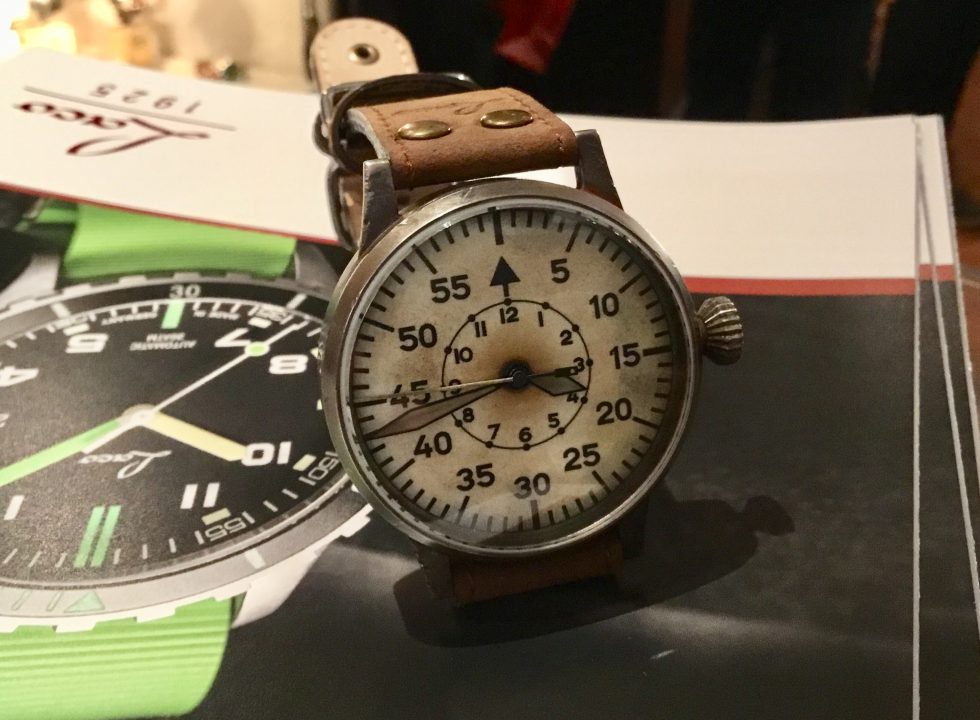 Laco has developed a process that gives watches an artificial patina of aging, thereby enhancing them with historic charm. Innovative treatment of the dial and case in various levels of aging is simulated with signs of wear and tear, thus giving the watch the very special appeal of a historic timepiece. Even though this watch bears scratches, supposed traces of rust, and comes with an antique strap, it is brand new. The results of the aging process are unique to each watch.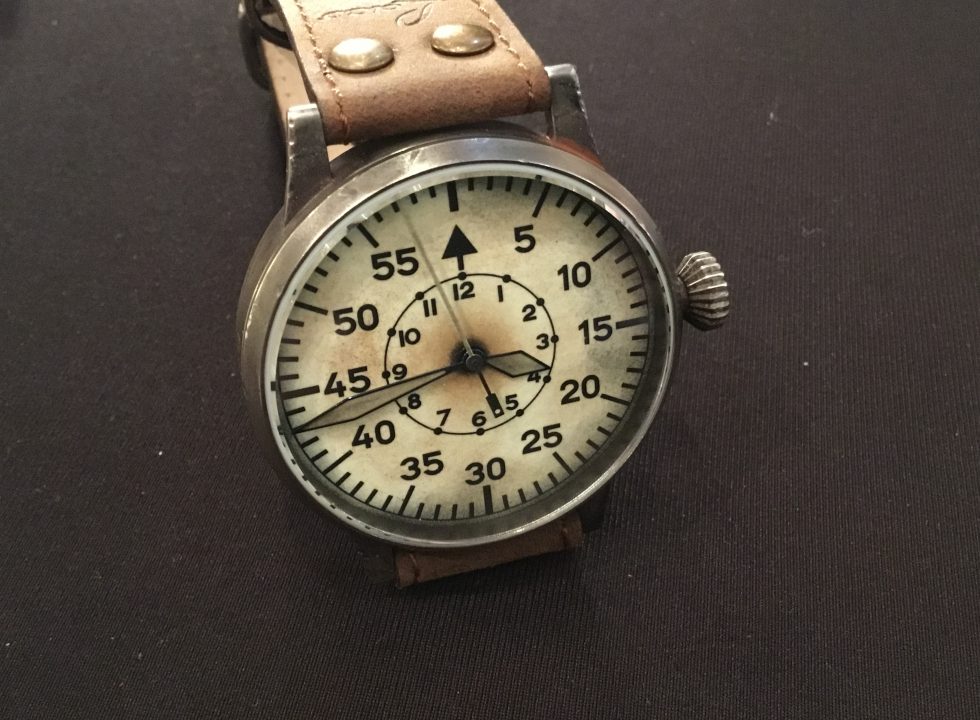 The stainless-steel case of this pilot watch is individually hand-finished by a metals expert to produce the "visual effect of rust". The dial is given an "aligned" patina to underline the wear and tear effect. The Full Lume dial is fully coated with Superluminova with random "browning" of the dial to give it the patina. The thermally blued hands are also hand-finished and artificially aged and coated with Superluminova (C3). In the dark, you get this eerie glow of old timey "radium" dial.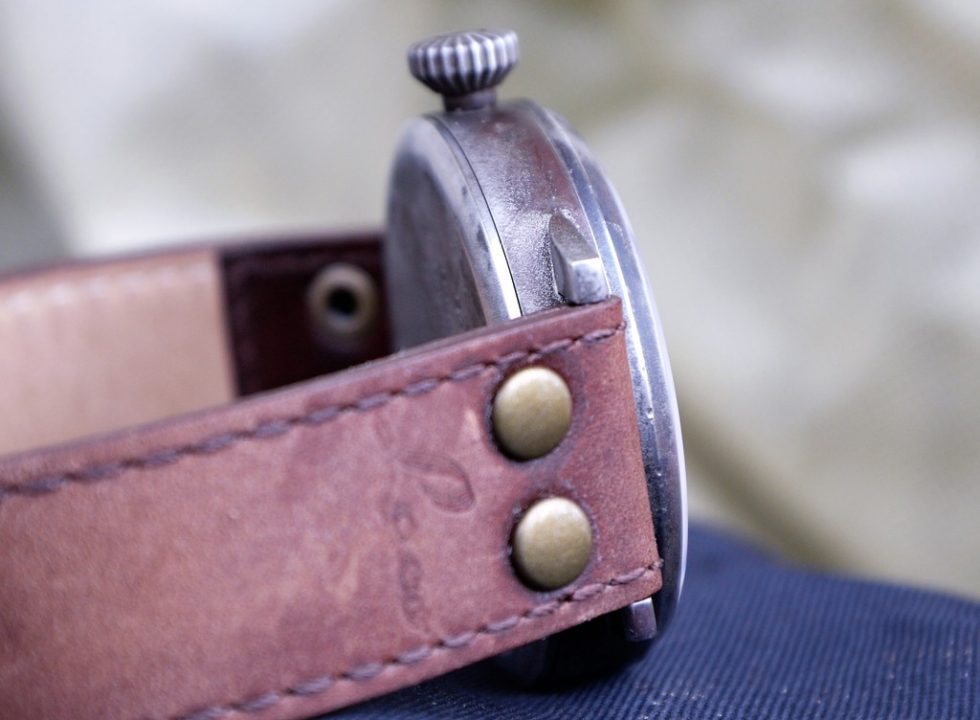 The crown is typical diamond Laco flieger crown in the style we are accustomed to with their historical watches of World War II. However, the crown shows artificial wear and tear as well. Looking more closely at it you'd think it has aged well over a several years. The case back is also elaborately finished by hand and does look like being rubbed-off, glossy at the edge, stained in the middle. It is fitted with a closed loop brown pilot calf leather strap with rivets, 20mm lug width. Close to the rivets the buckle side of the strap is embossed with Laco brand name.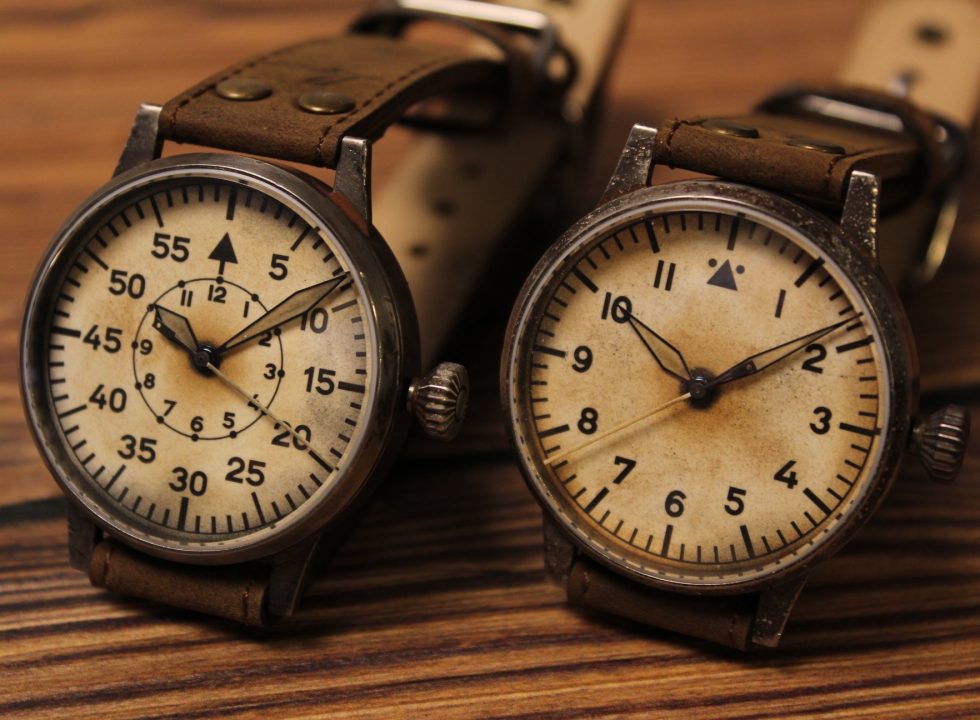 The Laco Erbstück Full Lume will be offered in both Baumuster A and B dial configuration. There is also an option to order either the hand wound ETA 2801, elaboré grade, or the automatic ETA 2824-2 movement. This watch will be available only in 42mm case size. Expect the pricing to be just below $2,400. Due to the elaborate aging process of each watch and a high demand for the current Erbstück models, delivery will be in early spring of 2019. You may contact Laco for reserving the watch.
A special thanks to Mike Stuffler for providing a live report from MunichTime.
Photography: Ondrej Vislocky and Mike Stuffler