History of Guinand
In 1865, brothers Julien-Alcide and Charles-Léon Guinand founded Guinand Frères to manufacture watches in the Jura mountains. Interestingly, Gallet family, related to the Guinand family, exported their watches to Germany, Scandinavia, and US. However, misfortune fell on the company just five years after starting the business, when US watchmaking achieved efficiencies due to modern techniques and Swiss import to US dropped significantly.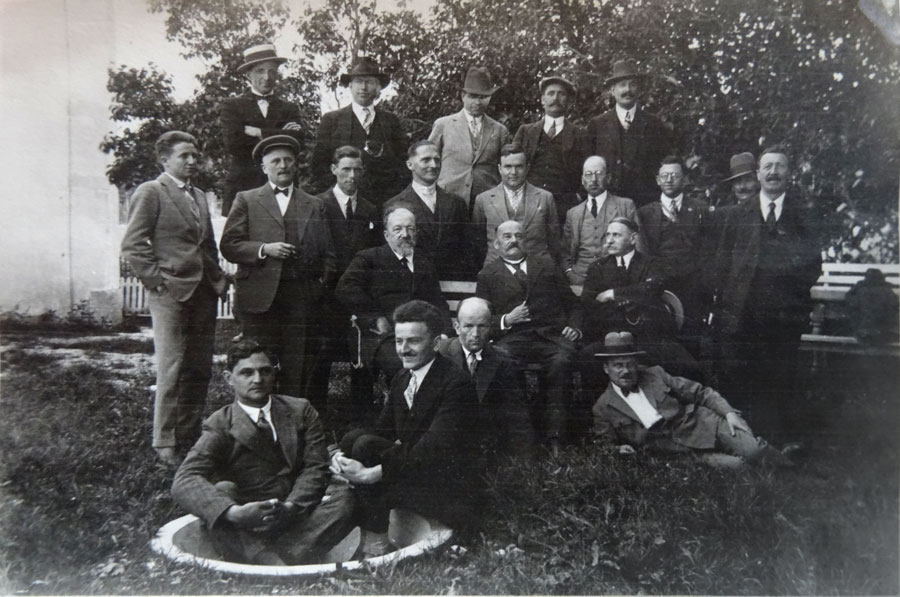 During the crisis Guinand brothers put the watch business on hold and opened a colonial merchandise trade. But Léon felt strongly about continuing the watch business. He followed an advice from his cousin Julien Gallet, based in Chaux-de-Fonds, and worked on a completely new product, a chronograph.
Léon was an accomplished watchmaker, and he constructed a chronograph mechanism that could be placed on the dial side of an already existing movement. With his brother leaving the company in 1880, the company name changed to Léon Guinand. In 1881 the first chronograph samples were delivered. This new chronograph watch became an overnight success and a turning point in the history of the company.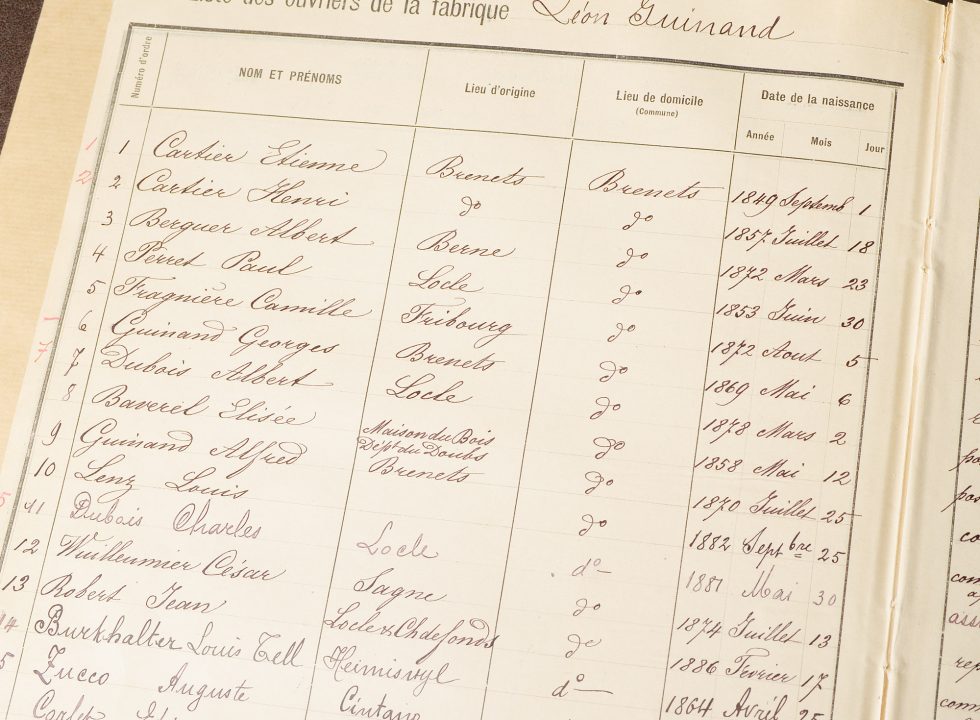 As the demand for the new product grew, in 1887 Guinand devoted himself completely to manufacturing complex watches. Léon Guinand expanded the range of products by adding complications to chronographs, like minute counters, Rattrapante chronograph, and Rattrapante stop watch. All the watches were with split-seconds function for a simplified measurement of time. Around 1900 Léon developed a Tachymeter chronograph, which was received well within the industry.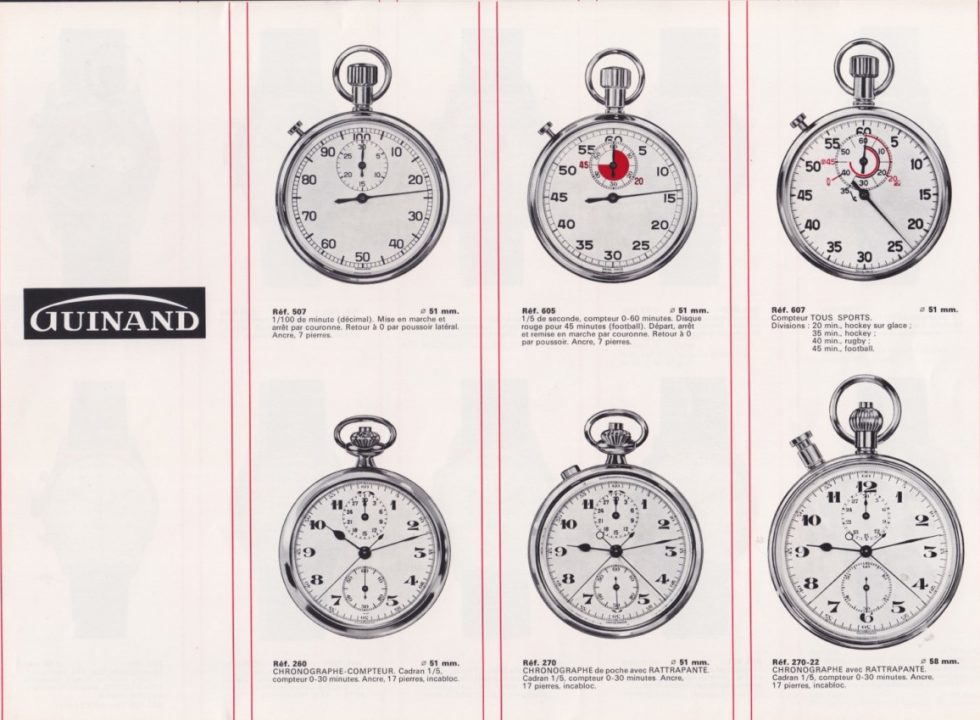 After his death in 1908, Léon's wife continued the watch business with their son Georges-Henri Guinand. From 1910 the production moved slowly over from pocket watches to wrist watches, specializing in chronographs, and later equipping them with a Flyback function.
When his mother passed away, Georges changed the name of the company to Georges-Henri Guinand, and continued business together with his four sons and his daughter. He had learned the profession from his father and inherited from him the business acumen. He had a strategy to not only supply watches to civilians, but also to various militaries, that had a large demand for such instruments. The most important countries that equipped their marine and aviation forces in the first four decades of the 20th century, like Russia, England, France, and Italy, relied on quality products coming from the politically neutral Switzerland – and Guinand became one of their key supplier.
At the end of WWII, Georges-Henri Guinand changed the company into a family-owned stock company named Guinand Watch Co. S.A. in May of 1945 to safeguard its future in uncertain Europe. He became the first CEO and involved his sons Léon and John, later also the grandchildren, Jean and Michel, as equal shareholders in his company.
The post-war years saw a high volume of orders – the demand for watches was enormous. The range of Guinand watches covered 200 models with extensive customer list including well-known names, like Ancora and Zenith.
A Partnership of Equals – Guinand and Sinn
One of the big customers of Guinand since 1960 was a pioneer from Frankfurt, Helmut Sinn. Developing his own caliber in 1950s with central minute counter, caliber HS58, a passionate pilot and a race car driver, Helmut made a significant impact on development of cockpit instruments. He also repaired Heuer chronographs and then supplied his own brand wrist watches to pilots, and eventually for the civilians.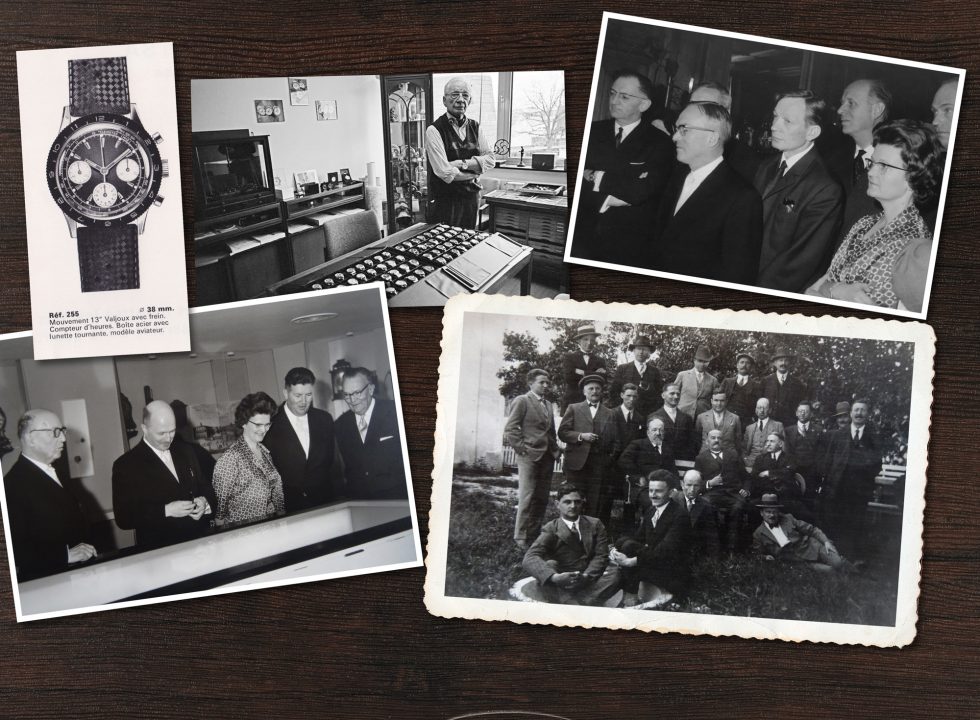 Helmut Sinn considered Guinand as a reliable and a like-minded partner. From the mid-1960s to the 1990s, Guinand manufactured a significant share of watches for the Sinn.
During the quartz crisis of 1970s, Guinand wasn't affected as badly as some of the other watch companies because of its focus on mechanical chronographs. However, one major impact was its dissolution of cooperation with Gallet, who was Guinand's distributor in the US.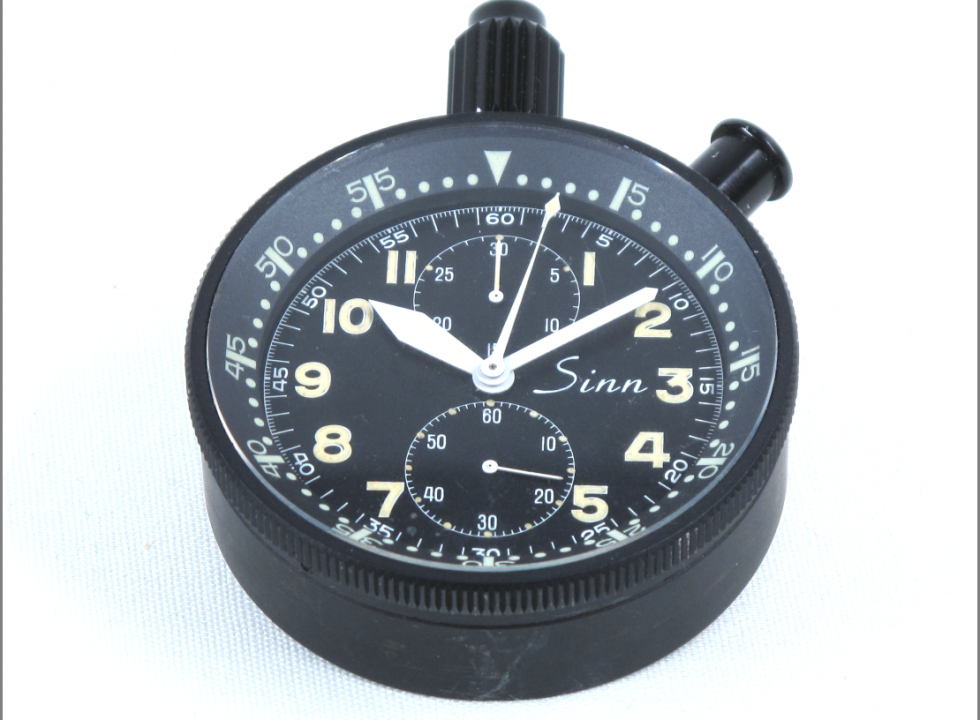 In 1994, at the age of 80, Helmut Sinn decided to retire and he sold Sinn watch company to Lothar Schmidt. But he remained active and planned new ideas that he wanted to see implemented. So, in 1995 he bought the shares of the Guinand S.A. from the Guinand family, and continued manufacturing watches for other brands in Switzerland.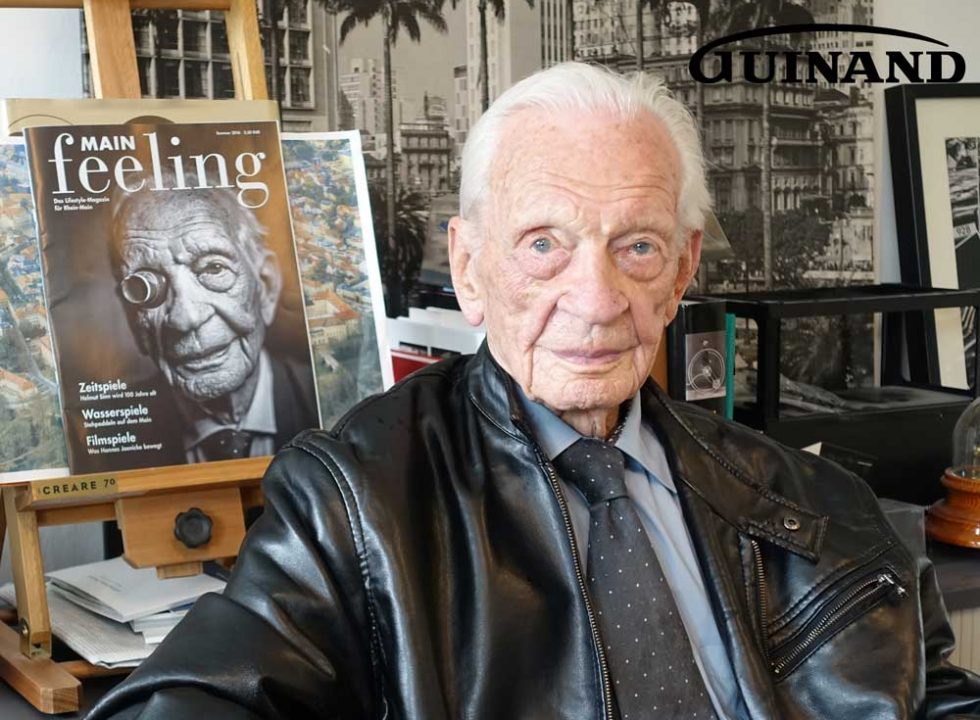 In 1996, he founded his company "Jubilar Uhren Inh. Helmut Sinn"in Frankfurt. He distributed pocket watches "Jubilar" and the classic pilot watches "Chronosport", that were manufactured by Guinand, still based in Switzerland. The Swiss production eventually ended in 2000, with the production of his brands Guinand, Chronosport und Jubilar consolidated in Frankfurt under "Guinand Uhren Helmut Sinn GmbH ".
Guinand At Present
As Helmut Sinn neared his 100th birthday, he sold Guinand to Dipl.-Ing Matthias Klüh in 2015. Even though he is now permanently retired, you can still see him driving to Basel to attend the watch fair.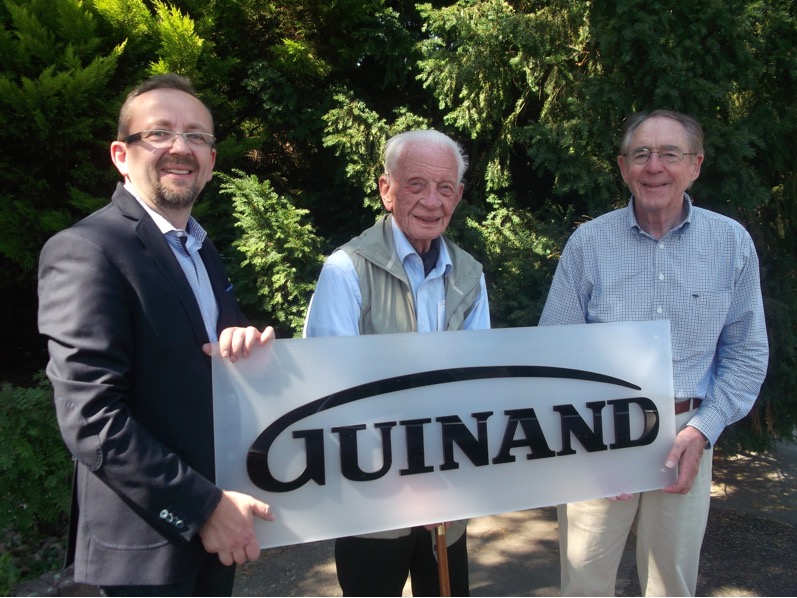 Matthias Klüh now leads the company under Guinand GmbH. He is a native of Frankfurt, a watch enthusiast, and an engineer by profession. Matthias focuses on the Guinand tradition of a 150-year old family enterprise: manufacture of flieger chronographs in small quantities with quality craftsmanship at a reasonable price (1,000 – 2,000 Euros). He carries on the legacy of Helmut Sinn with his watch designs and embracing the motto "as perfect as possible, but only as expensive as it is unavoidable".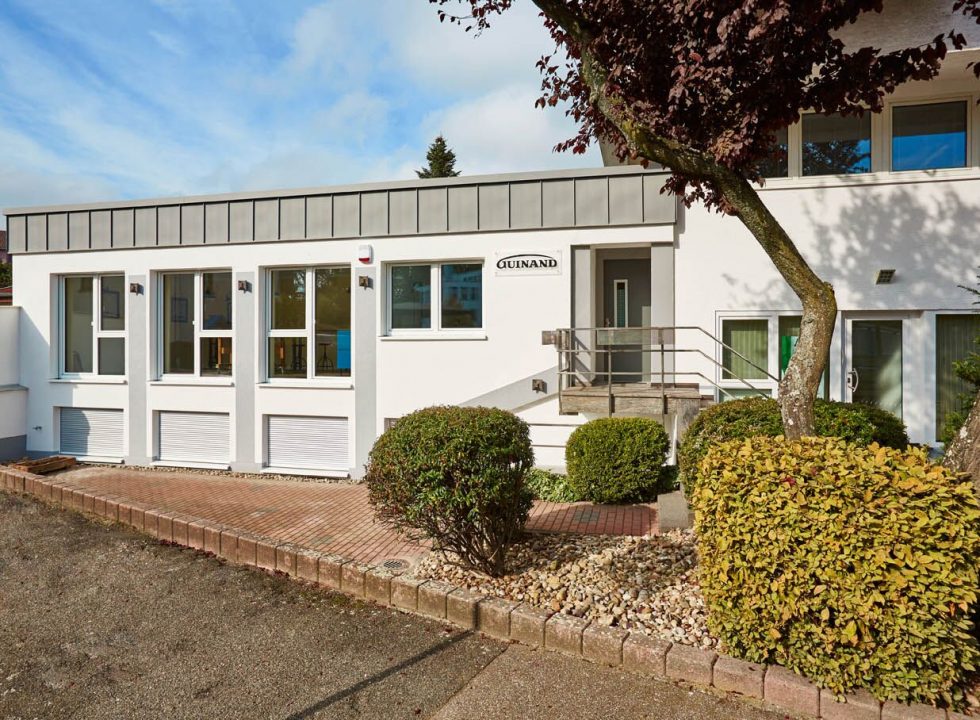 Guinand is based in Frankfurt/ Rödelheim. The product range includes mechanical flieger chronographs, sports chronographs, as well as pocket watches and instrument watches. All models are manufactured in small quantity (some in limited edition) in Germany, and thus bearing the engraving "Hergestellt in Deutschland" on the dial.
We will focus on three current watches which represent the Guinand brand well:
"MODERN FLIEGER"
Guinand SFL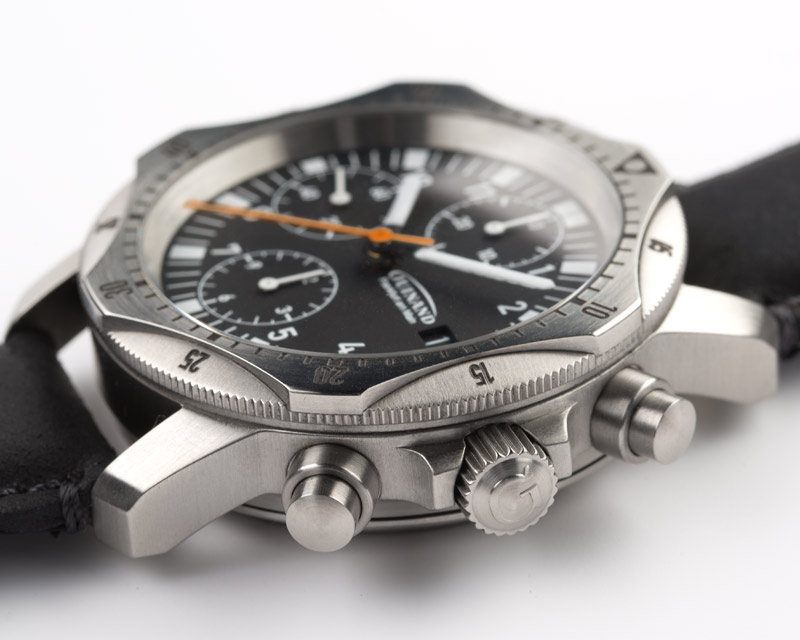 The Guinand SFL (Steel-Flight-Lunette) flieger has a special bezel which conceals its special features under the satin surface. Clear edges show how this bezel is produced – by milling (not punching), made of stainless steel in Germany, fitted with 2 invisible screwed stainless steel parts and a special spring element mounted on the watch case. The SFL bezel can be turned in both directions, allowing short-term stops up to 60 minutes without starting the chronograph.
"VINTAGE FLIEGERS"
Guinand 40.50.01 Klassik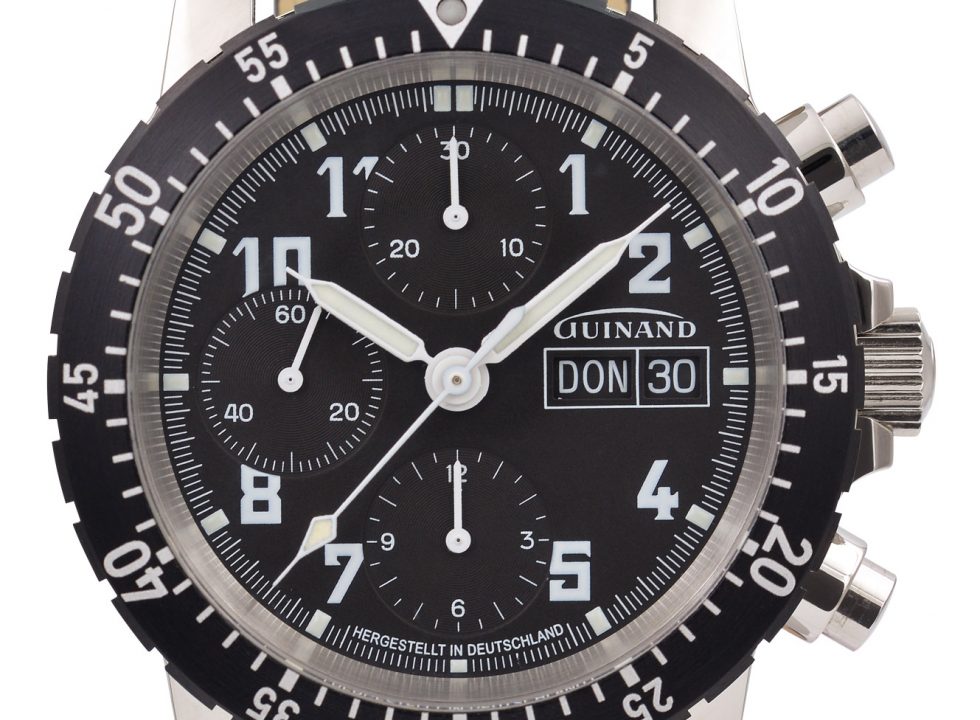 Series 40 is the classic among modern flieger chronographs. Today, as in the past, it is known for its optimum legibility, robust design and good ergonomics. The 40.50.01 Klassik has a new housing with side protection of the crown and the classic "needle" hands for chronograph legibility. The Valjoux movement with Glucydur balance will become a standard from October onwards.
Guinand 40.50.04 Klassik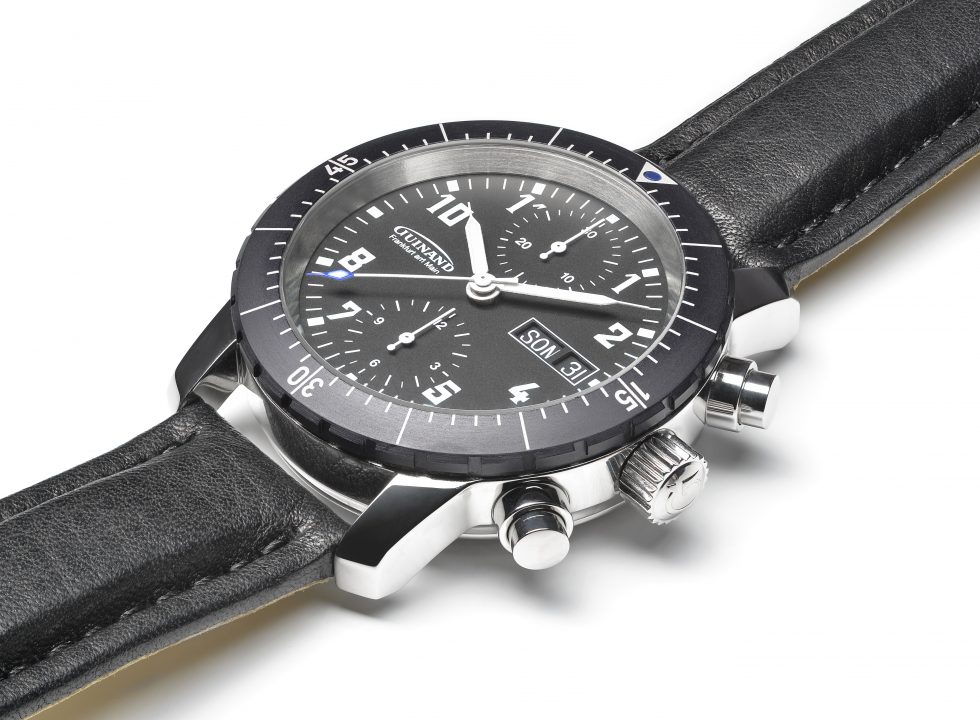 The Duograph-Chrono Klassik is a bi-compax chronograph with 2 stop totalizers together with the central stop second which measures up to 12 hours. For the first time for the FAZ-and- Guinand-model Duograph Chrono Klassik combines the historically inspired hour numerals with straight-forward minute divisions and large stop counter. The tip of the seconds hand is coated with blue color by hand. The 0-minute reference on the black flying bezel is designed with a blue luminous mass and covered by a sapphire crystal. The Duo-Chrono Classic is equipped with a Valjoux chronograph movement using Glucydur balance.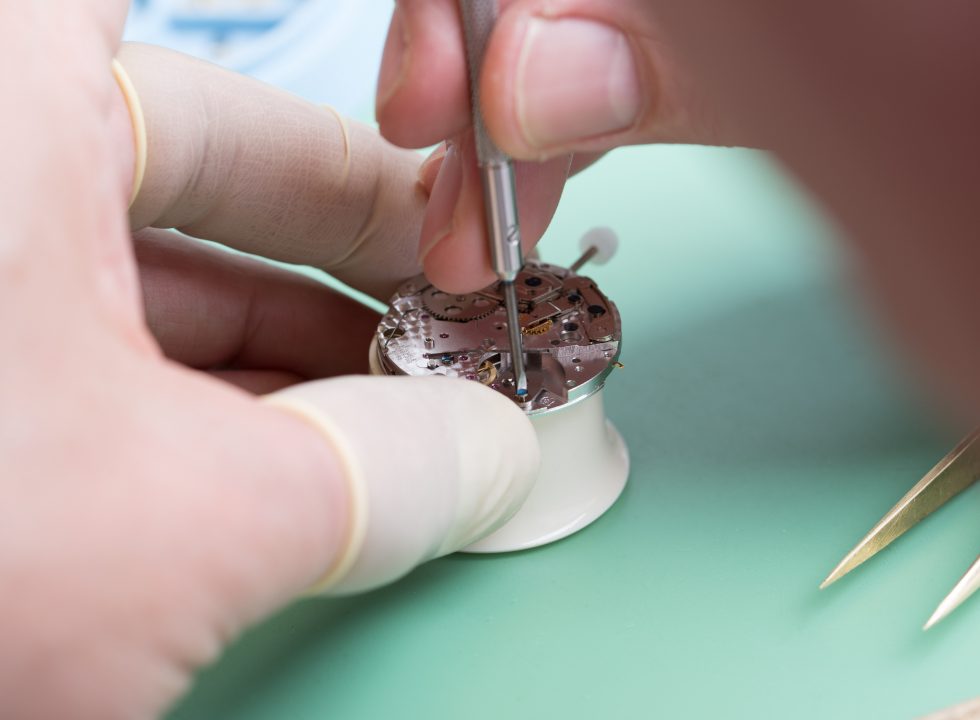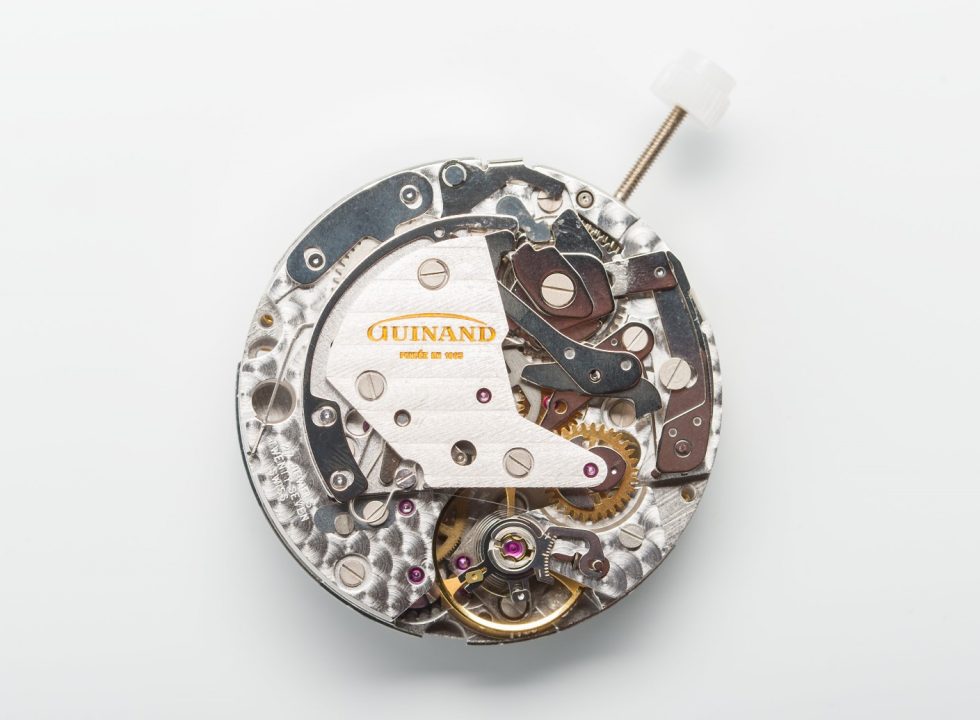 Direct to Consumer
Guinand sells watches directly to the consumers on their online shop, or in their Rödelheim showroom. We would highly recommend visiting their modern showroom if you are visiting Frankfurt.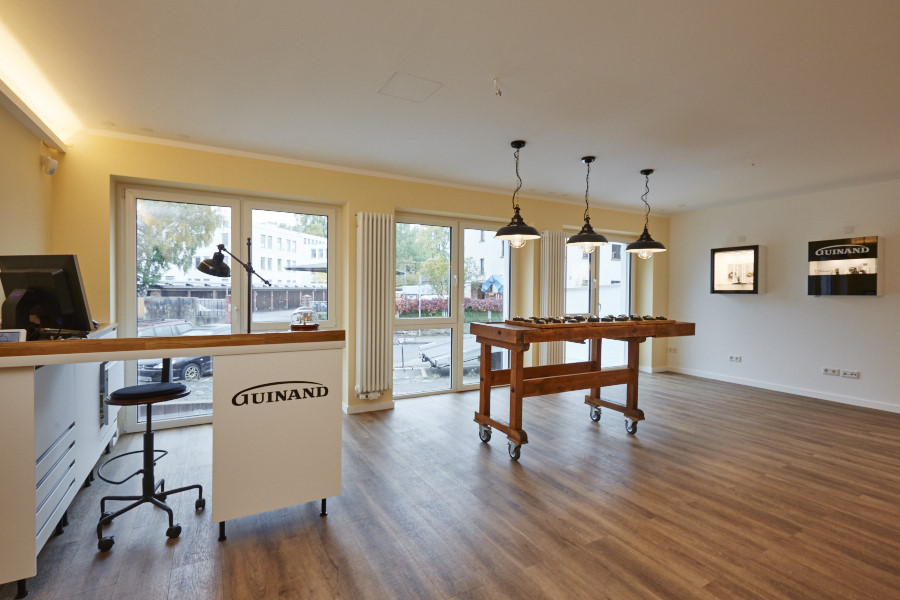 Photo Credit: Guinand and Helmut Sinn