We know that Facebook, Instagram, and other social media has made the world tightly interconnected, where we can reach out to a stranger across the globe with a simple click. This is exactly how Mike Stuffler of Watchuseek team came across the new flieger brand named Dekla Watches. Mike states, "Two weeks ago I came across Dekla Watches via Instagram (@deklawatches) since they "liked"one of my flieger pictures. I immediately sent an email to Dekla Watches and learned that they are currently working on a flieger."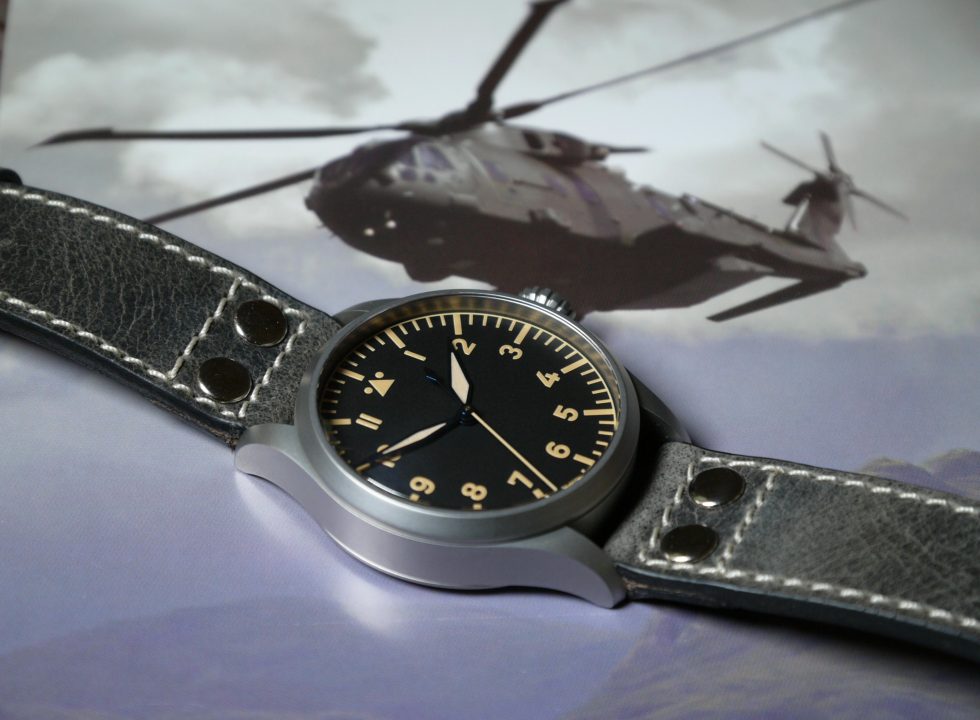 We exchanged few emails with the owner of Dievas Uhren Technik E.K, Mr. Yuriy Shapiro, based in Stuttgart, Germany. He was kind enough to loan us a "Baumuster A" flieger to see the quality of the pilot watch first hand. Before we provide you our opinion on the Dekla flieger, you would have noticed a familiar brand name – Dievas. Dievas is a divers watch brand created in 2006 by Mr. Ander Tan of Singapore. He has a partnership with Dievas Uhren Technik E.K for the manufacturing of watches in Pforzheim, Germany. You could say that there is some relationship between Dievas and Dekla brands. There is a deeper connection between the two brands – the origin of their name. Dievas is a Latvian deity known as The Supreme God, and Dekla is a Latvian Goddess of Fortune and Destiny.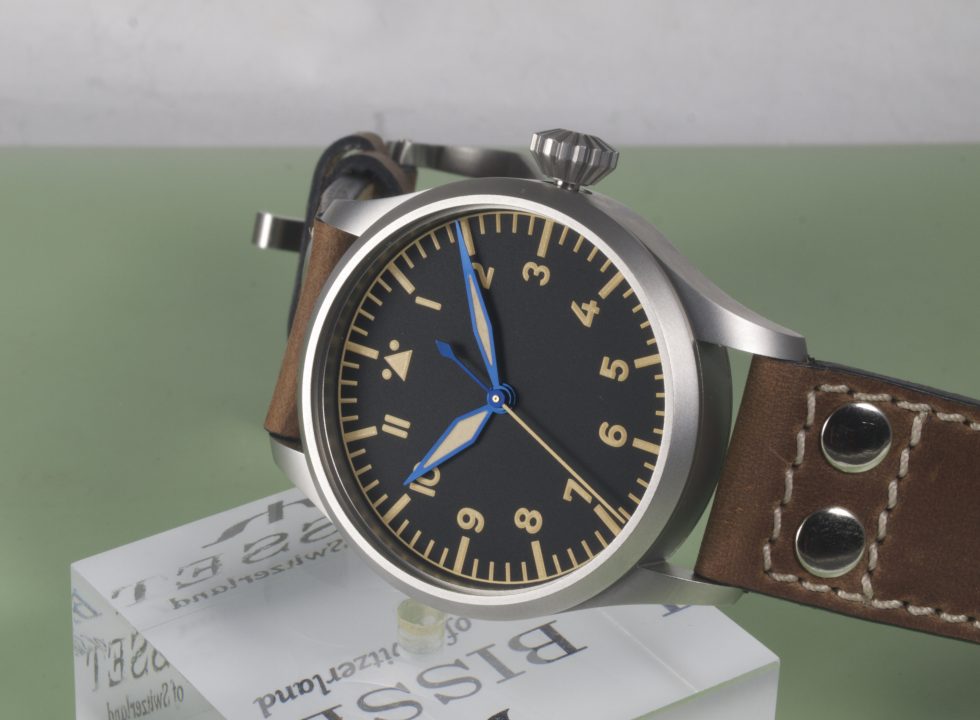 Our first impression of the Dekla flieger did not disappoint. But it did leave us puzzled, as to how is it possible that a high quality flieger with stainless steel case, dial, and hands – all made in Pforzheim, is sold for €380 (without German VAT)?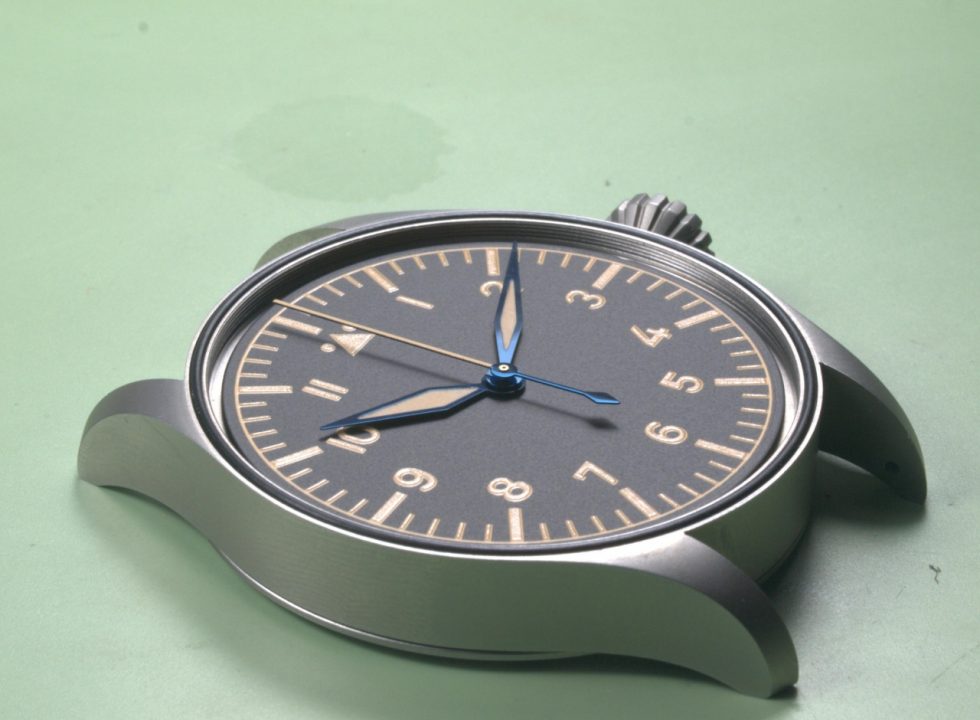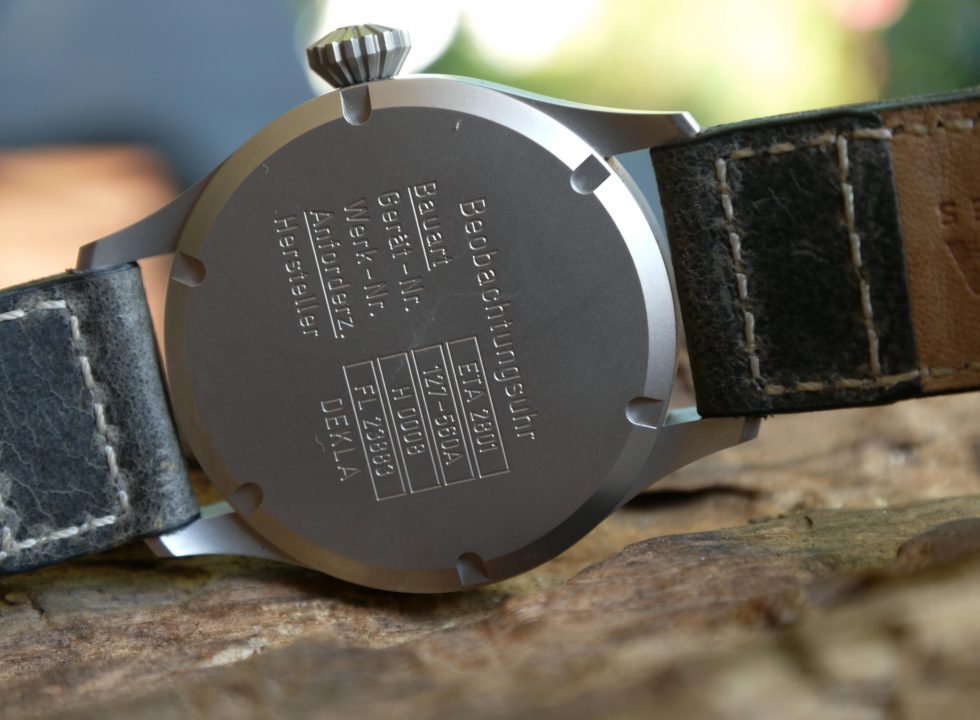 Case :
Completely developed and produced in-house, stainless steel 316L, bead-blasted, 42mm in diameter, height 12mm, L2L 50/51mm, lug width 22mm, three parts: bezel, mid-case, back, back is engraved with homage to historical flieger engraving.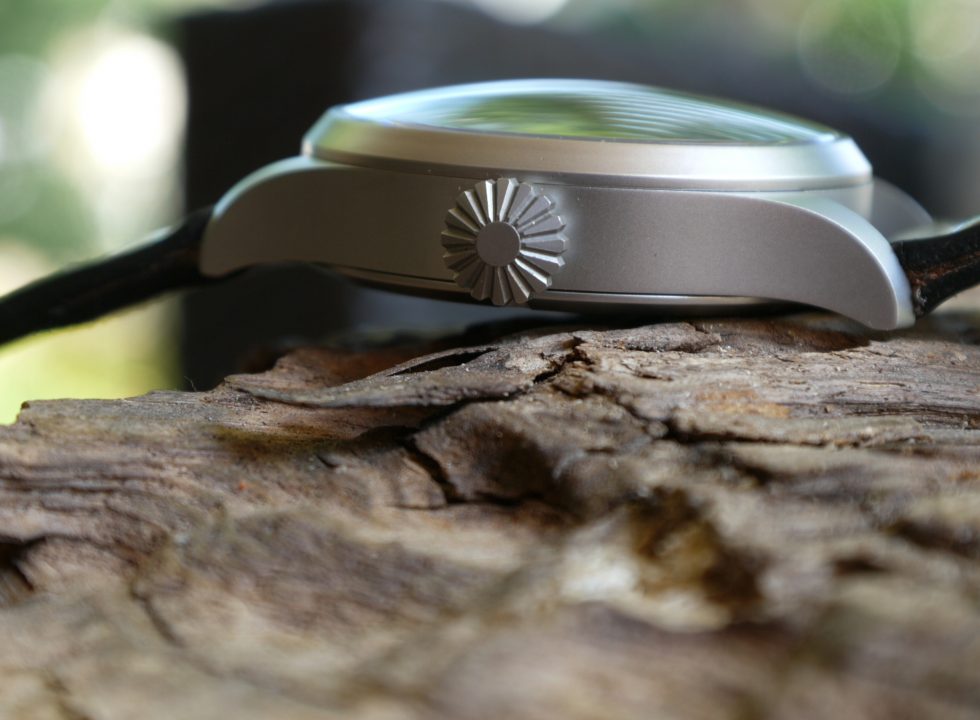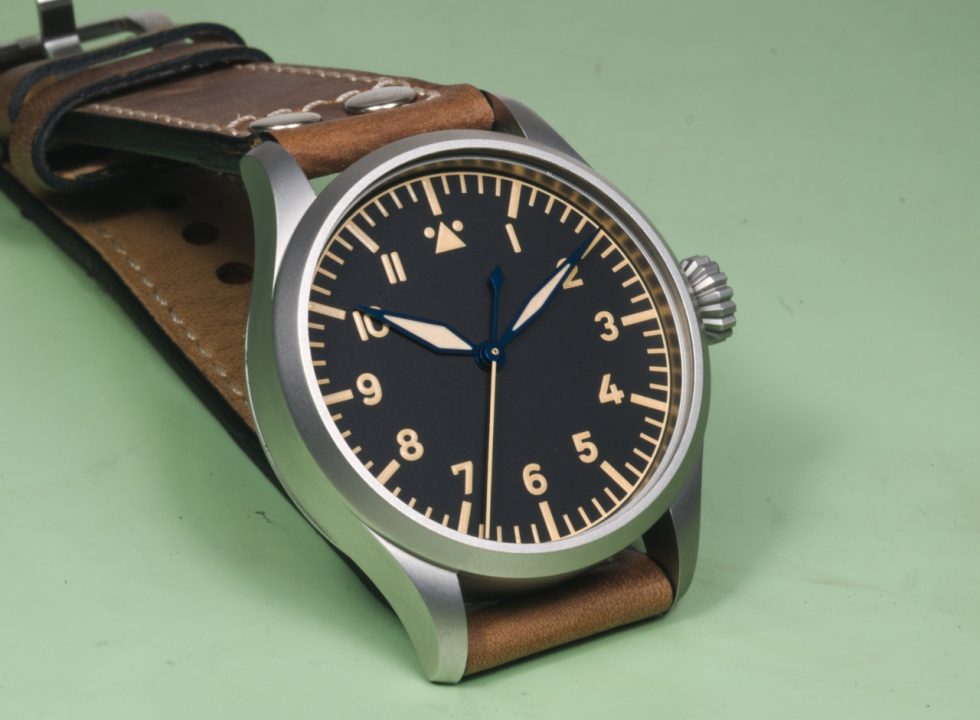 Dial and Crystal:
Sapphire crystal, heavily domed (compared to its competitors), made in-house as well, matt black dial – pad printed by means of an automatic precision machine, Superluminova OLD RADIUM by Tritec.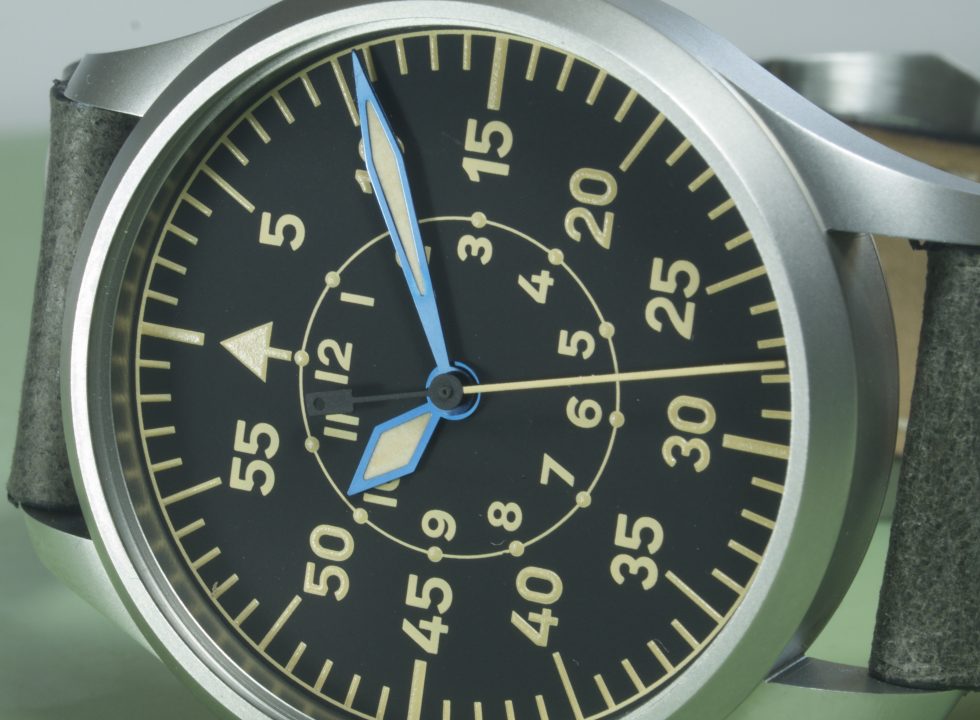 Hands:
Thermally blued hands, coated with SL Old Radium as well, completely made in-house (punched, grounded, polished), slightly smaller than those of Laco and Stowa, the minute hand exactly hits the outer circle as the hour hand does hit the markers. The seconds hand is 2/3 luminous.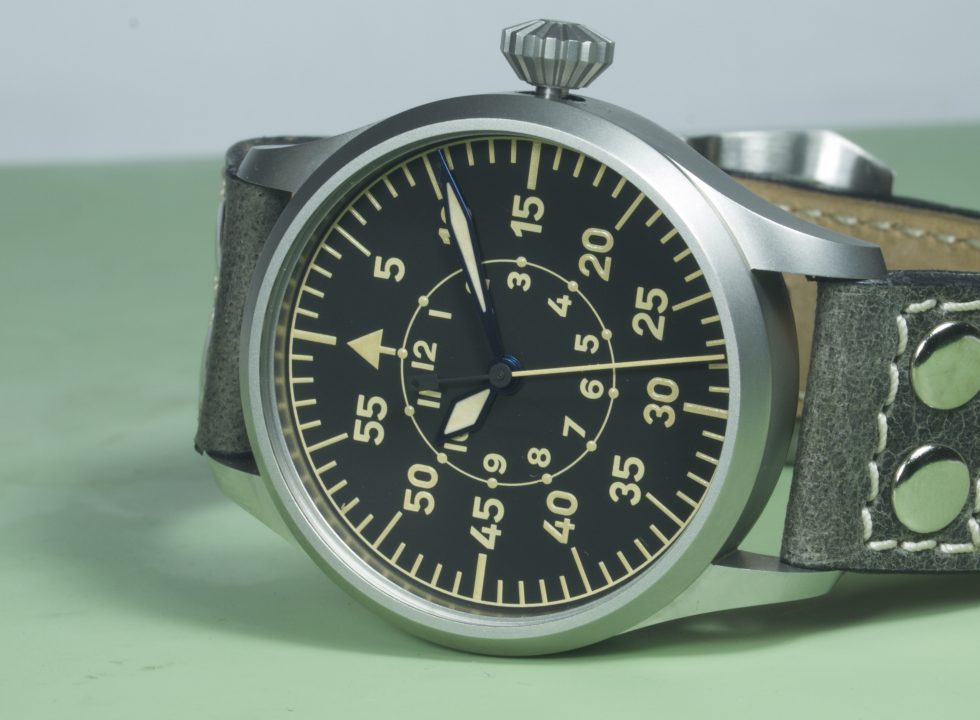 Crown:
Diamond crown, large enough for a good grab and easy to operate, also made in-house.
Movement:
Choice of Automatic ETA 2824-2 or Hand winding ETA 2801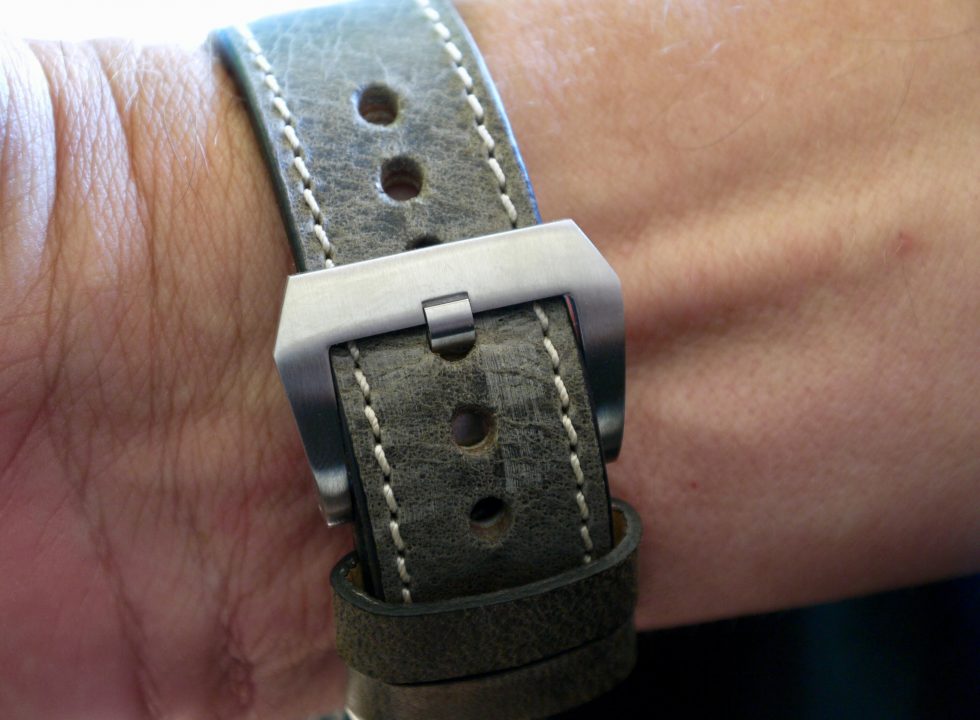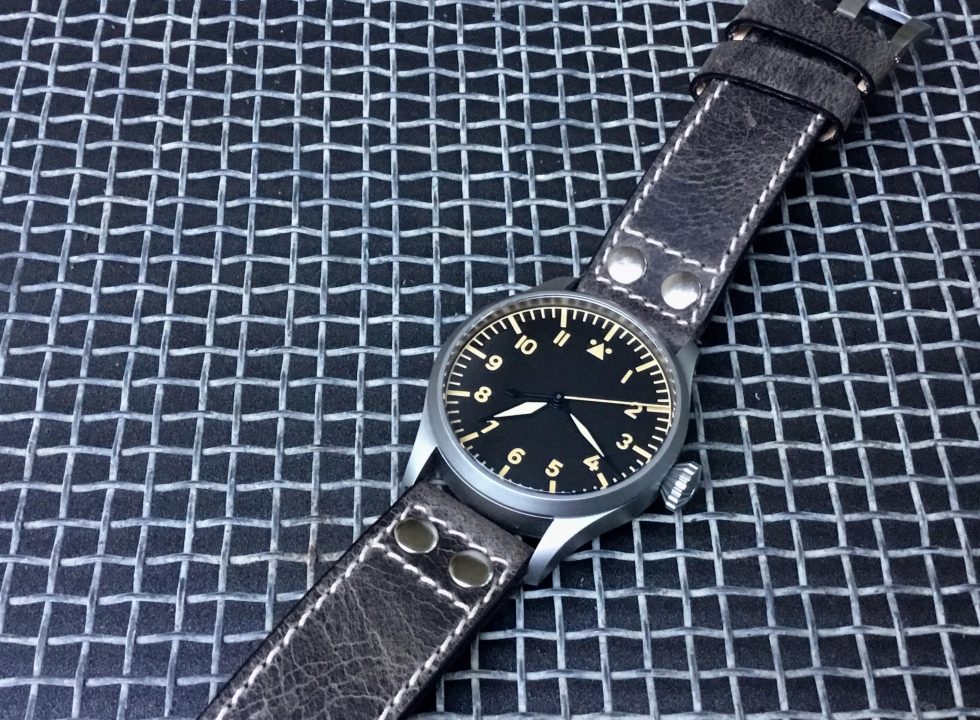 Strap:
Riveted grey-brown, almost stone grey "vintage"strap, large buckle, brushed, handmade in Germany. The rivets are polished which does not match the case very well, and it will require some time to break-in the stiff leather.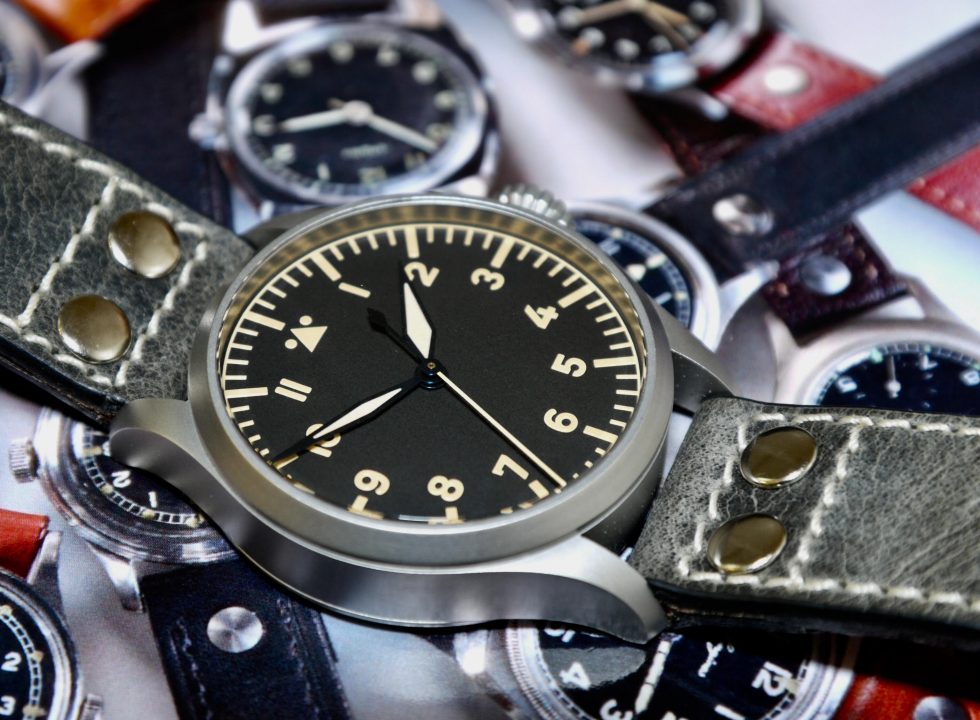 Dekla offers flieger in both Baumuster Type A, and Type B. They have also made a limited-edition pilot chronograph watch for Russian forum. Dekla is in process of getting a website ready, but they are on FaceBook and IG (@deklawatches). The only way to order these flieger for now is by contacting them via social media.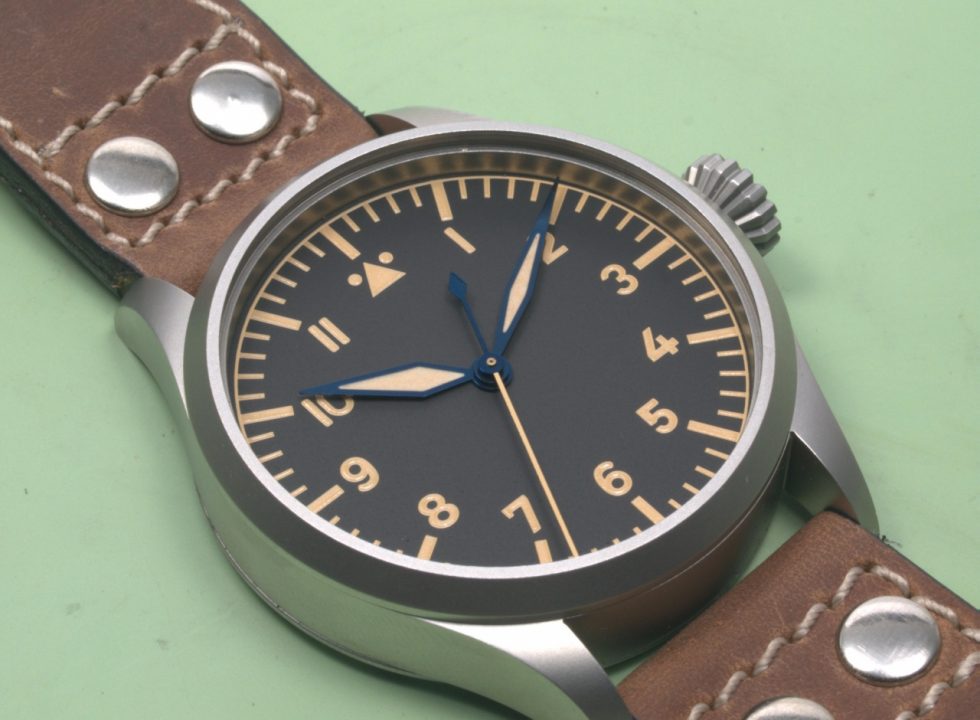 As a final thought, I will leave with you with a brilliant and funny quote from a well-respected Watchuseek forum member, who chimed in on Dekla watches, "The price seems ridiculously inexpensive for a true German Made watch. I'll let a few guinea pigs bite first and chime in on it. If the quality is there, so am I."
Special Acknowledgment: Mike Stuffler for his thoughts
Photo Credit: Mike Stuffler and Yuriy Shapiro