Back in November 2022 Pforzheim based ARCHIMEDE launched a new model to join their little "200" family. I already posted some specs and pictures of the "Pilot 200" here:
https://www.watchuseek.com/threads/archimede-news-pilot-200.5451647/
Interestingly you will not read "Pilot 200" on the dial but "Flieger 200". And so I'll be guided by the model name chosen by Archimede – "Flieger 200". And that makes sense, because we have a German watch in mind here.
Here and on other fora the "Flieger 200" was nicknamed "a Damasko DS 30 – Sinn 556 baby". And somehow this nickname is justified, because the "Flieger 200" is a direct competitor to Damasko's DS 30 and Sinn's 556 I.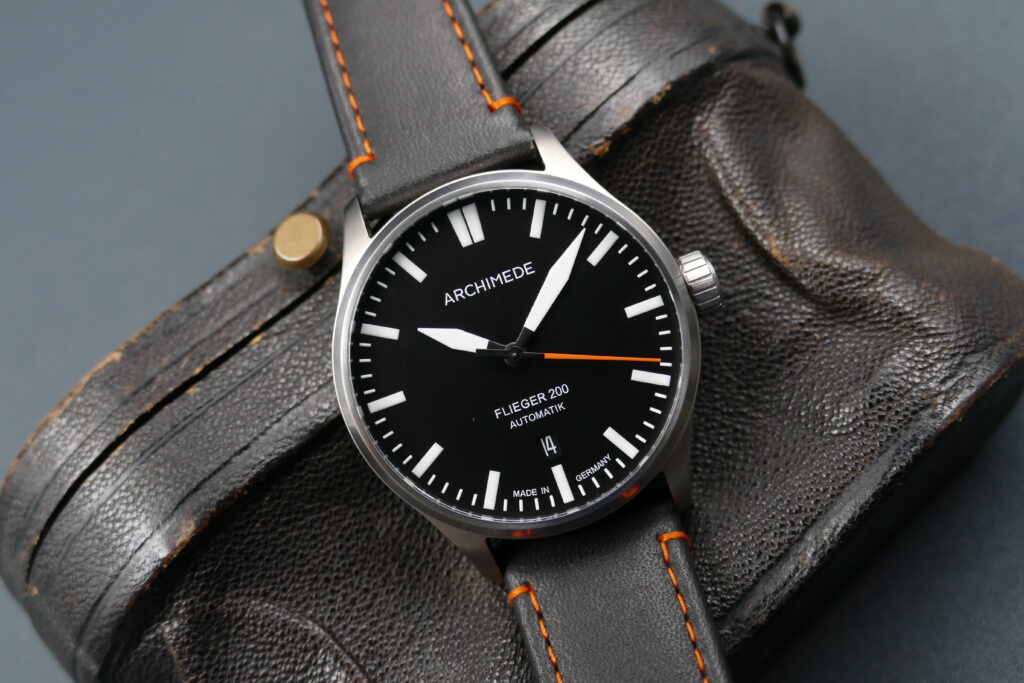 In some German forums one could read that Archimede's "Flieger 200" is a "declaration of war" against Damasko and Sinn.
I wouldn't go that far here, but of course Archimede's new "Flieger 200" has to put up with the comparison with other Flieger watches like those from Sinn and Damasko.
The question remains how the "Flieger 200" performs in comparison, what are the advantages and what are the disadvantages of the new Archimede. I will try to answer exactly this question.
There's a mistake that I often see when it comes to Flieger watch design. It's when a watch is created to be all things to all people. Too often this results in a watch that is a jack of all trades and a master of none. This is not something I'd attest to the "Flieger 200".
However, it's worthwhile to mention that the "Flieger 200" does not feature something obviously specific, something which hasn't been there before.
There is actually nothing that other Flieger watches don't have, but the "Flieger 200" in its entirety is something that catches the eye.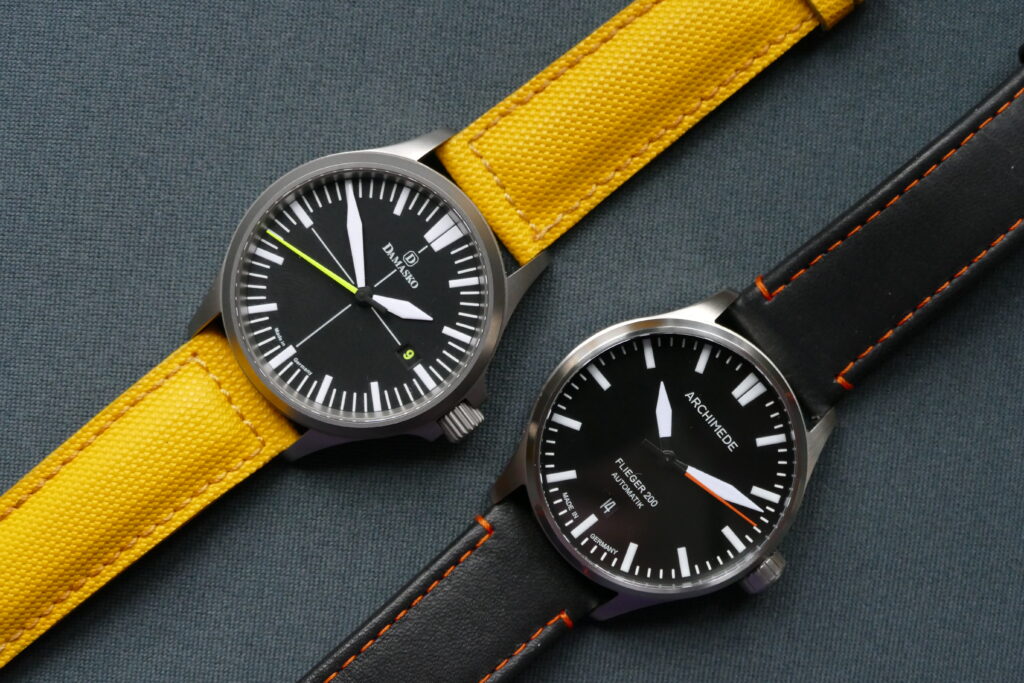 The "Flieger 200" does not follow the traditional designs of Baumuster A und Baumuster B observer watches, which are so extremely popular with many collectors and Archimede has not been able to escape the trend either, as their pilot series ( "Pilot 36" to "Pilot 45") emphatically proves.
It is the overall concept of the "Flieger 200" that is convincing. At first glance, the "Flieger200" looks like a straightforward watch and, indeed, a straightforward watch it is.
Maybe it's its simplicity which immediately was so appealing to me. A no frills Flieger, seamless, clear, uncluttered, readable at all times, small dial (white numerals on a black date wheel), a cool piece of contemporary design.
The pared-down aesthetic provides versatility – and that's something that many watches don't offer. I see similarities with the Damasko DS 30 dial and the dial of the Stowa TO2.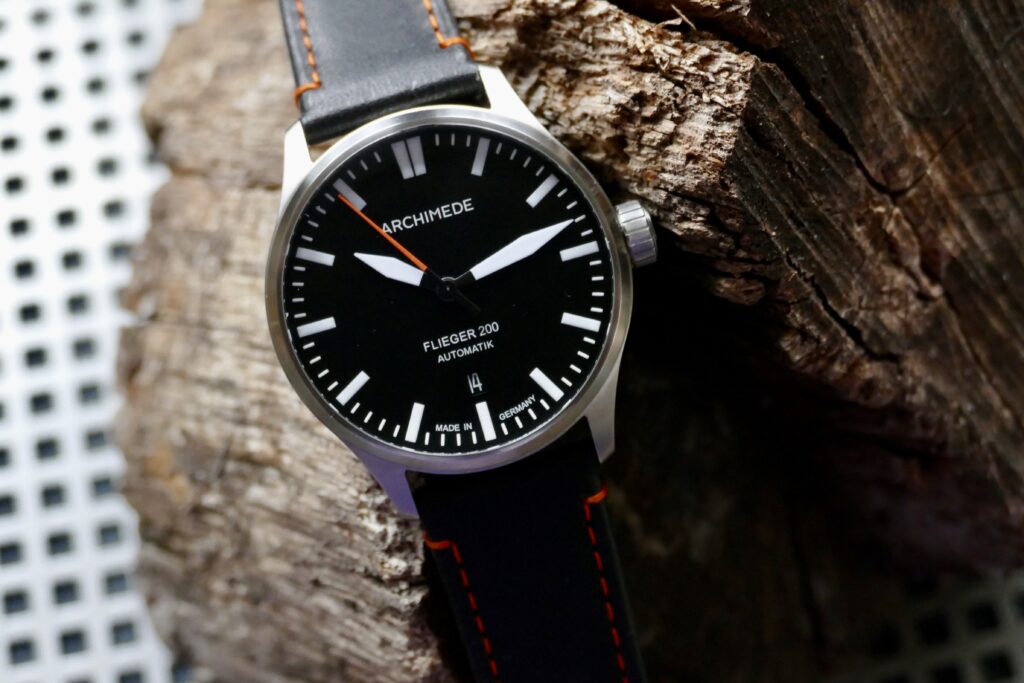 However and this is important to mention, the TO 2 with its case diameter of 43mm, has a noticeable wrist-presence. The "Flieger 200" has less visual presence, a watch that needs a second glance. This in turn the Archimede "Flieger 200" has in common with the Damasko DS 30 and Sinn 556 I.
The Stowa TO 2 features a beveled bezel which is the trick to make the watch look smaller than 43mm.
The Archimede "Flieger 200" tricks the eye as well, the 39mm watch looks larger due to the very small slightly beveled bezel. The plain bezel is polished and the top and sides of the case are brushed.
The Damasko DS 30, 39mm diameter as well, sports a bezel which is a tad higher and a little wider compared to the bezel of the "Flieger 200". That, in total, makes the Damasko DS 30 look smaller.
Same is valid for the Sinn 556 I, it looks a tad smaller as well.
The L2L difference is another "+" for the visual appearance of the "Flieger 200".
Slightly different specs have a noticeable impact on looks:
Damasko DS 30:
Diameter: 39mm, height: 9,5mm, lug width 20mm, L2L: 48mm
Archimede Flieger 200:
Diameter: 39mm, height: 10,8mm, lug width 20mm, L2L: 45mm
Sinn 556 I
Diameter: 38,5 mm, height: 11mm, lug width 20mm, L2L: 45,4mm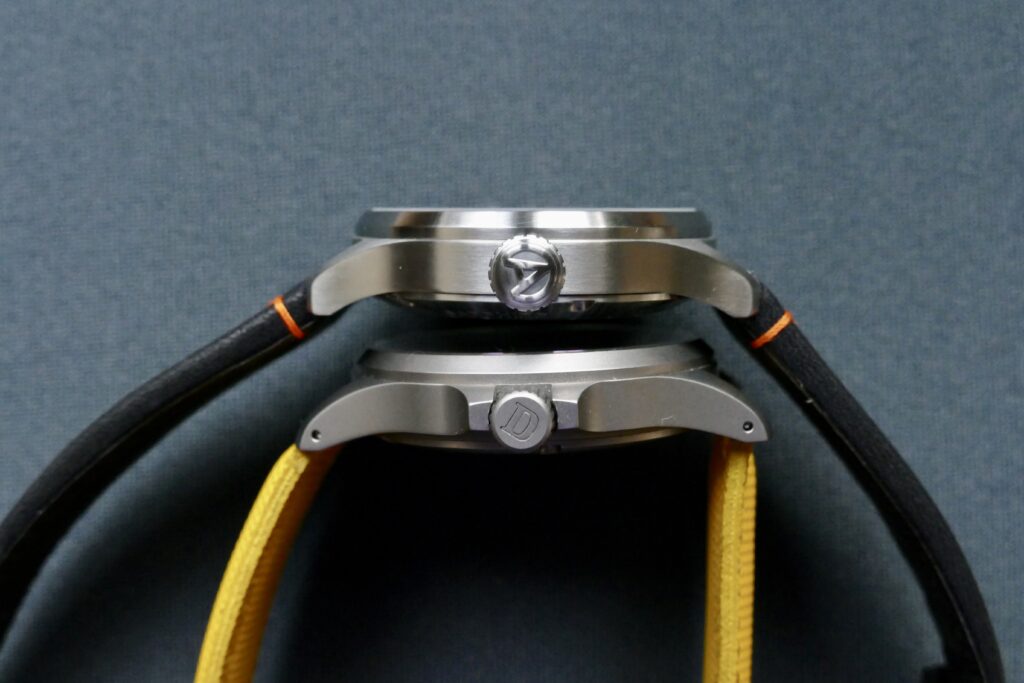 The impression, the "Flieger 200" is larger than the Damasko DS 30 or Sinn 556 I, is also due to the hands being a bit smaller/narrower and the minute markers being smaller than those of the DS 30/Sinn 556 I, the hands of the Sinn 556 I being shorter as well.
The "Flieger 200" doesn't look busy overall. Archimede did a very good job on all those details. I know, taste can hardly be discussed but in terms of "appearance" I think that the "Flieger 200" wins over the Damasko DS 30 and/or Sinn 556 I.
The "Flieger 200" is ultra-legible at day and night and in no way inferior to its competitors.
Damasko uses Superluminova X1 GL C1 White 10 for their DS 30, Archimede went for BGW 9, there's not much difference to be honest. The Sinn 556 I is not the brightest but (!) does hold it's lume steadily while the Damasko DS 30 uses to faint into darkness a bit earlier.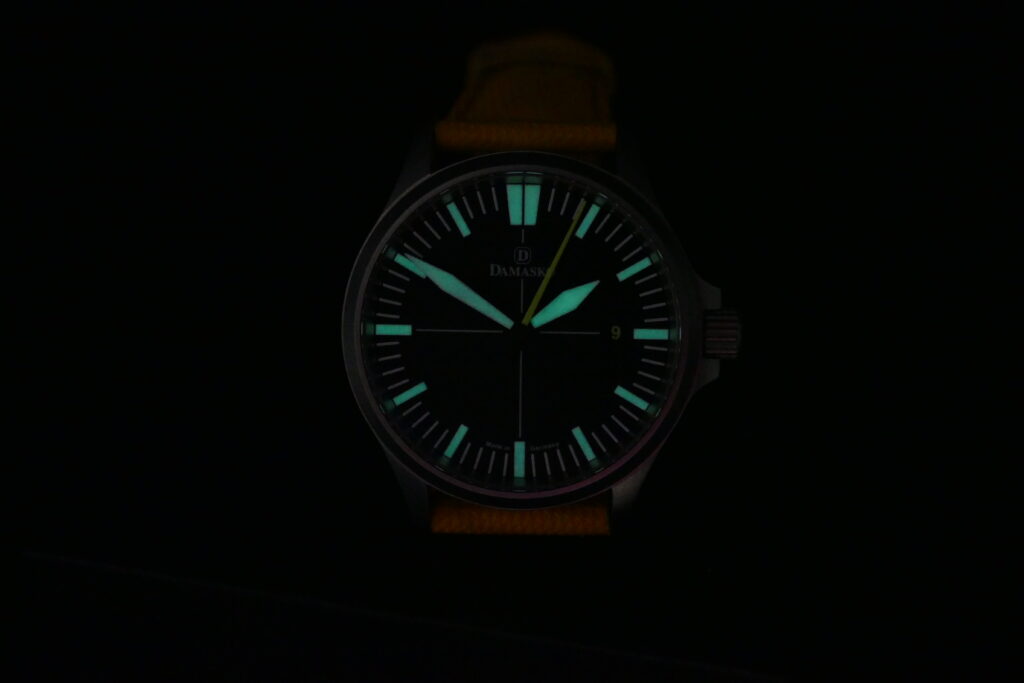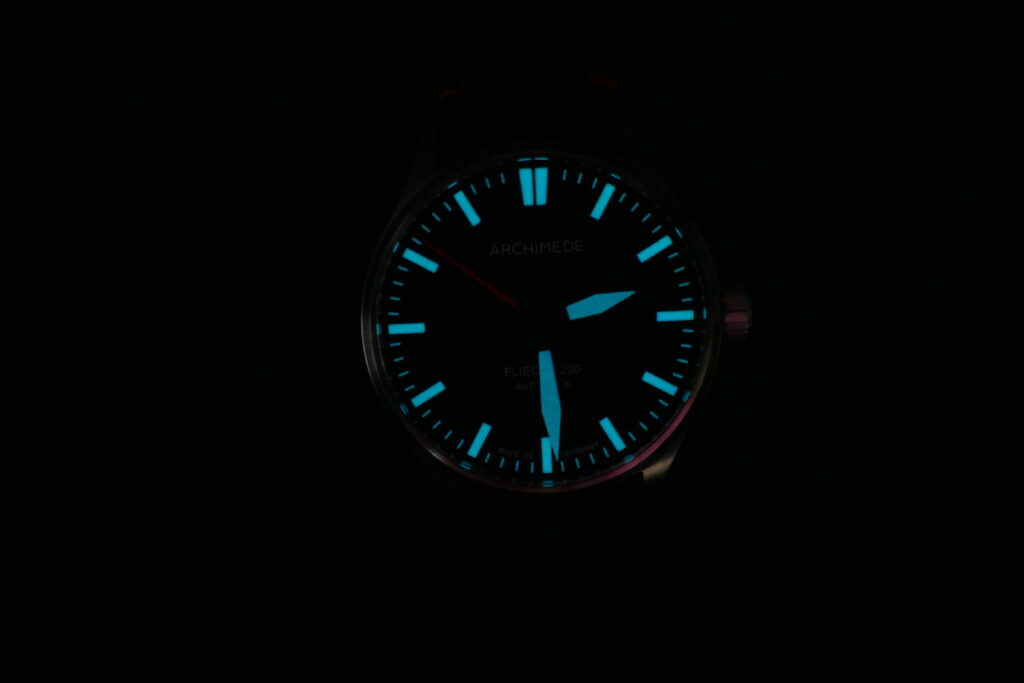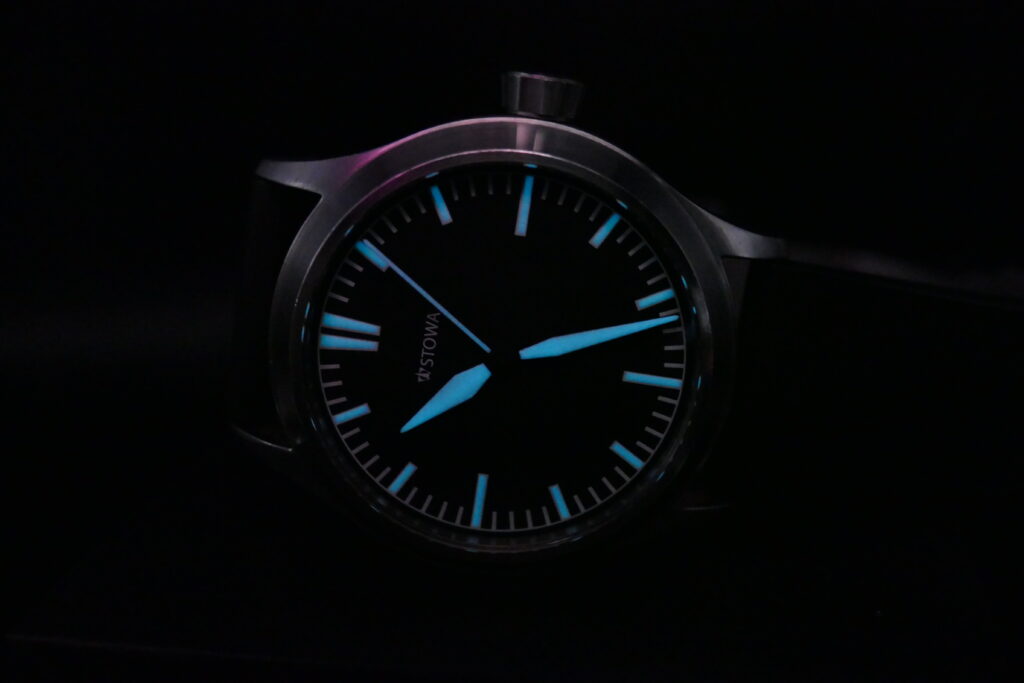 There's not much to say about the movements, the usual suspects come into play, SW 200 and ETA 2824. Stowa, Damasko, Archimede prefer the ETA 2824-2, Sinn uses the Sellita SW 200.
It should be noted that the first "Flieger 200" models were equipped with a Sellita SW 200 as well. Currently the "Flieger 200" is sold with an ETA 2824-2 but from February 2023 on it will again be furnished with the Sellita 200.
The case of the Archimede "Flieger 200" is manufactured in-house by ICKLER in Pforzheim.
Karl Ickler founded the Ickler family business in 1924. He had previously worked as head of the manufacturing department for foreign companies. With this treasure of experience, he founded his own watch case manufacture. In 1947, his two sons rebuilt production, which had lay fallow during the war.
Today the Ickler company is managed by the fourth generation – Lisa Ickler. As you all know, Archimede and Autran & Viala are under the umbrella of the Ickler GmbH which also manufactures high quality watch cases for international customers – and all that is Made in Germany. Her brother, Raphael Ickler is running Limes and Defakto.
Be prepared, Ickler will be celebrating its 100th anniversary next year.
But back to the case of the "Flieger 200". The case is surface hardened, brushed and provides a water resistant of 20 ATM. The case back (solid or display back) is screwed.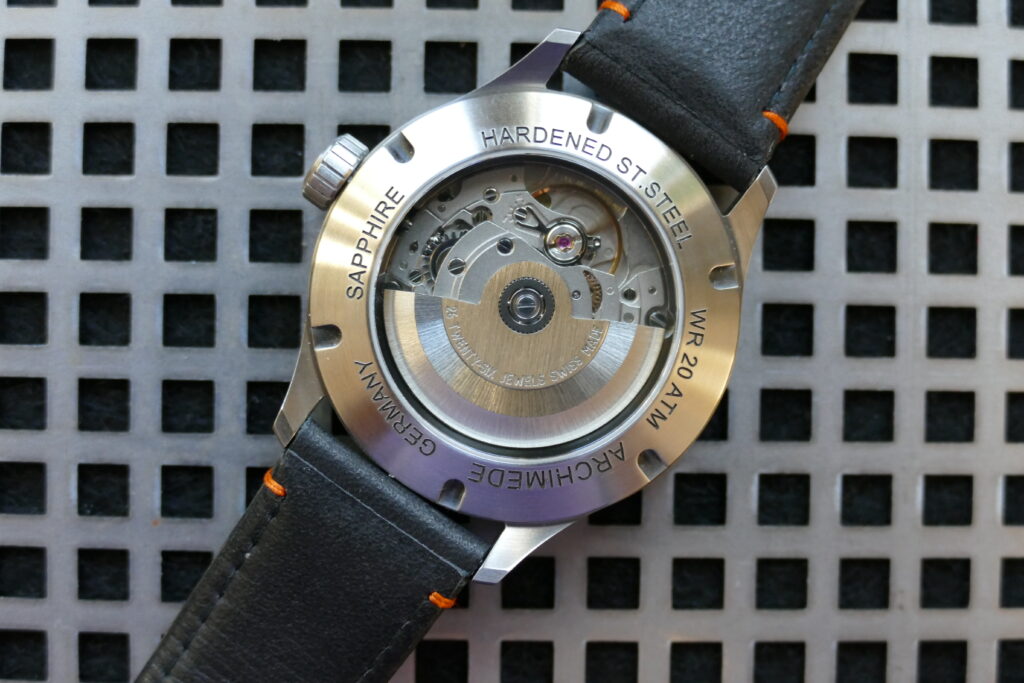 The Damasko DS 30 comes with an in-house case as well, made in Barbing, pearl- blasted, surface hardened submarine steel, 20 ATM, screwed back as well.
As far as I know, the hardening process is (almost) identical. Whatever the process is called by the manufacturer, it is kolsterizing.
The kolsterizing process involves diffusion of carbon into the work piece surface without the formation of chromium carbides. Post treatment surface hardness is equivalent to between 70 and 74 HRc. Standard case depths offered are 22 or 33 microns.
Kolsterising does not apply a coating on the surface but results in a pure diffusion zone from the surface inwards, with excellent toughness and no risk of delamination or peeling.
Kolsterising increases the surface hardness of austenitic stainless steels to a level of 1000 to 1200 HV0.05. The attainable hardness depth is variably adjustable. Kolsterising components exhibit excellent fatigue proper ties due to high compressive stresses obtained in the kolste rised case. Kolsterising is a low-temperature process causing minimal changes to geometry and shape.
Unfortunately the Sinn 556 I with its satin finished stainless steel isn't surface hardened, which makes the Archimede and Damasko winners over the Sinn 556 I. Anyway, the SUG made case is rated water resistant up to 200m as well.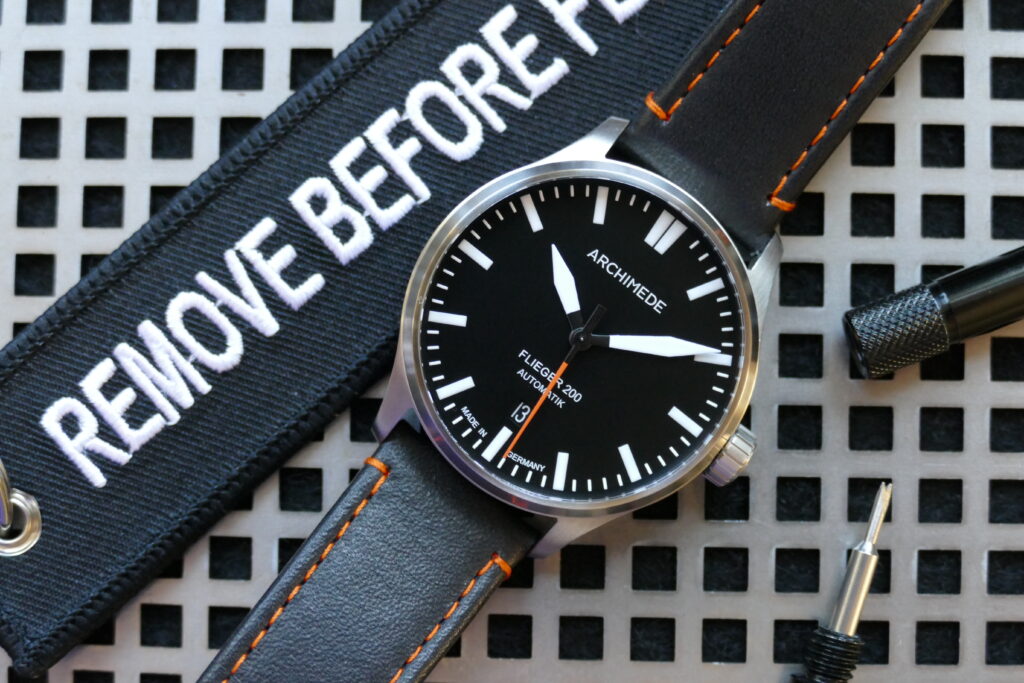 All Flieger feature sapphire crystals on top and back (not available for the DS 30). All crystals are ar-coated. The Sinn 556 I is AR-coated on both sides. The Archimede "Flieger 200" sometimes shows a blue hue Damasko watches have been known for until they changed their supplier.
Two models are furnished with screw-down crowns, by name: Sinn 556 I and the Damasko DS 30. No big surprise, all crowns are showing the manufacturers logos, the Sinn "S", Damasko's "D" and the Archimede "A" in a circle.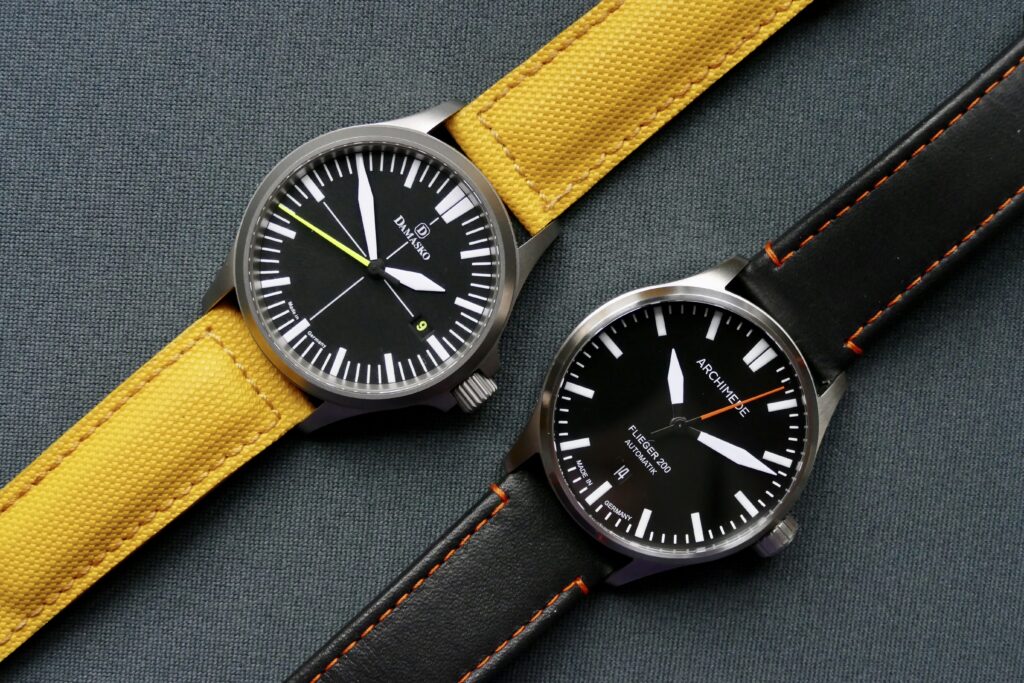 "Buying economy, Flying business"
Everyone has different wishes and requirements when it comes to Flieger watches b u t priced at €960 the "Flieger 200" is a terrific value proposition. Once again the "Flieger 200" proves the incredible value available in German made watches.
The step outside the Baumuster A / Baumuster B genre makes the "Flieger 200" much more of an everyday watch, of course Archimede promises the same robust quality and durability that they're known for when it comes to their tool watches.
It is German-made but Swiss-powered, so German quality is matching with Swiss reliability.
If you are looking for a very pleasing Flieger, away from the typical Baumuster A and Baumuster B, featuring a fresh, sporty, functional, seamless contemporary design with excellent features for under €1000 – stop searching, you found it.
Add-on options
Stainless steel bracelet, polsihed/brushed (€180)
Stainless steel mesh bracelet (€180)
Folding clasp (€50)
Archimede rotor (€90)
Solid steel back (€60)
Domed sapphire crystal (€140)