Helmut Sinn – a pilot, a racer, and a watchmaker.  Most of us are lucky to be gifted with one career, but Mr. Sinn has been blessed with many.  Besides starting Sinn watch company, bringing us interesting watches from Guinand and Chronosport, he has inspired many other successful watch brands like Bell & Ross and Kobold.
As young Mr. Helmut Sinn turns 100 today, I would like to celebrate by sharing my fond memory of meeting him for the first time a decade ago.  I was very fortunate since he retired that very year.  I had written this post in the German watch forum on April 2006 after visiting Mr. Sinn in Frankfurt.  As I share the post with the pictures I found on my drive, please take a moment to read the comments on that post as well – they are hilarious! The funniest comment was a forum member discussing all the Playboy magazines behind Mr. Sinn.  Well, he is always young at heart!
Meeting Mr. Helmut Sinn
I drove to Frankfurt to visit Mr. Helmut Sinn. I only wish I can be that healthy a man at the ripe age of 90 years. He was enjoying his Chinese food and showing my his vintage collection of various watches and clocks. He talked for a long time about interesting experiences such as his Rally car racing days and showing me prototype of Dashboard handwound clock and his visit to Colorado and Arizona (my home).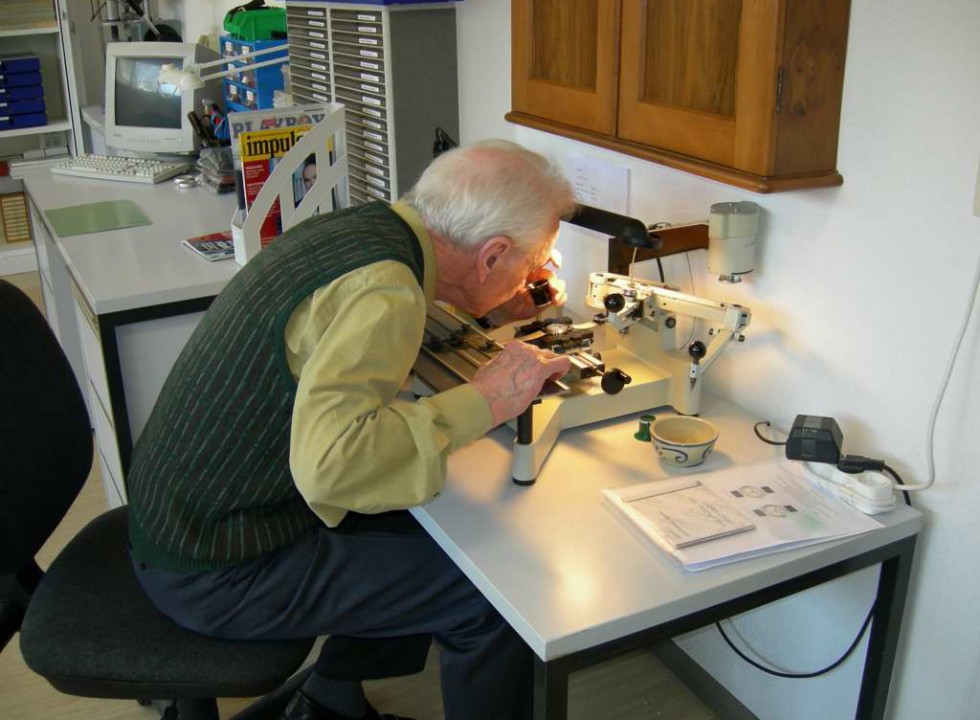 He then showed me his current collection. I tried on the Guinand (pronounced Goo-nah) Regulator watch and it was love at first sight.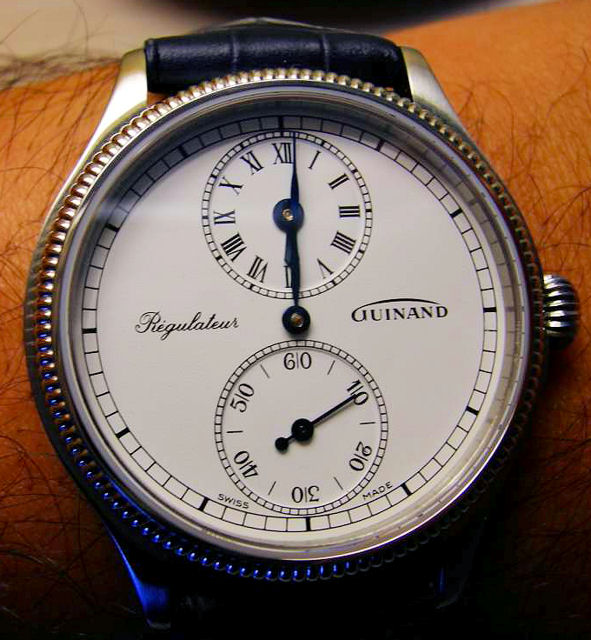 After I tried the watch on, I requested a blue/purple strap and he gave it at no charge. He also requested I not pay him now and wire him the funds from US. I was blown away! He also requested to mail the VAT tax form after getting it stamped from the customs at Stuttgart airport upon leaving.
I politely requested Mr. Sinn to sign the back of my watch and he cheerfully sat in front of the engraving machine and signed the watch.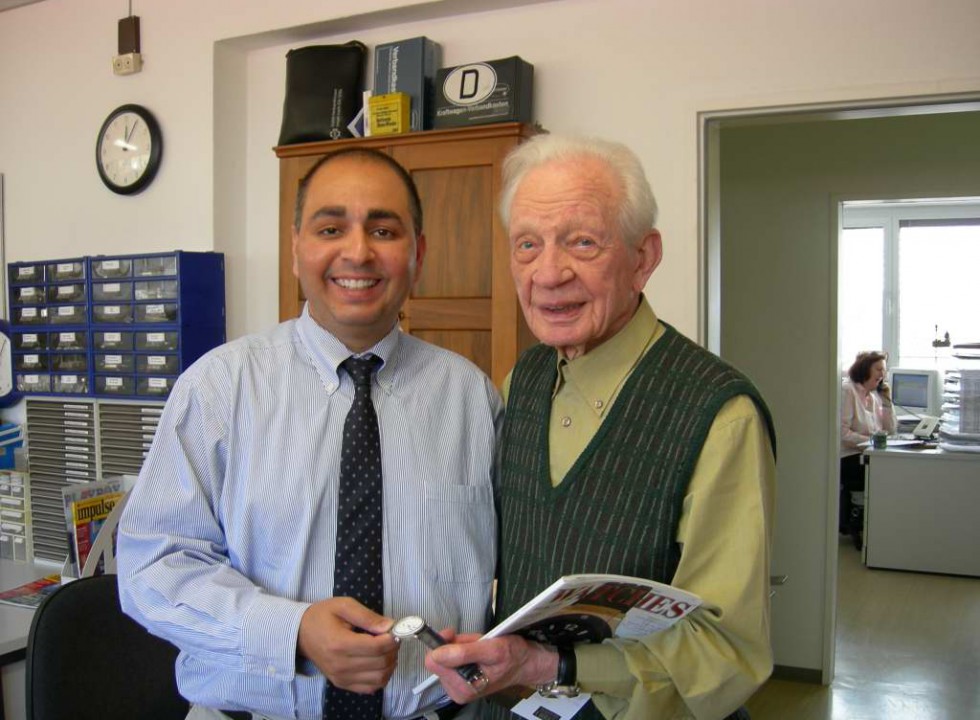 After engraving the watch he presented the watch to me. WOW!
Mr. Sinn had the Hr:Watches magazine in his hand and told me that he was interviewed at the Basel fair by the magazine and he will in the next month's publication.
I also got a special preview of the limited edition of Chronosport watch based upon the vintage Heuer movement.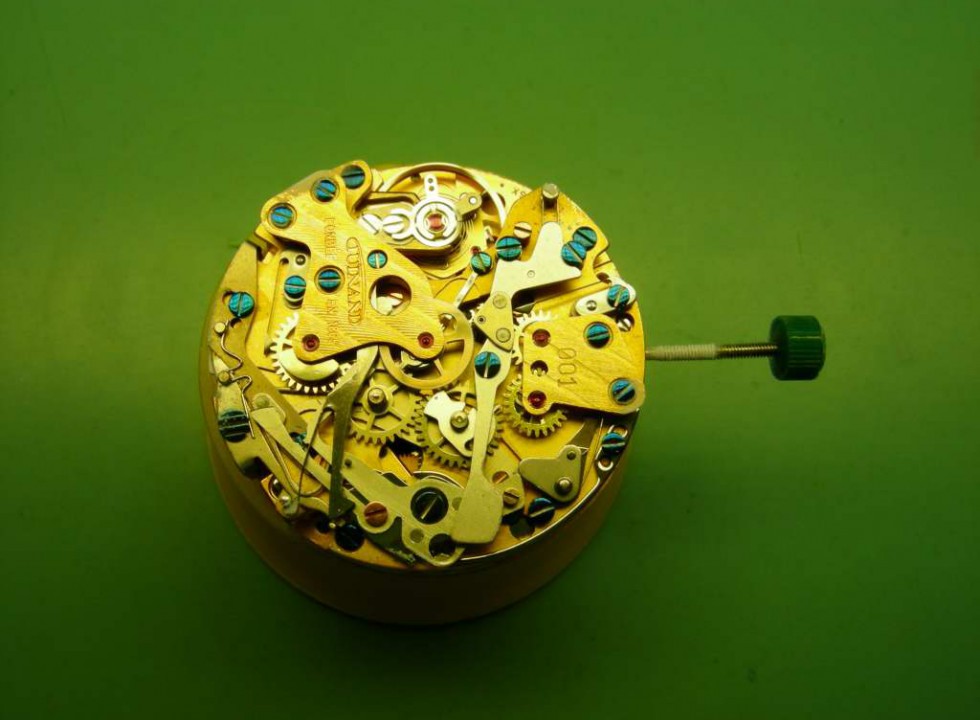 Mr. Sinn said that he will be looking for a watchmaker in US to service his watches. He will still continue to sell directly except in Japan. Japan is the biggest market for his watches and he is extremely popular there.
I had a time of my life beginning the watch tour with visiting Mr. Helmut Sinn. I will highly recommend you visit the workshop and experience it all first hand.
I will take better pictures of the Regulator watch and write a review in couple of weeks.
Cheers,
Bhanu
——————————————————————————————————————————————–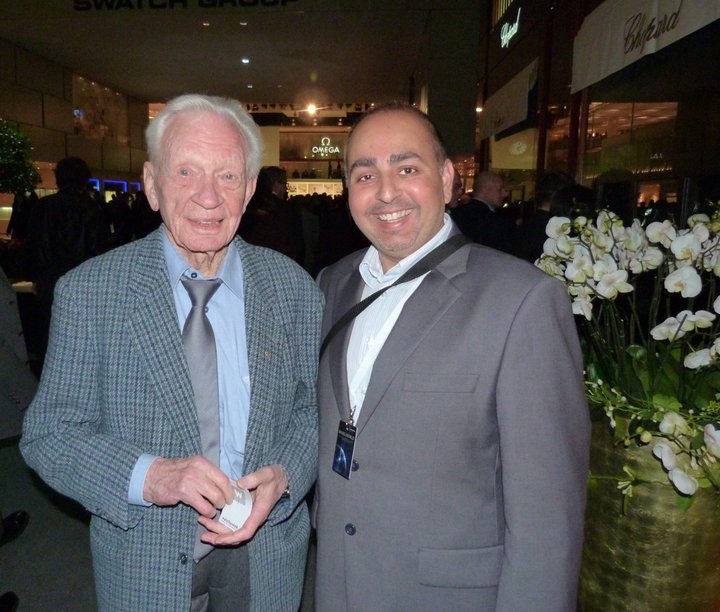 I have had the good fortune to meet Mr. Sinn from time-to-time at the Baselworld show.  He is always smiling and I am just amazed that he is still driving to Basel! Young Mr. Sinn…..
This content is republished from Watchuseek.com